Canada has taken a significant step towards the inclusion of climate risk in its oversight of systemic risks affecting the Canadian financial system. On May 26, the Office of the Superintendent of Financial Institutions (OSFI), in its capacity as Canada's prudential regulator of banks, insurance,  trust and loan companies, as well as pension plans, issued a draft guideline for Climate Risk Reporting (B-15). OSFI has indicated that the draft guideline will be open for public comment until September 30th, 2022 (extended from the original timeline of August 19) and expects to publish the final guideline in 2023.  
This announcement is consistent with the Bank of Canada's and OSFI's stated objective to ensure that federally regulated financial institutions (FRFI) are taking adequate steps to monitor, measure, and mitigate the wide-ranging risks to the economy posed by climate change. The Bank of Canada and OSFI have been working since 2019 towards this goal of incorporating climate risk in financial disclosures and have collaborated with financial industry participants in a pilot project designed to assess climate risk assessment methodologies, and address challenges related to climate risk models and data (for example, typical credit risk and liquidity risk assessment models used by the financial industry use a time horizon of one year to three years, while climate risk stress tests are based on a longer time horizon (30 years to 50 years)).  Through these efforts, the Bank of Canada, OSFI and industry have worked together to consider and address these seemingly complex challenges to arrive at an acceptable and feasible solution.    
Provided below is a high-level timeline outlining the evolution of climate change regulation in Canada  to date: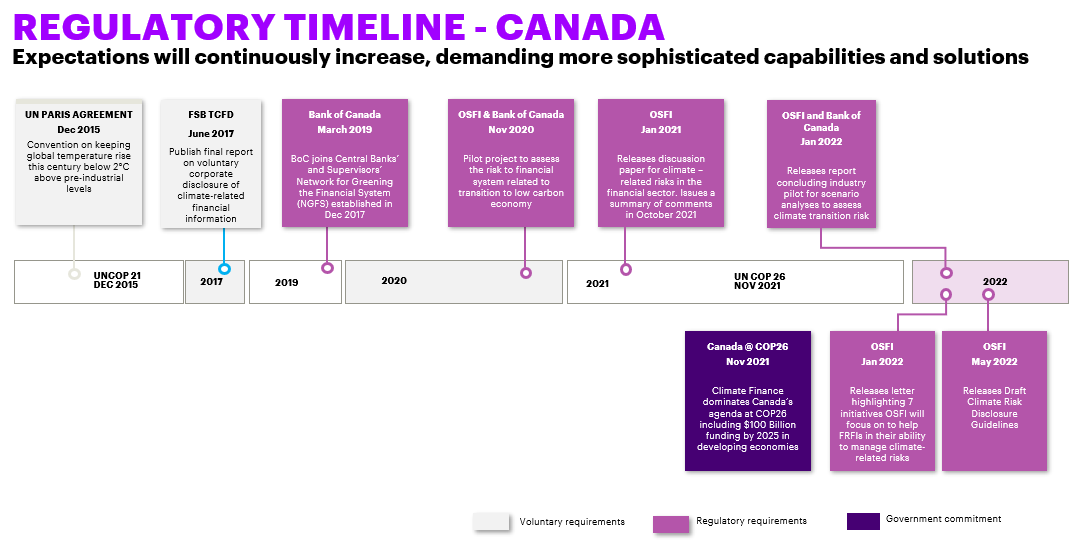 OSFI's draft B-15 guideline allows flexibility for FRFIs to tailor their implementation in-line with their size, nature, scope, complexity of operations, and risk profile. The draft guideline itself is organized into discrete chapters, in the areas of Governance, Strategy, Risk Management, Metrics and Targets, GHG Emissions, Climate Transition Plan and Net Zero Commitments, each with its own focus and principle-based expectations. The guideline outlines three expected outcomes for FRFIs to achieve: 
FRFIs understand and mitigate against the potential impacts of climate related risks;

 

FRFIs have appropriate governance and risk management practices to manage these risks; and

 

FRFIs remain financially and operationally resilient through severe but plausible climate risk scenarios. 

 
Under Governance, OSFI sets an expectation for FRFIs to anticipate how climate-related risks impact short-term and long-term strategic plans, and implement a climate transition plan (as described by the Federal Stability Board's Task Force for Climate Disclosures (TCFD) in its guideline) consistent with their business plans and strategy. FRFIs should incorporate climate risk in executive performance and compensation criteria, and as part of their risk appetites and internal control frameworks.  
Under Risk Management, OSFI sets an expectation for FRFIs to have the capability to identify, measure and manage climate-related risks. This process should be enabled by timely and accurately sourced climate data, and where this data is not available, FRFIs are advised to address these data gaps. FRFIs should incorporate climate risks in their internal reporting for assessment of business performance and risk management, and have the capability to report externally, based on the aggregation of climate-related risk exposures across products, regions, sectors, or counterparties. FRFIs should also be operationally resilient to plausible scenarios of climate-caused disruptions and incorporate new industry developments in climate risk quantification.  
In addition, OSFI sets an expectation for FRFIs to use climate scenario analyses to assess the impact of climate-related risk drivers on their risk profiles and plans to issue a standardized climate risk analyses exercise for FRFIs to assess aggregate exposures to physical and transition risks. OSFI expects FRFIs to incorporate climate risks into the Internal Capital Adequacy Assessment Process (ICAAP) and assess the impact of plausible climate risk events on their liquidity risk profiles.  
FRFIs are given flexibility in terms of the placement of climate risk disclosures – the disclosures could form part of their annual report or ESG report, for example. However, FRFIs are expected to make this information publicly available by no later than 180 days after the fiscal year end. The draft guideline also lists and references other OSFI and industry guidance that directly and indirectly affect various aspects of climate risk management.  
The announcement of OSFI's draft guideline is timely given the emergence of climate-related impacts that have already required redress – Canadian insurers associate $2.4 Billion in insured losses per year with extreme weather events in 2020, which represents an increase of over 400% in per year costs over a period of 10 years. Canada spends an average of $1.5 Billion per year in forest fire suppression costs per year. Furthermore, the economic losses are not limited to physical risks associated with increased volatility and frequency of extreme weather events, but also manifest in the form of transition risks precipitated by evolving strategies, policies or investments to reduce reliance on carbon and move to a low carbon economy. Examples include financial institutions voluntarily divesting from oil and gas projects, and insurance companies declining to underwrite projects for emissions heavy sectors like oil and gas, resulting in cancelled projects costing billions in losses.  
The draft B-15 guidelines are broadly aligned with similar announcements made by central regulators globally. Earlier this year, the US-based Securities and Exchange Commission (SEC) proposed rules to enhance and standardize climate-related disclosures for the benefit of investors. The draft OSFI guideline, similar to the proposed SEC rules, also leverage the Climate-Related Financial Disclosure framework developed by the TCFD and the International Sustainability Standards Board's (ISSB) Exposure Draft on Climate-related Disclosures.  
Apart from regulators, investor pressure is a significant force driving FRFIs to make net zero commitments, and show visible progress towards reducing their financed emissions. Several Canadian financial institutions have already independently committed to disclosure of climate risks as part of their voluntary Environmental, Social and Governance (ESG) commitments and have aligned their emission disclosures to the TCFD framework. In October 2021, six leading Canadian Banks joined the Net Zero Banking Alliance.  
The B-15 draft guideline may also help reduce 'Greenwashing' by FRFIs, where ESG disclosures have become more of a marketing exercise, to position these institutions as being environmentally-friendly than reporting any meaningful data that could be used by investors and analysts to measure real progress towards their environmental impact. Some European countries have already seen regulators take enforcement action on Greenwashing claims by banks. 
Once finalized in 2023, the B-15 guideline would formalize the climate risk disclosure requirements for FRFIs. The draft guideline constitutes a significant advancement in the effort to improve the quality, transparency and consistency of climate risk disclosures.  It is our hope that this will lead to an increase in the reliability of disclosures for analysts and investors and generally protect depositors, creditors, policy holders, and the general public from misleading ESG claims.