Other parts of this series:
---
It is no illusion that jobs are changing quickly throughout the financial services sector. Business management and operations today are increasingly shifting from traditional to technology-oriented practices to meet organizations' increasing dependency on technology. As emerging digital technologies transform the way work gets done, the roles of technology leaders and IT staff have expanded, becoming broader and more critical to meeting goals.
Change doesn't happen in a vacuum, nor is it without challenges. Success depends on having the right talent in place to handle demands as they emerge. In fact, Accenture research found that 44% of business leaders believe a lack of digital skills is a key barrier to transformation. Furthermore, 84% say talent will be a core issue and that IT organizations must redefine and think more broadly about their roles.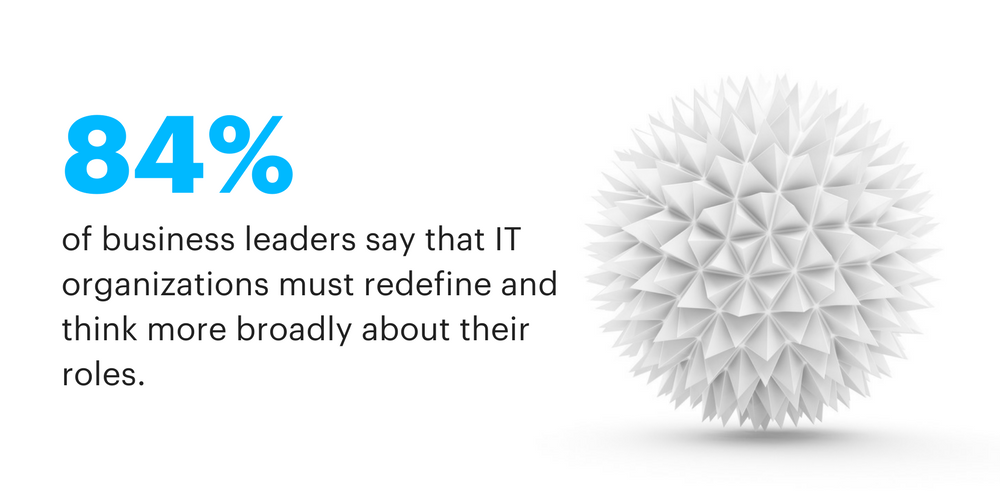 As they respond to this rapidly changing technology environment, HR leaders are asking themselves, "have we identified, and are we attracting, the right skills to take advantage of emerging technologies and support new digital business models?"
Digital transformation is undoubtedly impacting jobs and skills. For example, technological and other changes are shortening the shelf life of employees' existing skill sets. Similarly, robotics and machine learning are disrupting work roles as they assume specific tasks previously carried out by IT staff. This requires displaced IT workers to focus on new roles with different tasks that call for rapidly changing core skill sets.
Technology is also changing the size of IT teams. Smaller teams enable ease of interaction and communication. The new rule of thumb is that an IT team must be small enough to feed with two pizzas.
An opportunity for IT to excel
IT organizations have long supported the needs of business, but new factors have cast them into a spotlight of their own. Savvy technology leaders look upon this as an unprecedented opportunity to create extensive business value by shaping the IT Workforce of the Future.
What are those factors? The key market trends in ASEAN countries driving the development of the IT Workforce of the Future include:
Enterprise digitization and automation − Organizations are undergoing enterprise-wide digital transformation with core business processes increasingly automated through investments in data/analytics and robotics.
Increased innovation and partnerships with fintech firms − The top three local banks in Singapore have structured innovation in conjunction with fintech programs leading to rapid change. Similar trends are increasingly being observed across ASEAN banks in Thailand, Malaysia and Indonesia.
Expanding the talent ecosystem − Evolving customer demands are changing expectations for user and employee experiences, leading to new operations and talent needs. Organizations also face increasing competition in attracting and retaining top tech talent among the Millennial workforce.
Ten steps to building the IT Workforce of the Future
Creating the IT Workforce of the Future involves an appreciation of the changing nature of work, and of the workforce needed to enable digital transformation. To do this, organizations will need to shift the paradigm in 10 steps, from a traditional, old-world, solid-but-inert workforce to one that is smart, agile and ready for the future. These are:
From fixed mindset to growth mindset;
From a focus on predictability and efficiency to speed-to-value and innovation (fail fast);
From siloed teams with coordinated handoffs to integrated, cross-functional teams without barriers;
From larger, global delivery teams to smaller, agile "two-pizza" teams;
From I-shaped teams with depth of experience/skills to T-shaped teams with depth and breadth of experience/skills;
From structured, linear ("waterfall") processes to faster, iterative ("agile") processes
From large-batch deployment to lean MVP (minimum viable product) management and small batching;
From hierarchical to collaborative decision-making;
From highly skilled and manual to automated coding, testing, deployment, etc.; and
From legacy tools and technology (ERP, CRM, platforms, monolithic apps, etc.) to modern engineering (microservices, cloud, big data, APIs, containers, loosely coupled architectures, etc.).
The evolving business landscape today has, more than ever, led to the need for technology leaders to transform their organizations into true digital operations – with all the complexity and change that involves.  However, by identifying, developing and implementing the right job roles, competencies and skills required for the IT Workforce of the Future, they can drive significant improvement to IT innovation, agility and service quality.
In my next post, I will provide some tips on how to establish the IT Workforce of the Future, including talent-sourcing strategies.