Risk and Compliance teams in financial services firms in Australia are facing a challenging time, keeping up with a regulatory tsunami and rebuilding trust among consumers and public authorities after a series of scandals.  
The regulatory scrutiny of financial services firms is getting more intense as a royal commission into their conduct continues.1
Ahead of its report, banks will also have to implement their own revised Banking Code of Practice, which was updated at the end of 2017 and is enforceable in courts and ombudsman schemes (and which is itself being examined by the royal commission).2
Adding to the pressure is the introduction of the Banking Executives Accountability Regime (BEAR) which came into force on July 1st 2018.3 BEAR aims at improving accountability through the creation of sound risk cultures and effective governance, principally through threatened imposition of sanctions at senior executive level.4 Under BEAR, banks need to demonstrate that their organisation is not just compliant with the law but also with legislation and regulation. 
A reimagining of compliance
The cost of compliance is therefore likely to continue to rise. We estimate that the average spent on compliance in Australia in recent years has been around 3% of banks' net operating income, but this is expected to rise to approximately 5%.  This will result in banks rapidly ramping up their compliance team over the next three years. 
In fact, we estimate that regulatory spending might take up as much as half of financial services firms' investment portfolios, crowding out the funds available to pursue vital strategic initiatives like enhancing customer experience, improving productivity and innovating. 
This demands a reimagining of risk and compliance from a reactive to a proactive approach. Financial services firms across Australia urgently need to get an improved understanding of their control environment, to understand where conduct risk issues are critical, and to gauge how existing controls are performing to pre-empt potential problems. 
The capability for the job
When faced with a complex personal task or chore many would ask, "Is there an app for that?" Executives who are trying to solve complicated issues such as the need to improve their compliance oversight, and perhaps struggling to adapt to legacy systems in order to achieve this, might ask the same question. Actually, if they did so, the answer would be "yes": the Risk and Compliance Insights Platform (RCIP).  
The Risk and Compliance Insights Platform connects systems that support effective risk and compliance decision making via a consolidated mechanism. For instance a personalised control owner dashboard or control environment chatbot. The Risk and Compliance Insights Platform is able to receive risk and compliance information from multiple systems; convert the input information into a predetermined format and use natural language processing, machine learning and other forms of artificial intelligence to analyse it; and provide the risk and control information to a storage device for display to a user directly, via a range of interfaces. Innovative and highly differentiated, a patent for this capability has been filed. 
In an era where the analytics ecosystem is rapidly changing, skills are in short supply, interoperability validation and testing can be burdensome, security considerations are paramount, and the lag between investment and return on bespoke systems is often considerable, having a robust and ready-built compliance capability that can address such issues relieves a lot of headaches for financial firms.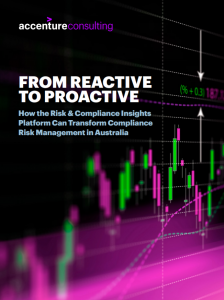 Accenture is working with major Australian financial services providers using the Risk and Compliance Insights Platform to help them meet their regulatory obligations. One senior banking executive made the below statement "The Risk and Compliance Insights Platform helps us to meet the continued onslaught of regulatory changes by better management of the complexities in a high-fidelity and cost-effective manner."5
Read the full report to find out more about how RCIP and Accenture can help Australian financial firms reimagine their compliance function. 
References: