Other parts of this series:
---
In my last posts, I defined the concept of the artificial intelligence quotient (AIQ) and discussed some of the findings from our research into the AIQ of companies today.
In this post, I will take a closer look at who the leaders are when it comes to artificial intelligence (AI) today.
Striking the right balance
As I discussed in my last post, our research of 200 companies was aimed at determining a company's AIQ based on two indexes: the AIQ for invention and the AIQ for collaboration. We classified the companies as follows:
Observers—Low AIQ

Remain on the sidelines.
Do not invest much in their own AI capability.
Do not collaborate much on AI.

Inventors—Medium AIQ

Invest a lot into in-house AI innovation.
Do not collaborate much on AI.

Collaborators—Medium AIQ

Collaborate well in the digital ecosystem to develop AI solutions.
Do not invest much in their own AI technologies.

Collaborative Inventors—High AIQ

Have the winning combination.
Combine good in-house innovation with tactical collaboration with others.
As our research revealed, only 17 percent of the 200 companies—the Collaborative Inventors—in our study strike the right balance between in-house innovation and external collaboration.
That's fewer than one in five.
Knowing the Collaborative Inventors
So, who are these companies that have found the right balance between invention and collaboration?
To answer that question, we developed a preliminary sector view based on our representative sample of 200 companies.
As shown in the figure below, certain sectors are leading on AIQ. These include:
Digital platforms.
IT software and services.
Technology hardware and equipment.
Consumer electronics.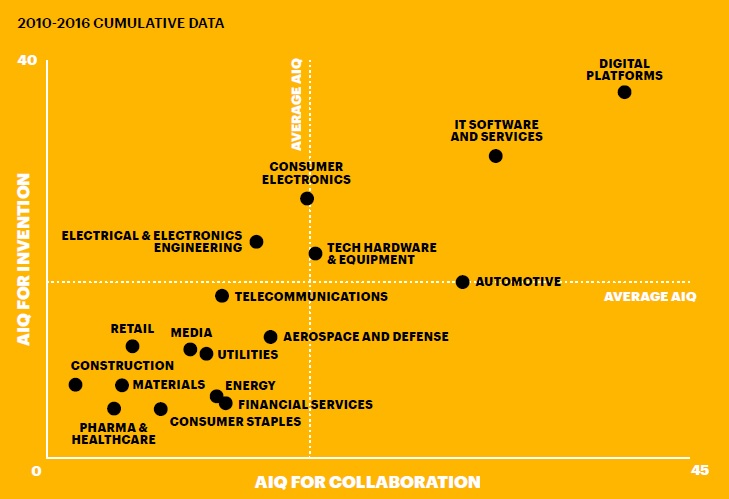 The momentum of these sectors has picked up since 2013 when they started to intensify collaboration initiatives to complement the initial wave of in-house research and development (R&D).
In addition, the media and telecommunications sectors are gradually stepping up their AIQ for invention. While media companies are developing cinematic virtual reality, human-like facial expressions and holographic content, the telecommunications sector is working on machine learning and massive data modeling platforms to support emerging intelligent services.
Furthermore, consumer staples and energy sectors are increasing their AIQ for collaboration. They invest in tactical initiatives to adopt AI solutions by collaborating in the broader ecosystem—but do not invest where it makes little financial sense to develop futuristic technologies in-house.
Of the Fortune Global 100, about 40 companies show noticeable AIQ for invention or collaboration—yet, only 13 of them are Collaborative Inventors.
In my next post, I will tell you just what is needed to boost your AIQ.
To learn more, access the full Boost Your AIQ—Transforming into an AI Business report.