Other parts of this series:
---
While building an agile enterprise requires much more than using digital technologies and agile methodologies, mastering agile delivery is a good place to start. In fact, it's hard to move up the enterprise agility scale without putting this foundation in place. The next steps are harder, however.
Agile delivery employs agile methodologies like scrums and DevOps to enable rapid iterative development of enterprise apps (adapting apps or building new apps), from build to run, with continuous integration and delivery for day-to-day agile delivery. It makes the organization fast and responsive, enables high quality outputs, and really engages users, embedding familiarity with ongoing change. The next step is scaling this change capability across the organization.
Scaled agile delivery requires redefining success. It's not just about the business case or bottom line returns, but what is being delivered to customers.
To scale agile across the organization, every facet of the business needs to fundamentally change to support new agile ways of thinking, working and delivering value, and to accelerate adoption, ̶ from leadership, processes, governance, operational structures, roles and incentives to the culture of the business.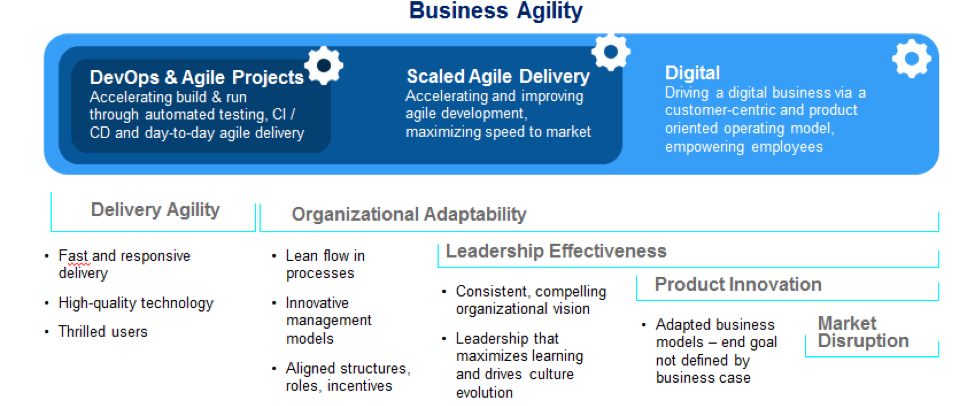 Agile thus expands and evolves from a technology solution into a business solution for the whole business—one that can be applied in any area to drive efficiency, innovation and growth.
What change leaders do differently
Breaking down the walls between technology and the business enables the broader enterprise to become more customer-centric. It allows a shift from a project- and business-case-driven organization to one that is product-oriented and able to drive market disruption. Change leaders are showing the way.
In my previous post I promised you a look at what the change leaders, identified by our 2017 FS Change Survey, are doing differently. These change leaders have worked out how to rewire their business for continuous change to stay ahead of the market while building their future business model.
For this survey, we interviewed 787 senior FS executives who are responsible for developing their organizations' change strategy and/or implementing their change programs. Within the global sample, 292 respondents were insurers, 302 were bankers and 193 were wealth and asset managers.
Here's what our survey found:
Change leaders have clearer vision of change.
They develop a stronger change culture.
They apply agile methodologies across the organization more effectively.
They have leadership that is more committed to the successful execution of change.
Together, these factors help change leaders execute greater volumes of change at a faster pace and with stronger disciplines, to better effect.
Join me next week as I take a closer look at the key facets of the FS organization that need to be addressed to enable and embed agility within the organization. In the mean time, you can read more about Enterprise Agility for Financial Services in this report and listen and subscribe to our podcast, Talking Agility.