Other parts of this series:
---
As the climate changes, so do the concerns and tastes of consumers. In the growing disconnect between how people would like businesses to operate and how they actually do, there is opportunity for banks.
Environmental concerns and anxieties reached new heights last year. To many, the worst culprit was plastic waste. Public outcry about plastic waste, driven in part by documentaries like David Attenborough's "Blue Planet II" series, drove governments to take action. California banned plastic straws in restaurants unless the customer asks for them. The European Parliament voted for a complete ban on a range of single-use plastics by 2021.
Yet plastic waste is not the only environmental issue breaking new ground. For instance, the BBC reported that 10 extreme weather events linked to climate change caused thousands of deaths and billions of dollars in damage. Four of the events caused more than $7 billion in damage each.
Environmental issues are attracting widespread attention and driving shifts in consumer taste. As the 2019 Fjord Trends report puts it, "Consumers aren't just receptive to change, they now demand it."
Such demand could be a game-changer for financial services firms—banks in particular. Fjord's report outlines a host of organizations attempting to redesign their systems and business models to fit the "circular economy" that produces no waste. For example, Nike is designing shoes that reduce waste by roughly 60 percent. By 2020, Ikea hopes to be a net exporter of energy.
(I should note that financial services firms have not been idle on this front. Notable green initiatives in the industry include "green banking" startups like Good Money, and the United Nations Environment Programme Finance Initiative, which aims to provide clear and specific guidance to banks about sustainable lending practices and processes. Almost 30 banks are involved, including some of the biggest banks in Africa and Asia.)
The drive towards a "circular economy" creates at least two huge opportunities for banks.
First, banks have access to unique business information and, therefore, unique business insights. They can apply those insights to help their customers achieve their sustainability goals while maintaining their profitability—or growing it.
Second, many green initiatives require significant capital outlays. Whether through debt or equity financing, this represents an opportunity for those banks who are best able to identify and support winners in this space.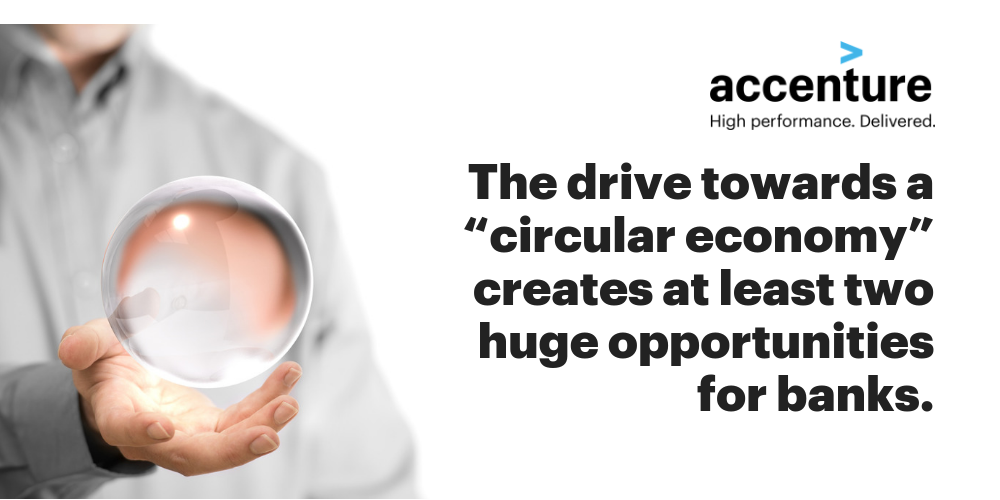 This new age of consumer expectations has implications for other parts of the financial services industry. As global environmental awareness grows, so does the incentive for financial services organizations to implement their own sustainability programs—and there is tremendous room for improvement here. Many insurers, for instance, rely on paper records to a surprising degree. Financial services firms of all stripes should take steps to reduce or eliminate their operational waste.
The industry will also need to place new emphasis on spreading the word about green initiatives. Competitive advantage from green initiatives can only be fully realized if the consumer hears about them and behaves differently as a result. Organizations will need to tell stories around tracing, waste reduction, impact, and sourcing.
Moving on any of these fronts is no small task. If you're not sure where to get started—or you have a success story you'd like to share—I'd love to hear from you using the contact info at the top of this page.
For my next post in this series, we'll look at what the "data minimalism" trend identified in the 2019 Fjord Trends report means for financial services.
For most up-to-date Fjord Trends, please visit trends.fjordnet.com