---
Immersive experiences enabled by extended reality (XR)—which includes virtual reality (VR) and augmented reality (AR)–are changing the way people connect with information, experiences, and each other. While these technologies have some way to go to reach maturity, leading insurers are already using them in exciting ways to remove the hurdle of distance, improving access to people, information, and experiences.
Extended Reality: The End of Distance is one of five trends highlighted in Accenture's Technology Vision for Insurance 2018.
For FS organizations, XR solutions can enhance not just the customer experience, but key parts of their operations, such as claims inspections. They can drive efficiency, speed resolution of claims, help improve client engagement and drive more accurate decision-making.
What experiences can XR, VR and AR facilitate?
Extended reality refers to the spectrum of experiences that blur the line between the real world and the simulated world. The technology immerses the user through visuals, audio, and potentially olfactory and haptic cues.
Virtual reality visually takes the user out of her real-world environment and into a virtual environment, typically using a headset for viewing coupled with hand-held controllers to navigate the virtual space.
Augmented reality overlays digital objects (information, graphics, sounds) on the real world, allowing the user to experience the relationship between digital and physical worlds.
How will these technologies impact the FS organization and its people?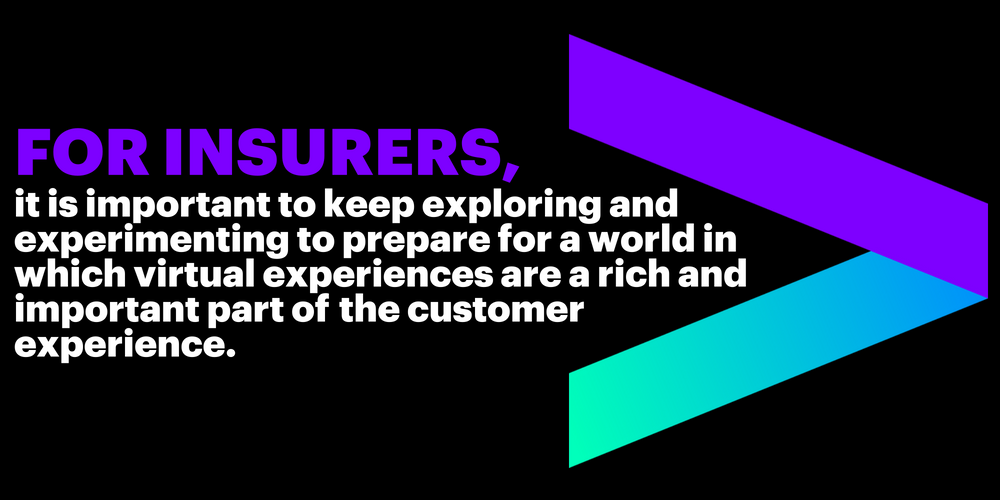 Insurers don't need to be convinced about the benefits of XR:
85 percent of insurance executives in Accenture's Technology Vision 2018 survey believe it is important to leverage XR solutions to close the gap of physical distance when engaging with employees or customers.
84 percent say XR will create a new foundation for interaction, communication and information.
However, leveraging these technologies will require reskilling the workforce to integrate new ways of working, as well as adapting organizational structures as XR solutions augment or change inputs, processes and outcomes.
These technologies are being applied today in very practical ways to add considerable value.
Symbility Video Connect is a live video collaboration tool that helps consumers own more of their claim process. Policyholders can work with an insurance adjuster at the first notice of loss stage to perform a complete and secure remote inspection of a damaged property using their smartphone camera.
Zurich Insurance is using AR glasses to increase efficiency among its risk engineers and field inspectors. These field workers often need to work hands-free as they climb ladders or work in tight spaces. Capturing work progress and accessing data such as checklists and site plans on a mobile device interrupts their workflow. Using smartglasses, they can access information, consult with other experts and view multiple screens of information.
For auto insurance, Scope Technologies has trialled the use of VR and telematics data to reconstruct a vehicle accident to determine who was at fault and if the accident could have been prevented.

As the technology, cost and other limitations around XR are addressed, it will grow in capability and impact. For insurers, it is important to keep exploring and experimenting to prepare for a world in which virtual experiences are a rich and important part of the customer experience.
Join me next week as I explore another of the trends highlighted in Accenture's Technology Vision for Insurance 2018—Frictionless Business: Built to Partner at Scale.
In the meantime, for more on the topic of extended reality, click through to Accenture's Technology Vision for Insurance 2018 report.