Other parts of this series:
---
My first post in this series argued that the race to take advantage of technological, social and demographic change is now underway for financial services (FS) organizations.  This time, I'll be looking at how artificial intelligence (AI) and workforce automation are unlocking some powerful opportunities for FS leaders that are ready to seize them.  
The headlines are filled with predictions about the speed at which AI, robots and other intelligent automation technologies will displace humans in the workforce. Research such as our Future Workforce study paints a more nuanced picture, where technology supports workers and creates jobs even as it replaces some human tasks with automated solutions.  
Around 63 percent of FS executives participating in the research said that they believe AI will deliver net job gains, while 62 percent of FS workers expected AI to have a positive impact on their work. Studies such as the World Economic Forum's The Future of Jobs Report 2018 predict that, overall, job losses will be offset by job gains, though there will be a shift in the quality, location, format and permanency of new roles. 
New economic modeling data from Accenture adds further weight to those assumptions. Our model indicates that 7-10 percent of tasks within the FS industry will be highly automatable by 2025 and that a further 43-48 percent of tasks are primed for technological augmentation within the same timeframe.  
Productivity gains from augmentation could deliver $72-$117 billion in value over the period to the North American industry alone, while cost-savings from automation could total $15-$23 billion. In other words, there is significantly more value to be derived from using technology to help humans perform better than there is from automation.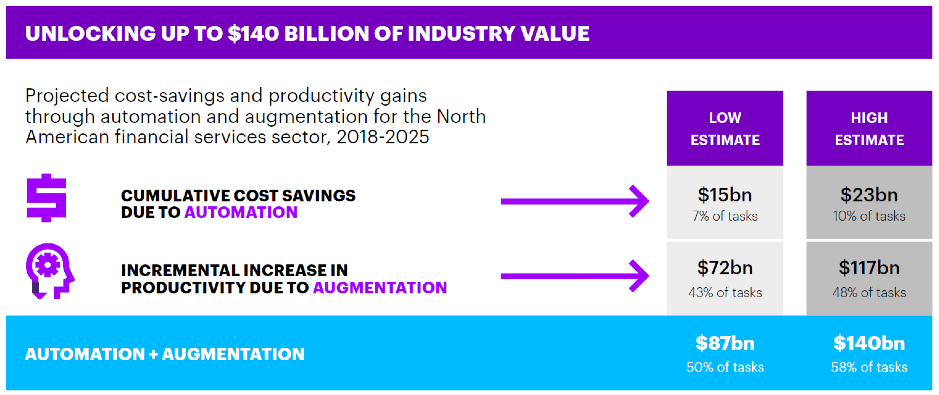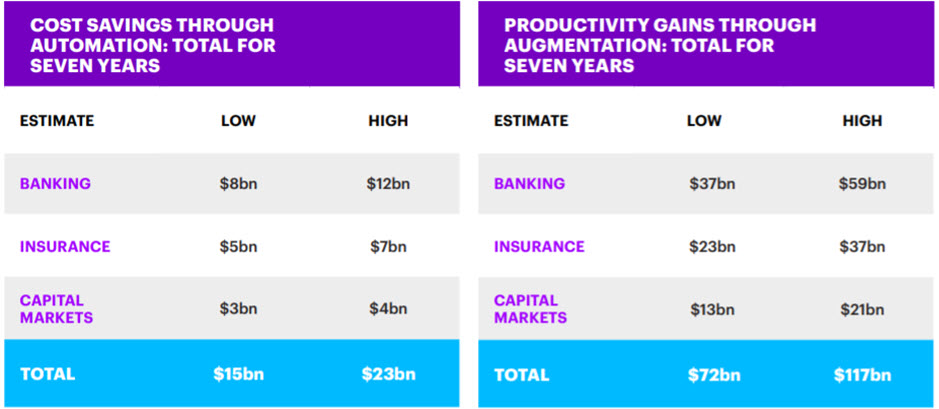 As the economic model reveals, the cost savings FS companies could reap from higher levels of automation are considerable. The number of tasks ripe for automation varies between different jobs; some roles will change dramatically in years to come. Some roles—loan officer, insurance sales agent and financial analyst, for example—have a higher level of tasks that could be automated. *Numbers in billions 
However, the model also shows that FS organizations can unleash the most value by focusing on the things that AI and humans do best together, to drive large productivity gains.  
In addition to reducing costs and capturing efficiencies, automation and augmentation can liberate hours that can then be refocused on human strengths and high-value work such as innovation, relationships and customer experience. These benefits, too, can generate substantial value for the organization.  
My third post in this series will look at how social and demographic changes will impact roles in the FS workforce. In the meantime, please register to read Workforce 2025: The Financial Services Skills & Roles of The Future, for more about how automation and augmentation will affect jobs and skills in FS organizations.