Other parts of this series:
---
In the previous blog in this series, we looked at how to align finance and procurement to increase efficiency.  In this blog, we will explore how companies can realize better and faster returns on their investments.
A few key observations:
Large scale investment is here to stay.  Market uncertainty, margin compression, regulatory hurdles and waves of technological disruption mean multi-year investment in $100 million-plus programs is still very much alive. The program objectives — to help drive income growth, reduce expenses, mitigate risk and improve the overall customer and colleague experience — are clear, but how much rigor are firms applying to increase their return on investment?
Organizations are struggling to achieve the outcomes of strategic investment.  In our review of transformation initiatives worldwide, we have seen that most programs either under-deliver on target benefits by as much as 20 percent, over-spend by up to 20 percent, or do not deliver the desired business outcomes. We have also seen that up to 30 percent of targets on cost-reduction programs are unachievable at the outset due either to a lack of understanding in the cost base or to invalid assumptions with limited accountability and buy-in from business owners. On multiple $100 million-plus programs, this can turn into a major issue, especially since these targets are often communicated to the market.
As the economic guardian of the organization, Finance should work to account for and wisely reinvest every dollar in cost savings.
Finance is taking the reins of strategic change effectiveness by harnessing digital. Our "The CFO Reimagined" survey has shown a fundamental change in the role of the finance function, with Finance now acting as a strategic enabler for the organization. More than three quarters (77 percent) of CFOs surveyed are helping to drive business-wide transformation, and 82 percent are exploring new areas of value in the enterprise.1
Too often, the support from Finance for investment programs does not extend beyond a transactional role, such as setting up cost centers, posting journals, or reporting historical performance. Consequently, it may be too late before issues are identified, costs are sunk, accountable execs are informed, overspent programs are curtailed, and available investment is re-prioritized.
Introducing a forward looking and strategic approach to managing investment can help deliver the 'R' in 'ROI'.  However, this requires a different skillset in the form of digitally-equipped finance professionals who are able to assess potential pitfalls, identify risks before they become issues, and assess ROI to aid management decisions.
The finance function is in a unique position to offer a range of services to the business to champion ROI throughout the program lifecycle, including:
Independent Challenge – Carrying out a robust review of business case assumptions at the outset of the program and identifying risks, gaps and opportunities to the financial delivery of the change portfolio.
Macro Business Impact – Undertaking rapid and iterative assessments of program impacts on operating plan targets by partnering closely with the business and repurposing funding allocations efficiently across the entire change portfolio.
Value Realization Analytics – Using machine learning and data visualization to clearly identify and articulate whether benefits are being realized, what other drivers of cost and/or income are material or addressable and using predictive analytics to scenario plan and identify a likely program result.
Intelligent Back Office – Breaking down barriers in the back office by collaborating with HR, Risk and Legal to set up a decision support capability and governance framework, providing management with the vehicle to steer investment effectively.
Transactional Delivery Support – Applying intelligent automation to seamlessly transact accounting processes such as financial close, management information and reporting, and to project third party spend management.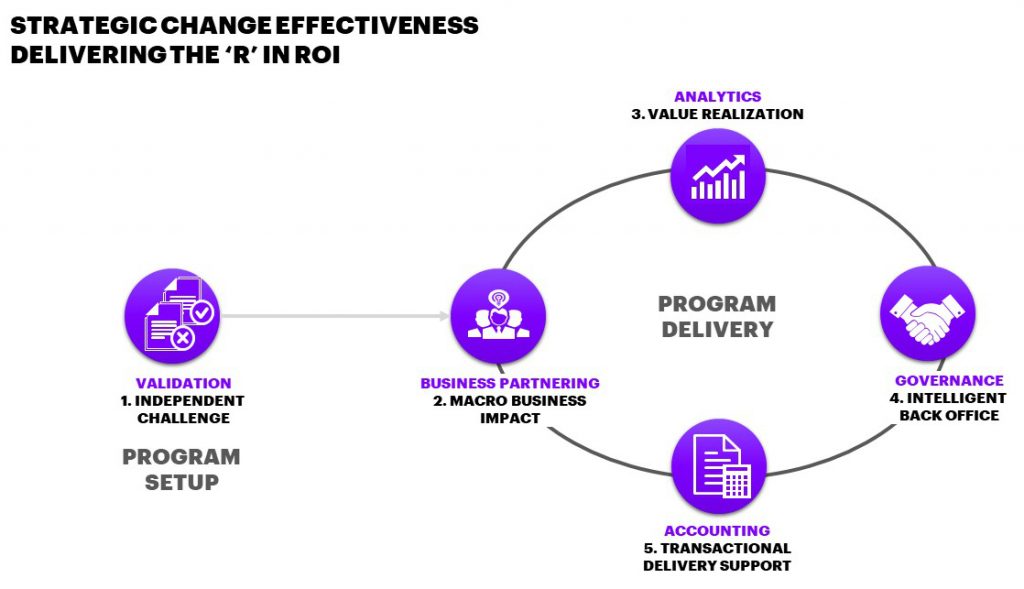 Establishing such a tactical finance team can deliver an array of benefits to strategic investments, including:
Reduction in poor investments and/or sunk costs
Efficient financial cadence and sequencing of change
Clear ownerships, accountabilities and leadership buy-in
Benefits delivery assurance transparency
Adopting digital techniques can allow Finance to create capacity among its professionals for value led work and initiatives instead of transactional support, keeping the group strategy at the heart of everything it does.
In the next blog in this series, we will look at key steps in a finance spend diagnostic.  In the meantime, read our CFO Reimagined report in insurance and banking.
Reference:
1The CFO in Banking, Accenture, November 2018. Access at: November 2018. Access at: https://www.accenture.com/us-en/insights/banking/cfo-research-banking