I recently participated in a panel discussion at the AMP's Amplify Be Well Day, held as part of the 2019 Amplify Innovation Festival, along with my colleagues, Accenture's Andrew Woolf and Bec McConnochie. We spoke about how organisations can unlock their employees' potential, drive innovation and uncover new sources of growth. Our discussion revolved around the trending topics of AI and workforce data collection, and also touched on future roles and new ways of working in the increasingly digital workplace.
Accenture was delighted to support Amplify, Australia's leading ideas and innovation forum, as an Industry Partner. I'd like to share some key highlights from our presentation with you here as inspiration for how you might leverage AI and data collection in the workplace to amplify your future workforce objectives.
Artificial intelligence is real and here
There are numerous predictions and views on what will happen with jobs and roles; our research estimates that AI could replace 47% of current jobs by 2030. This is an unsettling prospect for many employees, who fear being displaced at their job by a machine. There is, however, an upside: it's expected that AI will boost revenue and profitability, and there's great potential for it to create new jobs. This should help dispel common fears about AI replacing people in the workforce.
Yes, jobs will change. And crucially, people will still matter―particularly for the qualities like creativity, judgment and leadership that humans bring to the workplace. The workforce of the future will be a blend of people and machines that is better than the sum of its parts. Accenture calls this workforce augmentation 'Human+.'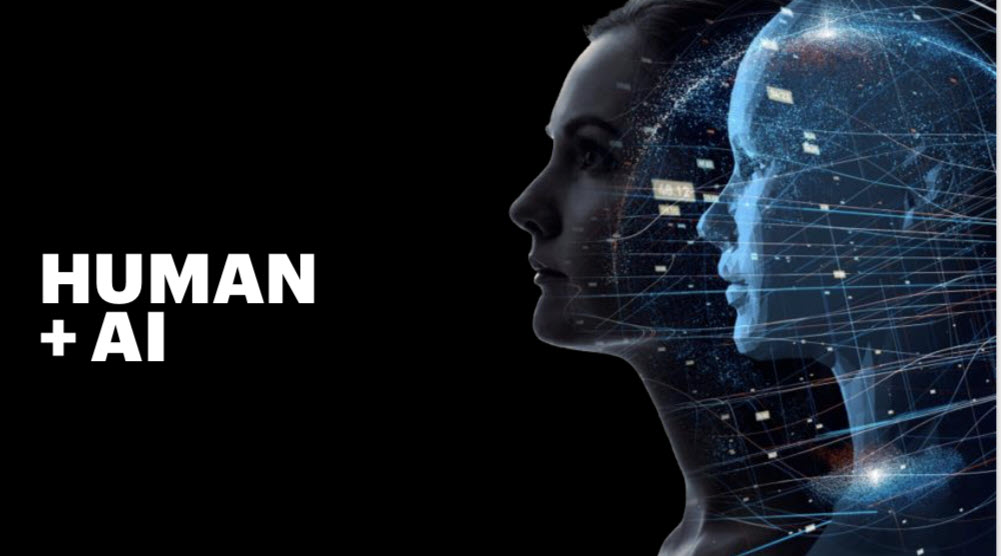 The keys to your success in helping your organisation make the most of AI include:
Sorting out who does what by assessing tasks and skills, not jobs;
Using technologies to free up human workers from mundane, repetitive tasks to better perform those jobs they do best;
Providing the right training to enable a successful machine/human partnership; and
Rewarding the behaviours that further your organisational goals.
Three new role types in the AI-enabled workplace
As humans increasingly work alongside machines, new roles are emerging―roles that tap our human capabilities to improve performance in a digitally-driven work environment. The following three roles will be critical to the success of the future workforce:
Trainers who can help machines learn how to work effectively with humans. This includes technical experts who can program robotic systems, data hygienists who help ensure data is free from bias, and employees who are particularly adept at soft skills like empathy and can teach machines the nuances of the human character and culture.
Explainers who bridge the gap between technologists and business leaders. These are employees who have the technical expertise to understand data, data analytics and complex algorithms and can act as an interface between the business directives arising from these technologies and the business leaders who must make strategic decisions.
Sustainers who ensure AI is used properly. Sustainers play a vital role in allaying machine-versus-human fears. They help design AI to be contextual to the work environment, ensure it's free from bias and oversee ethical compliance.
Workforce data collection…it's all about trust
When it comes to collecting data within and about the workforce, and leveraging AI and data analytics to do so, the operative word is "trust." Employees are willing to allow their employers to collect data about how they do their jobs, as long as they can trust that the data will be used for the right reasons, and not against them.
To generate trust among your employees, focus on these three principles:
Empower employees with greater control over their own data.
Create a system of checks and balances in which employees have shared ownership as well as shared benefits from data collection.
Use technology responsibly to improve employees' lives.
New ways of working
No matter what blend of human and machines your workforce is comprised of, now and into the future, the certainty is that we are entering a new way of working. To be successful, employees must be engaged and productive in these new circumstances―and they need leadership to help them get there. The workforce of the future requires a new type of leader who is experimental, inspirational, works across boundaries and adapts to constant change―bringing employees willingly along on the journey. These leaders:
Innovate for results by embracing diversity and championing intellectual curiosity.
Advocate an inspiring vision by listening first, then offering new approaches for engaging others in a new way of thinking.
Collaborate across the ecosystem to build meaningful connections that further the business.
Execute with agility by making peace with ambiguity and being willing to experiment, improve and adapt to change.
Personalise in a human way by being authentic, sharing stories and creating an environment that allows others to be their full selves.
Putting it all together
We are in exciting and challenging times, as we enter the age of the fully AI-enabled digital workplace. It's a time of discovery and change, and a time that holds great promise if we keep in mind the success enablers I've mentioned above. Not only that, it's an opportunity for you to help lead your organisation into a new territory of human potential unlocked by technological capabilities.
To learn more, please contact me. To read more on AI and the future of work, click through here.
For further reading on the power of trust in your workforce, click through to Accenture's, Decoding Organizational DNA: trust, data, and unlocking value in the digital workplace.