Other parts of this series:
---
The rise of artificial intelligence (AI)—defined as the constellation of technologies that extend human capabilities by sensing, comprehending, acting and learning—is capturing the imagination of people around the world. Expectations are running high as AI takes over every facet of life and changes the dynamics of entire industries.
Encouragingly, new research explains how to turn AI investment into AI-driven growth. In this series, I will try to show how both incumbent enterprises and entrepreneurs can enjoy superior growth and generate value if they raise their "artificial intelligence quotient" (AIQ).
Investment into AI goes full throttle
Over the past five years, as money has been flowing into AI innovators, and industry incumbents have been experimenting with AI to reduce costs and improve customer experiences, start-ups and incumbents alike have been building up their AIQ.
What does AI mean to these enterprises?
For big companies, AI represents the opportunity for business transformation.
For entrepreneurs, AI is the asymmetric tool they can use to take on much larger competitors.
Both small and large companies have made significant AI investments in recent years:
Funding for AI start-ups has been growing at a compound annual growth rate of 57 percent since 2010.1
The number of priority patents filed on AI technologies has increased at a 26-percent compound annual growth rate.2
However, as impressive as these statistics are, they simply reflect efforts to get the engine moving. And companies are no longer content with experimenting.
In the 2017 Accenture Technology Vision survey of 5,400 business and IT executives across 31 countries, more than one-third of respondents indicated that they were set to make extensive investments in each of seven critical AI technologies over the next three years (see Figure below):3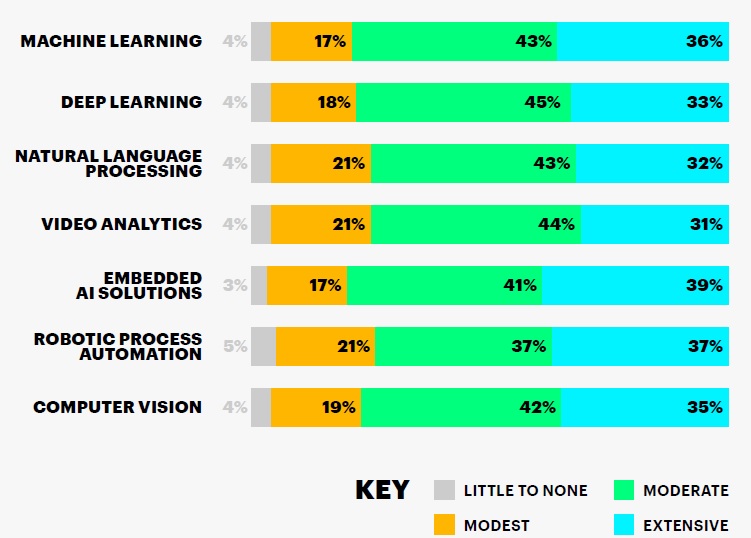 What the companies we surveyed are aiming to undertake is a journey that we call "rotating to the new"—transforming and growing their core business through the adoption of AI.
By so doing, they also create the investment capacity they need to develop new AI-driven businesses that will eventually drive their growth. At some point, they should make the wise pivot, shifting from the core to the new at just the right time and place.4
Accenture believes that AI will be most successful if enterprises create responsible AI strategies and systems that are aligned to five guiding principles: human-centric by design and embedding accountability, fairness, honesty and transparency.
In my next post, I will discuss how enterprises can get results from their key AI investments.
In the meantime, I invite you to have a look at the full Boost Your AIQ—Transforming into an AI Business report.
References:
"Boost Your AIQ – Transforming into an AI Business," Accenture, 2017. Access at: https://www.accenture.com/us-en/event-g20-yea-summit?src=SOMS
Ibid
Accenture Technology Vision 2017. Accenture, 2017. Access at: https://www.accenture.com/us-en/insight-disruptive-technology-trends-2017.
"The Big Squeeze: How Compression Threatens Old Industries," MIT Sloan Management Review, March 23, 2017. Access at: https://sloanreview.mit.edu/article/the-big-squeeze-how-compression-threatens-old-industries/