Highlights:
Truly agile firms are twice as likely as the average financial services (FS) organization to achieve top-quartile financial performance (55 percent vs. 25 percent).
Truly agile firms also show better long-term performance, about 16 percent growth in EBITDA over 10 years, 10 points higher than the rest.
FS firms on average achieve lower scores than the cross-industry mean for both key elements of agility.
Introduction
As shifting regulations, new technologies and ever-changing customer demands continue to intensify disruption, and business environments become more unpredictable with market volatility and savvy digital entrants, enterprise agility is becoming a strategic imperative for financial services (FS) organizations.
This ultimate guide to enterprise agility covers:
What is enterprise agility?
Enterprise agility is the ability to sense and respond rapidly and effectively to opportunities and disruption. True agility is a combination of two factors: speed (velocity & adaptiveness), and a solid foundational base for stability.
Why enterprise agility matters
Our report, "Enterprise Agility: The New Strategic Imperative," based on a number of our recent research studies, found that true enterprise agility delivers significant financial benefits. It more than doubles the probability of organizations achieving top-quartile results compared to the industry average (55 percent vs. 25 percent). Truly agile firms also show better long-term performance, about 16 percent growth in earnings before interest, tax, depreciation and amortization (EBITDA) over 10 years, 10 points higher than the rest of the benchmark group.
However, our research also found that FS firms score low on speed and stability, the two crucial elements that comprise enterprise agility. This leaves most FS firms in the 'At Risk' quadrant of our cross-industry benchmark based on 220 organizations in 50 sectors.
According to Accenture's FS Agility Index Study, FS firms fall below the 50th percentile on speed (the velocity and adaptiveness score). Insurance scored the lowest (16th percentile), with banking (43rd percentile) and capital markets (48th percentile) faring better.
FS firms score in the 41st percentile for a foundational base, with the three sectors—banking (34th), insurance (42nd) and capital markets (44th)—achieving similar individual ratings.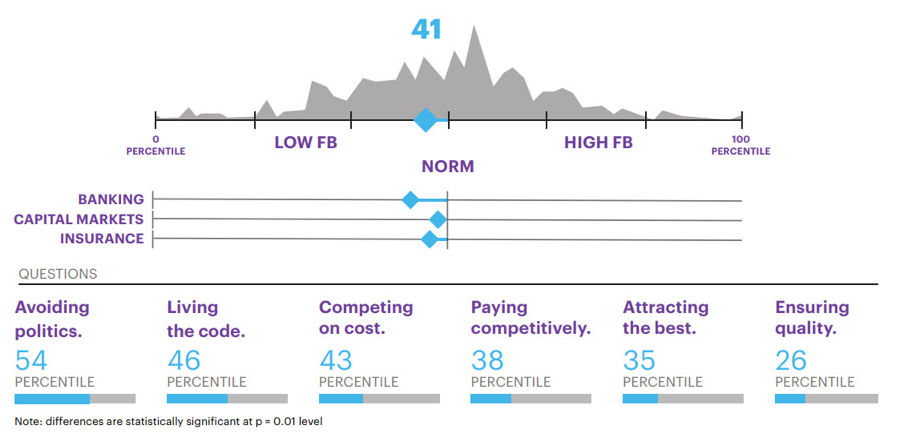 How FS firms are benefiting from enterprise agility
While the majority of the industry lags behind in both speed and stability, truly agile firms in FS are seeing significant benefits. Here are some of their success stories:
Moving from 'At Risk' to 'Truly Agile' in three years: One mid-sized national bank took a comprehensive approach to embracing agile, digital and innovation, and rewired the whole enterprise for speed and stability. The bank strengthened its leadership, reset its culture and people strategy, attracted new talent, invested deeply in its workforce and sparked new ways of working. In three years, the bank started seeing the benefits in speed-to-value, market competitiveness and financial results. By creating a common foundation to support the various elements, and including leadership and culture as intrinsic to this foundation, the bank increased its agility and rapidly converted that into business performance.
Agile transformation—top-down and bottom up: A leading FS group set the foundation for its transformation by creating a constantly evolving playbook on 'how to do agile.' In order to enable teams, the firm ran a comprehensive coaching program where senior stakeholders were given hands-on experience in agile. The firm also wanted to engage business leaders and held agile change leadership forums to highlight and overcome adoption challenges at the regional level.
A constantly improving organization: An online investment company works in groups of small, self-managing and project-based teams. The teams are organized to allow for failure, making them more innovative, while managers continuously challenge, support and guide them. Every employee has access to a common set of enterprise performance goals and data. The focus of performance management is not the hours worked, but productivity levels or the end results. By setting up these organizational structures to ensure constant improvement, today the company has more than $10 billion in assets under management.
Transforming customer service through digital: A large US-based commercial bank realized the importance of digital banking and decided to develop a new IT infrastructure to increase its value proposition. The bank needed to deliver new tech features faster and needed a flexible structure. Four key changes led to the bank's success:
Transitioning to the cloud and long-term reduction of data centers.
Adoption of containers and micro-servers to increase recourse utilization.
Adoption of agile frameworks and of DevOps.
The creation of an open-source dashboard to track code and the real-time status of the entire software pipeline.
Today, the bank can not only develop and release software updates to customers quickly, but also handles more than 75 percent of its customer interactions digitally.
How to rewire your FS firm for enterprise agility
Here are some key elements to consider when rewiring your firm for enterprise agility:
Leadership is crucial to fostering agility, primarily by changing the corporate mindset and culture by creating a conducive environment for constant innovation.
Agile organizations rely on a culture that focuses on customer value, innovation, transparency and collaboration.
Agile Change. True enterprise agility is not a 'one off' event; it's a constant part of the business.
Risk and Governance. Truly agile firms differentiate and accelerate their risk-mitigation actions and governance processes to be appropriate to the risks at hand. Transparency is also crucial to enterprise agility, where data and insights help determine the pace and flexibility of projects and teams, and support honesty about both successes and failures.
Funding and Investment. Prioritizing funding is another key determining factor in the success of agile enterprises. Unprioritized investment leads to weak and unfocused execution at slower pace, inhibiting transformation.
Rewiring the Organization. While each organization is unique, truly agile organizations take an organic perspective, one that considers the enterprise as a whole living business and not one that just puts up new structures to drive results.
An adaptive, extended workforce that utilizes human-machine collaboration is a key component of enterprise agility.
Channels and Operations. In order to develop enterprise agility through the new digital channels, FS firms will have to create a human-centered design that emphasizes the customer experience and journey.
Technology and Data. Truly agile organisations are intelligent and understand the data they have and how to use it for value.
The roadmap to enterprise agility
Get started → Introduce agile → Scale agile → Embrace enterprise agility 
Getting started with enterprise agility involves setting the right direction and ambition with your leaders at all levels and building their understanding. Evaluate your starting point, even if that involves the small-scale projects you have already started. Use analytical tools to assess your FS firm's enterprise agility and the readiness of your organizational dynamics. Set a vision and put the right leadership in place to identify first priorities.
Introducing agile is about building momentum. Pilot agile in priority areas and keep these pilots scaled to a level suitable to your readiness and priorities. As successes mount, more and more projects can embrace similar thinking, creating momentum. This is when organizations can really begin to leverage the multi-speed model and consider areas that might benefit from increased agility, identifying small steps to make the necessary shift. Turn to agile coaches when necessary to develop good team-working practices and to introduce new ways of working. 
Scaling agile widens it across the change portfolio. Remember that every project is different, and there is no one-size-fits-all agile model. Do not apply agile slavishly to all initiatives–take the time to understand what is appropriate and consider the required workplace and tooling. Learn from initial experiences and scale incrementally, assessing effectiveness along the way. Take on bigger, more ambitious programs, while speeding up governance, funding and decision-making around them. Start integrating digital delivery capability and DevOps practices and tools.
Embracing enterprise agility is when the entire FS firm can be rewired completely for speed and stability. Iteratively develop and enhance your strategic agility around sensing and responding to opportunities and disruption in the marketplace. Address some of the orthodoxies and constraints holding your organization back. Continue to learn what works well for your firm.
The importance of trust in agility efforts
Enterprise agility is a must for FS firms looking to thrive in a rapidly evolving digital world. Yet, according to our latest analysis, high levels of fear and anxiety in the workforce are undermining their transformational change efforts.
In our FS Change Survey, 74 per cent of the 800 executives interviewed said staff inability to change and fear of change because of a poor track record was one of their greatest obstacles.
Our Transformation GPS analysis, based on a sample of 5,000 employees and managers, indicates that 85 per cent of transformations that fail do so because of organizational dynamics, especially due to issues of fear and trust. The greatest negative inhibitor of change success in financial services is the amount of people feeling anxious, fearful and threatened.
The essential step to overcoming fear in the workforce and delivering transformational change is building safety and trust in leaders and their vision. Our research indicates that leadership at all levels—from the C-suite down to team leaders—has at least twice the impact on business performance as any other factor. And according to Accenture Transformation GPS study, vision and direction have three to four times greater impact on benefits realization than any other factor.
According to Fortune's 100 Best Companies to Work for, "trust between managers and employees is the primary defining characteristic of the very best workplaces." The Fortune research also shows that the very best workplaces beat "the average annualized returns of the S&P 500 by a factor of three."
To create an environment where employees feel safe, relish change and embrace behaviors that drive enterprise agility, our latest report "Fearless" identifies three areas of action every FS leader can take:
Build trust in the vision and the leadership;
Shift behaviors, mindsets and skills in a safe space;
Create safe teams and trust across the whole organization.
FS firms that provide the right leadership, offer a compelling vision for the future, rethink their business structures, and create a new 'living business' culture will be the ones that successfully master enterprise agility.
Conclusion
While there is no silver bullet to immediately transform FS firms into both fast and stable organizations, the days of a 'wait-and-see' approach to enterprise agility are over. The banks and insurers that lag behind in the agility game will risk competitive advantage and significant financial results.
Our team has created an informative and ongoing podcast series on the enterprise agility topic. You can subscribe on iTunes or listen here.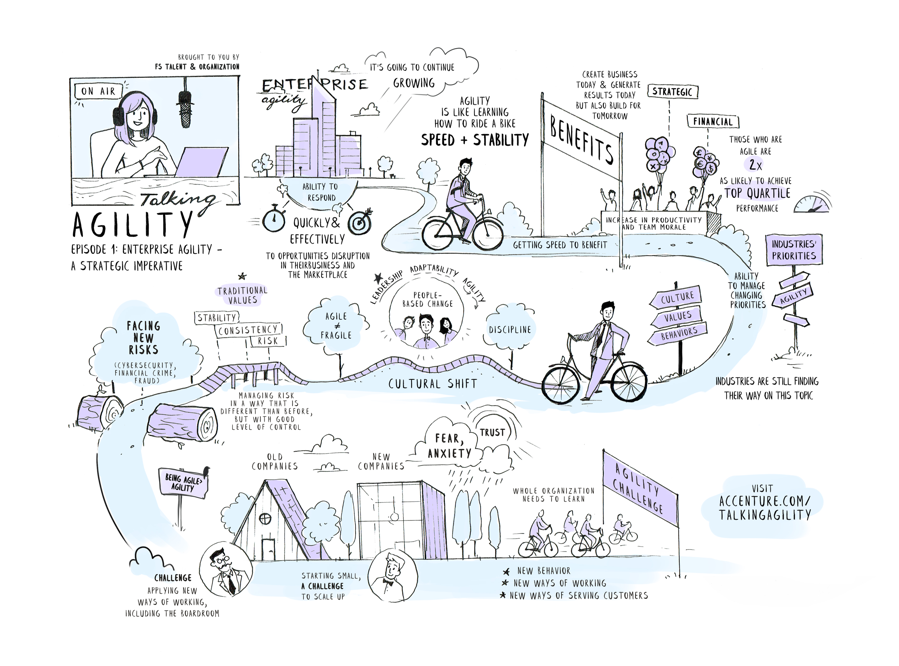 You may also like: