Other parts of this series:
---
To navigate the impacts of the COVID-19 pandemic, organizations have been prioritizing the NOW—supporting their people, customers and suppliers, responding to supply chain disruption and, most recently, reshaping their businesses to align with evolving demand and find new growth pathways. Now they are turning their attention to the NEXT. 
The NEXT, a period of unpredictable and possibly muted economic recovery, is expected to raise new competitive threats and opportunities at great speed. A return to pre-COVID business practices is unlikely; what's coming is a decade of Never Normal—a new era defined by fast changing shifts in cultural norms, societal values and behaviors.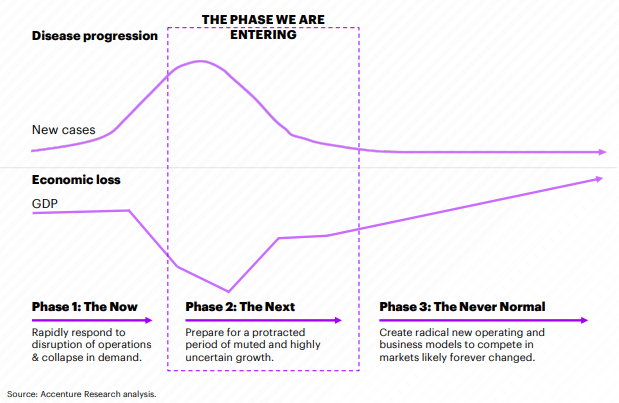 A key challenge is that it's unclear, even as companies reopen their businesses, how the pandemic will play out. There are a range of potential scenarios.
Businesses have three key priorities: 
They need to be 

prepared to change course on a dime. Any steps taken to reopen should be easily reversible and scalable.

 

They must

 provide a safe and secure work environment, communicating with their workforce transparently to build trust.

 

Instead of reverting to old ways; they need to use reopening as an opportunity to create a better future for employees and customers.

 
To outmaneuver uncertainty as they reopen their businesses, companies need a program of reinvention. They need to: 
Becom

e

 more 

digital, data-driven, and in the cloud;

 

Hav

e

 more variable cost structures, agile operations and automation; 

and 

 

C

reat

e

 stronger capabilities in e-commerce and security. 

 
This agility will be core to the long-term capabilities they build.  
Focus on five key areas
There are five areas companies need to address to build a program of active invention. Join me next time as I dig into how companies can ready themselves for a Never Normal future. 
In the meantime, for more on reopening and reinventing your business, take a look at 5 Priorities to Help Reopen and Reinvent Your Business.