The role of the Chief Financial Officer (CFO) is constantly changing. As the ultimate owner of a firm's P&L (profit and loss) and balance sheet, and operating in an increasingly volatile, global and digital marketplace, more and more CFOs are expected to drive growth, remain compliant and deliver increased enterprise value.

Source Accenture 2014 High Performance Finance Study
In the CFO´s journey to more business-oriented requirements, two major factors are accelerating the change.
First, the technological innovations.  Technologies such as advanced analytics and big data are providing the CFO with accurate and real-time finance and business insights, supporting better and faster executive decision making. At the same time, robotic process automation and machine learning are revolutionizing finance operations by automating traditional finance transactions and freeing-up the finance workforce to focus on value-adding activities.
Second, the skills and talent required for the finance function.  The finance function now finds itself having to develop a whole new set of roles and skills to properly serve in its new business advisory capacity.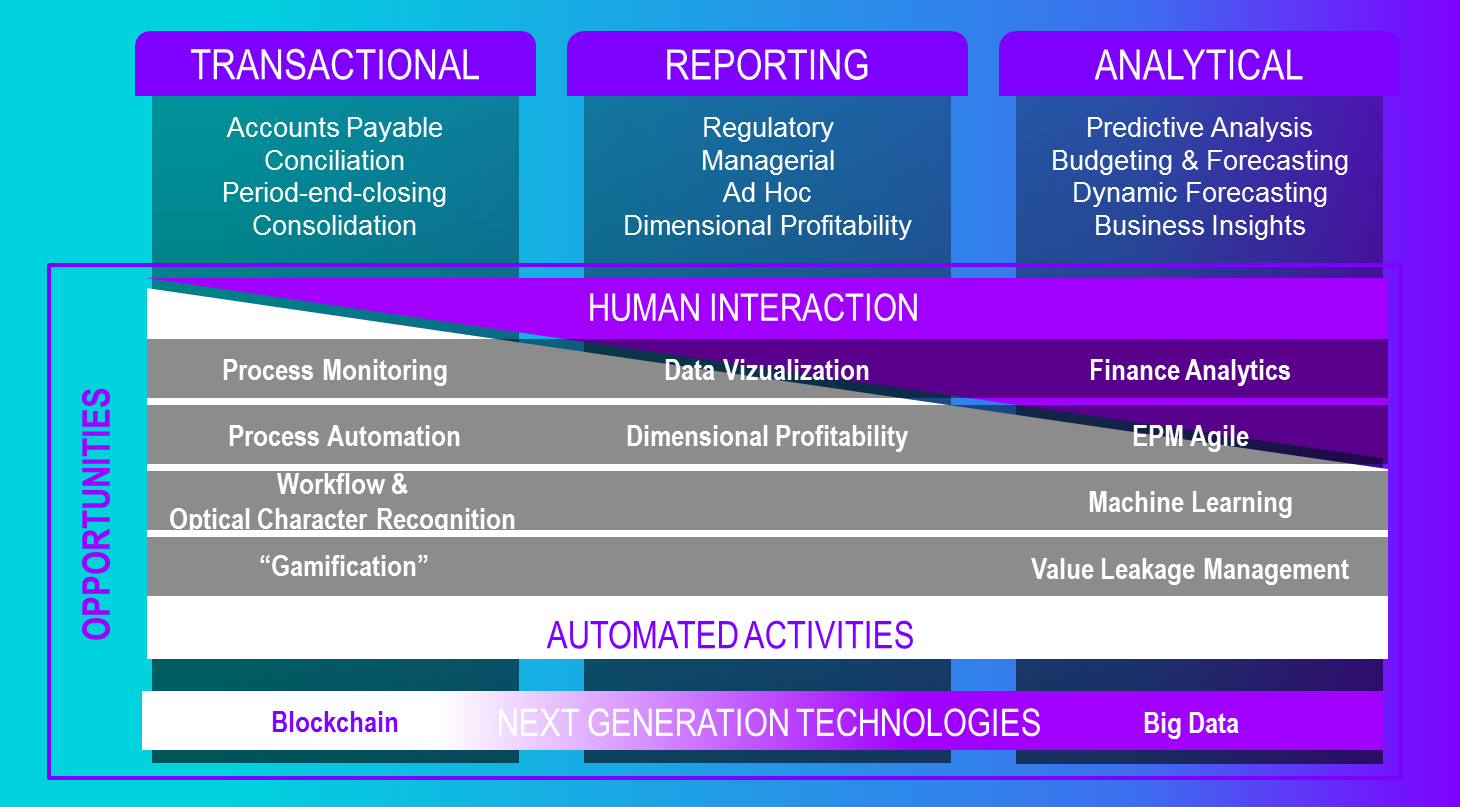 Source: Accenture, June 2017
As outlined in the illustration above, traditional finance roles such as accounts payable clerk are expected to shift their attention from transactions to a more analytical approach, focusing, for example, on exception analysis. Other more analytical roles like financial planning and analysis will not just answer the questions "what happened" and "why did it happen" but will assess "what will happen" and "what should we do" through the use of predictive and prescriptive analytics.
In the second blog of this series we continue on this topic and look at some of the new roles and skills needed for the finance workforce.
This blog post was created with my colleague, Adriano Regis.
To learn more about Accenture's Finance and Accounting capabilities, visit www.accenture.com/Finance-Accounting.