Other parts of this series:
---
Financial services firms are moving rapidly to keep pace with digital, transforming people, technology and processes to achieve the agility and responsiveness this new era demands. However, gaps are emerging as a new shift occurs. Transforming infrastructure, app and employee stacks are converging dynamically into a single complex system. Fresh thinking is needed to get to grips with these systems.
To thrive in this world of 'next level' future systems, financial services (FS) firms will need new technology and talent, and more holistic approaches.
How far have companies come and where are they failing?
The transformation journey
To transform core applications and power high-velocity, software-driven businesses, companies have applied the concepts of liquid, intelligent, and connected applications.
Companies apply reusable components and modular architectures with a cloud-first mindset to deliver liquid applications at the point at need.
Intelligent applications help maximize business data through machine learning and analytics.
Connected applications provide the technological foundation for new kinds of business, partner, and customer interactions.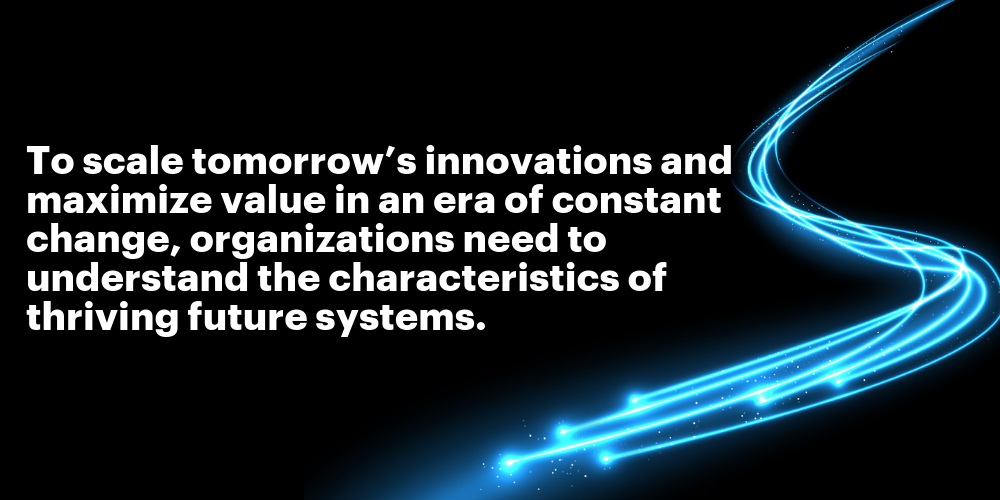 These strategies have helped companies increase agility, manage technical debt, and harness technology innovation. They are spurring new growth, shaping new markets, and reaching new customers. However, there are gaps that remain hard to bridge.
Companies are struggling to scale innovation.
Collaboration and responding to market demands at speed are proving elusive. And, while companies may be successfully innovating in pockets, they have not been able to achieve the desired impact across the enterprise. What holds many back is patchwork ways of working and applications built for another era. In addition, their workforces are trained for the applications and processes of yesterday.
To scale tomorrow's innovations and maximize value in an era of constant change, organizations need to understand the characteristics of thriving future systems.
What do future systems look like?
To establish a clear vision of future systems, Accenture conducted interviews with some of its top experts, industry analysts and select clients.  The research indicates that three overriding characteristics will dominate thriving future systems.
Future systems will be:
Boundaryless—barriers disappear within the IT stack, between companies, and between humans and machines.
Adaptable—systems seamlessly adapt to business and technology change.
Radically human—finally, machines can adapt to humans, rather than the other way around. Radically human systems combine leading-edge technology and human-centric design to create tomorrow's advantage.
How does that translate into the everyday business environment?
Imagine a world in which living systems of super-smart applications, data, and infrastructure are anywhere and everywhere. Liberated from static IT stacks and legacy data centers, they use flexible enterprise architectures to give us what we need when and where we need it, adapting the way we adapt, and working the way we work. These systems will be engineered by a broad emerging talent force—created by us, for us.
The evolution is already underway.
How can companies gear for future systems?
To thrive in such a world, we must upended conventional thinking about how we build and deploy technology and embed it in our businesses and our daily lives, and we must be prepared to reimagine our talent strategies for a world that will look very different from today.
Join me next week as I take a closer look at the new thinking required to bridge emerging gaps and scale innovation.
Meantime, click here for more on future systems and how organizations can use them to thrive in a world of constant change.