---
Today's insurance business partnerships are based not only on strategy, products and services, but also on the merging of technology and the sharing of platforms. Now, as they expand their networks, engage in ecosystems and shift rapidly between them, their outdated ICT systems must evolve to support partnerships at scale—without sacrificing the integrity or security of their products and services.
Microservices and blockchain technologies will play a key role alongside organizational strategies such as:
Transforming and growing a company's core, while growing new capabilities—becoming a living business
Gearing for agile by decoupling slow legacy and faster digital architectures, recalibrating support for the rapid turnaround and tailoring governance structures to suit the iterative nature of agile delivery
Building a future workforce capable of human-machine collaboration and of innovation and collaboration across ecosystems to drive value for the organization.
Achieving this will demand new FS leadership with a strong understanding of digital.
Microservices
A microservices architecture uses a suite of tools like application programming interfaces (APIs), containers, and cloud to break applications into simple, discrete services. Larger applications are then strung together by making API calls to each of the independent services.
Microservices delivers internal benefits like application scalability and reliability. It also provides a foundation for companies to forge partnerships quickly and easily, seamlessly integrating services without hindering partners or customers.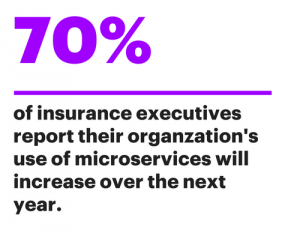 Blockchain
If microservices are the key to scaling and integrating partnerships, blockchain will be critical to managing and operating them. Blockchain will play a key role in creating, scaling, and managing business relationships through its ability to hold partners accountable without the need to first build trust.
Because the information stored within a blockchain is replicated and shared among a network of partners, participants have no inherent need to trust each other, or an intermediary. They can simply delegate trust to the system. Coupled with smart contracts, blockchain makes it possible for organizations to pursue broader networks, on-board new partners, or enter new ecosystems—with a level of ease and speed impossible in the past.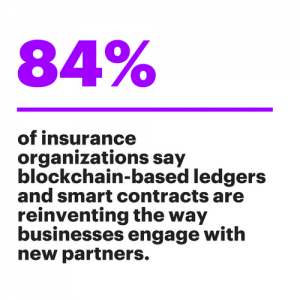 While many blockchain initiatives are still in early stages, 84 percent of insurance organizations say blockchain-based ledgers and smart contracts are reinventing the way businesses engage with new partners. Around 46 percent expect to integrate blockchain into their systems in two years or less—they will be the early adopters that set the pace.
The way forward
To meet the challenges of creating and managing relationships at scale, insurers must reshape their business from top to bottom. Leaders must begin investing in the relevant skills and tools today. Those that empower technology-based relationships will find a clear path to growth, and new opportunities for innovation.
Join me next week as I explore another trend highlighted in Accenture's Technology Vision for Insurance 2018—Internet of Thinking: Creating Intelligent Distributed Systems. This trend looks at how explosive growth in the use of intelligent computing will push computing beyond the cloud, toward the edge of networks.
In the meantime, for more on Frictionless Business: Built to Partner at Scale, click through to Accenture's Technology Vision for Insurance 2018 report.