---
In this series, I have outlined the current state of cloud adoption among financial institutions in Europe and discussed some of the challenges these firms are facing. I have also presented some of the perceived barriers that continue to hold banking and financial services back from fully embracing the cloud. In addition, I have shown you some of the key elements senior management needs to understand to make a successful cloud-based digital transformation possible.
In this post, I will conclude the series with a look at the various paths financial services firms can take to the cloud.
Technology as the new core of business
When setting out on their journey to the cloud, banking and financial services firms typically have a common goal: they want to create new business models to deliver on their business objectives and strategies.
More and more commonly, this means anticipating and/or responding to disruptive challenges. To do this, financial firms should undertake a shift in thinking:
Financial institutions in Europe should put technology—rather than finance—at the core of their business.
In this way, cloud technology is not only the motor that powers their digital transformation; it is the central platform for profitable growth.
One size does not fit all
As shown in the Figure below, when it comes to choosing a path to the cloud, banking and financial firms have more than one option.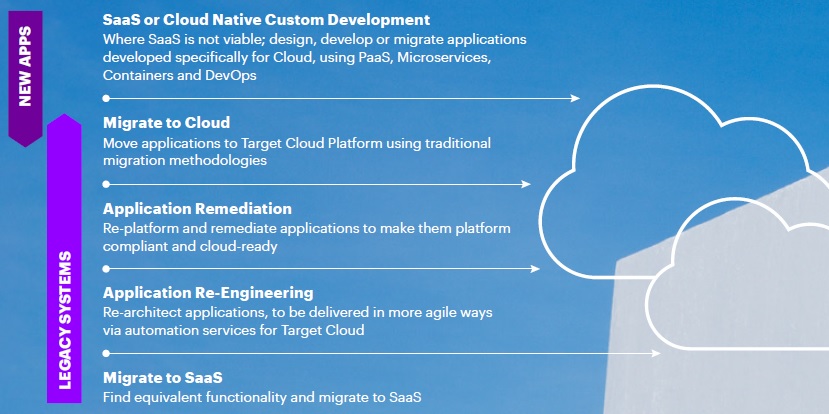 When choosing your own path to the cloud, it is important to remember that no one cloud strategy works for all financial firms.
As shown in the Figure below, some firms use cloud to enhance their legacy systems. These firms may use cloud-based solutions for non-core areas, such as customer relationship management (CRM) or human resources (HR), or they may integrate cloud into certain aspects of product development, channel optimization, or credit risk assessment.

Other firms are looking at cloud as the basis of digital transformation. While this approach can lead to the creation of a sustainable competitive advantage, it also entails a significant commitment in resources and management focus.
In addition to economic benefits, desired outcomes from a holistic, cloud-based transformation would include a flatter, more responsive organization and an environment that encourages innovation using "fail fast" techniques of rapid, data-based test programs.
The cloud-based organization should feature fast, effective delivery and an enterprise-wide emphasis on organizational learning and adaptation.
With cloud as a business asset, financial services institutions are transforming themselves at high speed
In conclusion, while some European finance firms are experimenting with specific cloud solutions, others are contemplating a cloud-based transformation to a truly digital organization.
In either case, a self-assessment might be worthwhile. Such an assessment should include a review of a firm's current status in terms of:
IT structure.
Internal talent.
Technology operating model.
Regulatory and security concerns.
Position in the ecosystem.
Banking and financial firms that decide to become digital players—and that put technology at the core of their business—can reap all the benefits of cloud. But achieving this goal in our disruptive and evolving digital marketplace is not possible without a comprehensive cloud strategy.
Cloud is becoming the new normal—get there on your own terms.
Access the full Moving to the Cloud—A Cloud-based Strategy for Banking Firms in Europe report for further information.