---
The insurance industry is risk-averse by definition. Enterprise agility can be considered on some level a risk, if only because it's a new way of working.
But insurers, in their own way, have been experimenting with agile ways of working for years. My guest on the latest episode of Talking Agility, Jim Bramblet, has seen it first-hand.
As Accenture's North American Practice Lead for Insurance, Jim has helped some of the industry's biggest players improve their operations. His network of clients and years of experience give him a wonderful round perspective on the industry's experience with agility to date—and what's to come.
It was a very interesting conversation about an industry that is not my bread and butter. Here are some of the key insights Jim shared in our conversation.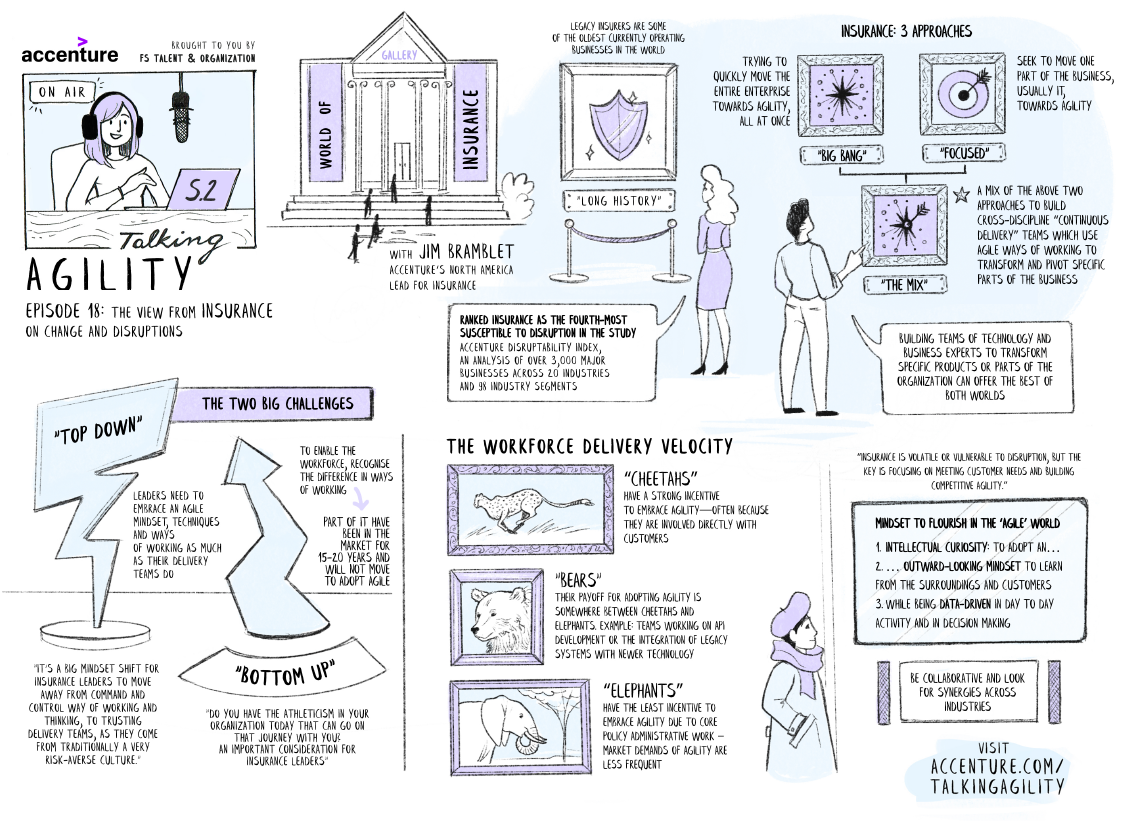 Even for insurance, agility is powerful
Legacy insurers are some of the oldest currently operating businesses in the world. The roots of one multinational insurer, for example, go back to 1797! Insurance is also highly regulated and has daunting capital requirements for new market entrants.
These are some factors that have made insurance slower to embrace enterprise agility than some other parts of financial services industry—but "slow" does not mean "never."
The most recent Accenture Disruptability 2.0 Index—an analysis of over 10,000 major businesses across 20 industries and 98 industry segments—ranked insurance as the fourth-most susceptible to disruption in the study after Communications and Media, Retail and Infrastructure, and Transportation Services.
In response, many insurers are looking to agility as a path to sustainability.
"Is insurance going to experience what Amazon did to retail or what Netflix did to communications? I don't know," says Jim. "But what I can tell you is that most of our clients have to build competitive agility to respond to these trends."
Not all agile approaches are equal
The agile efforts of insurance companies so far can be divided into three categories, according to Jim.
The first is a "big bang" approach—trying to quickly move the entire enterprise towards agility, all at once.
• The second is a focused approach that seeks to move one part of the business—usually the enterprise tech side—towards agility.
• The third approach is a mix of the first two—building some cross-discipline teams that use agile ways of working to transform specific parts of the business.
Each approach can pay dividends, Jim says, but he's seen the best results with a balanced approach.
"Ripping the whole band-aid off at once is really hard," he says. "And when we focus on just IT, how are we sure they're working on the right things? How are we infusing the right strategic thinking? We see improvements in frequency of delivery—but are we seeing the right things delivered more frequently?"
Building teams of technology and business experts to transform specific products or parts of the organization can offer the best of both worlds.
The agile transformation is broad enough to synergize with the overall strategic direction of the business and drive real value—but not so broad that making the change is paralyzing.
Mindset matters
Anyone familiar with other episodes of Talking Agility won't be surprised to hear Jim say that culture plays a crucial role in embracing agility. The importance of culture in agile change has emerged as one of the big themes of our second season and it was interesting to hear Jim's take on making agile culture change happen through the prism of the insurance industry.
"There are two big challenges here," he says. "Top down and bottom up."
"For top down, leaders need to embrace agile techniques as much as their delivery teams do. They need to embrace handing a budget to a delivery team and trusting they will make highest and best use of that budget."
"It's a big mindset shift for leaders to move from command-and-control to trust. This is hard for insurance, which comes from a very risk-averse culture."
The bottom-up challenge is different, Jim says, but no less important.
"To enable the workforce, we need to recognize differences," he says. "Part of this workforce have been in the market for 20, 30 years."
"Not everyone is going to come along for this agile journey. Some parts of the workforce just aren't going to make the turn. This is part of what makes a 'big bang' approach treacherous."
"You don't want people who have been around for 25, 30 years to feel disenchanted. You need that skill to run your business."
With that in mind, he recommends breaking the workforce down into three groups:
The first group, which Jim calls "cheetahs," have a strong incentive to embrace agility—often because they are involved directly with customers.
The second group, which he calls "elephants," have the least incentive to embrace agility.
"Your core policy administration and your products—how often do they need to change?" Jim says. "You're probably OK with monthly or quarterly cycles. The workforce linked to this probably doesn't need to be uber-agile."
The third group's payoff for going agile is somewhere between group one and group two. Jim gives the example of teams working on API development or the integration of legacy systems with newer technology.
Jim didn't suggest an animal symbol for this group, but I like to think of them as "bears"—halfway between elephants and cheetahs when it comes to speed.
The power of curiosity
Like any experienced leaders, insurance executives are generally extremely experienced and competent.
"A lot of our execs have been in this industry for so long they feel like they can run the business based on past experience," says Jim. "And they can! The question is for how long, and how successful you can be.
"If I look outward at the universe of options available to me, if I have curiosity about following the data around what our customers tell us, there's value there."
"A lot of companies say they are data driven. But do they really use it to inform their day-to-day activity? I'd say that's pretty rare for our clients right now."
Listen to the full episode
Jim shared many other interesting lessons learned in our conversation—including his advice for first steps for insurance looking to become more agile.
To hear our whole conversation, tune in to the latest episode of Talking Agility here:
As always, I'd love to hear your feedback on this episode and suggestions for future episodes.
You can reach me here or share your feedback through your preferred podcasting platform by commenting under each episode.