Other parts of this series:
---
Full gender parity—that is, equal employment opportunities, equal pay, and equal representation within leadership for men and women—could still be decades away. While that feels like bad news, the good news is that new estimates—based on new developments in the workforce—have shaved years off the previous projections.
For example, Accenture's Getting to Equal 2017: Closing the Gender Pay Gap report notes that, for developed markets, the gender pay gap could be closed by 2044—which is 36 years earlier than previous projections. In developing nations, this goal could be attained by 2066, more than 100 years earlier than previous estimates. Still, this is a long way off and there are indicators (as reported in the World Economic Forum 2017 report on gender parity) that progress in some areas has stalled—meaning that the goal will not be achieved for many women currently in the workforce.
One step forward, two steps back
It's not as if significant strides haven't been made. In the UK and Australia, there have been more female college graduates than male college graduates since the mid-1980s. According to the most recent US Census, the number of women college graduates exceeds the number of men college graduates in the US as well. In general, it's widely known and accepted that women outperform men in their educational achievements. However, once young women get into the workforce, they don't rise through the ranks at the speed, proportion, or level as the young men. Why is that? It turns out there are many forces at play.
One interesting caveat about gender parity trends is that rates of progress are not universal throughout the world. Some countries are progressing faster, or slower, than others. For example, while the US may be lagging, some of the Nordic countries have made great progress in creating equality between women and men in the workforce.
Gender parity in financial services
Achieving gender parity can be viewed through different lenses—not only by geography but also by industry. From an industry-based perspective, financial services takes a median position in terms of the number of women in leadership roles, according to this Forbes summary of an International Labour Organisation report. Education and social services are at the top of the list and mining and quarrying are at the bottom.
A Harvard Business Review analysis of 50 American financial services companies found that, while progress is being made in management ranks, women still only "occupy 20% of executive committee roles and 22% of board positions. Only 12% of the CEOs of large financial organisations are women."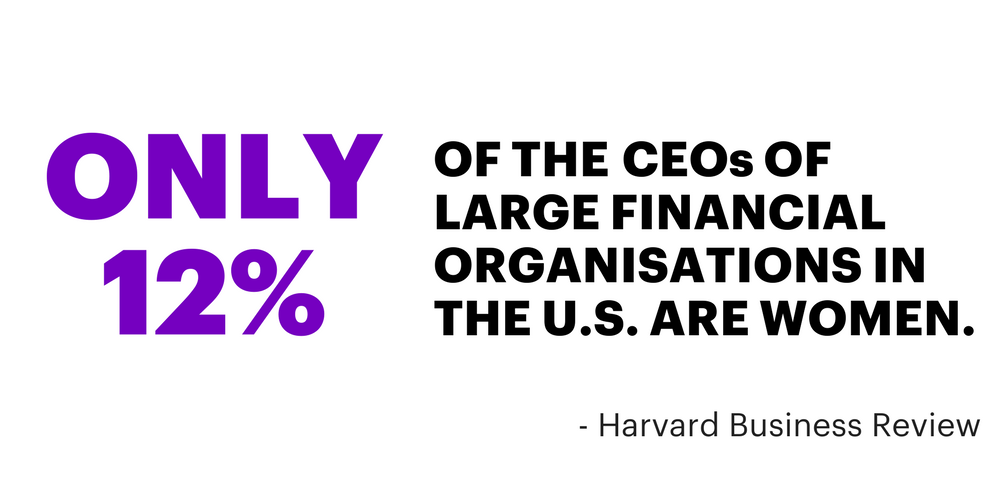 Some financial services firms are doing a better job than others in driving progress toward gender parity. For example, according to a CNBC interview of J.P. Morgan CEO Jamie Dimon, approximately 30% of the bank's top 200 executives are now women. In 2017, Australian bank Westpac achieved its 50/50 gender-balanced leadership target, which was first set in 2012. Results like these provide an aspirational model for other financial institutions.
Escalating the gender parity journey
In this series, I'm going to explore the many aspects of the quest for equality between working men and women in an attempt to better understand the current state, consider future possibilities, and decipher how human resources professionals can help smooth the path so that women can enjoy equal opportunities and status to men within the workforce—sooner.