Other parts of this series:
---
Embarking on the Journey
This blog will be the first of five installments offering insight and advice for financial services firms to more efficiently navigate the contract remediation journey from recent regulatory change-driven events such as LIBOR Reform, Regulatory Best Interest, Initial Margin, Qualified Financial Contracts, Data Privacy (like General Data Protection Regulation), Third-Party Risk Management.  These regulatory changes are necessitating the identification and remediation of impacted contracts by renegotiating impacted terms at scale. However, there are significant challenges in navigating this process which requires a disciplined and thoughtful approach augmented by technology tools with workflow engines driven by custom business logic. 
Currently, the main driver for an examination of a firm's contract management process and supporting tools is the shift from the London Interbank Offered Rate (LIBOR) to the Secured Overnight Financing Rate (SOFR) reference rate (LIBOR reform) occurring over the next two years.  For firms, the massive scale and nuances of LIBOR replacement obviate the requirement to analyze their current LIBOR-based financial contracts by identifying affected contracts, assessing scope of impact, and renegotiating terms as needed.  Even more importantly, firms should systematically analyze and streamline the process for managing and documenting financial contracts.   
To effectively manage these regulatory and risk management-driven changes, financial firms should consider examining their contract management process with the goal of standardizing a scalable and repeatable process of managing contracts from cradle to grave. This end-to-end process is known as Contract Lifecycle Management (CLM) which involves the creation, storage, search, and analysis of contracts. 
This blog series will cover the following Contract Remediation Lifecyle process phases in this sequential order (see figure of phases illustrated in Accenture's CLM/Contract Remediation Lifecycle):  
Discovery and Analysis Phase

 

Assessment and Amendment Phase

 

Communication and Negotiation Phase

 

Signing and Storing Phase
Figure: Accenture Contract Remediation Lifecycle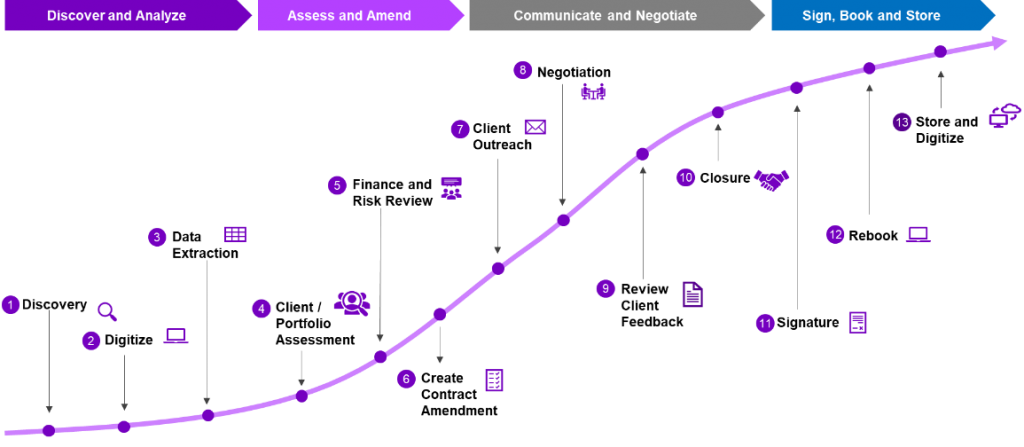 Challenges in Managing Contracts
Financial firms face many challenges with legacy systems, inadequate data and manual processes in managing contracts that require extensive time, analysis and planning to fix for the long-term.  Many smaller and less tech savvy banks don't have electronic/system-based contract repositories, nor have they defined ownership and management of contracts in one function (legal or front office).  Aggravating the problem, some contracts are paper-based and are kept in the filing cabinets of front office staffers, thus there is no inventory of contracts that are keyword searchable and some contracts may be missing.  This increases the firm's financial risk exposure and could lead to potential revenue loss if old contracts are uneconomic.        
Further compounding the situation, many older contacts are stored on local drives or in hard copies in filing systems, thus there is no central repository that one can query to find records sought.  To effectively manage these regulatory and risk management-driven changes, financial firms should have easy access to client data often owned by front office staff. To effectively remediate contracts for LIBOR or any other wholesale regulatory-driven contract changes, data should be easily accessible and stored.  
Financial firms should use the sunk operational and technology costs of LIBOR remediation to strategically build or re-engineer a sustainable, scalable, technology driven, smart CLM workflow process that manages contracts from inception to termination. Specifically, firms should consider the process of how they: draft and negotiate contracts; seek legal approval of contracts; import contracts into a contract repository/storage tool, administer contracts for Compliance, augment and monetize the contract (e.g. selling additional services), and lastly how they renew or terminate the contract.  
CLM Considerations
This entails setting up a contract management program that creates an automated contract management workflow in a contract/document management tool and defines roles and responsibilities between Legal, Compliance and front office sales staff for business as usual (BAU) management of contracts.  Over time these investments should lead to lower operational costs in managing contracts (including reducing the need to hire small armies of costly contract administrators/paralegals or consultants to comb through contracts) as well as reducing financial and contractual risks.  A robust and automated CLM process can also lead to earlier revenue recognition of contracts.    
Conclusion
By committing to building a disciplined and automated CLM process with appropriate document management tools, firms can reap financial advantages.  At the margin, this can even be viewed as a competitive differentiator by clients.  While this requires significant time and upfront investment, LIBOR remediation is an appropriate test case through which one can address these challenges.   
Next up in the Series: Contract Discover and Analysis (Phase 1). In this next installment we will explore methods for how to efficiently discover and analyze contracts through technology tools for Search and Extraction (contract data mining). Stay Tuned!  
How we can help
Accenture can assist clients in building out a CLM program by: 
Conducting current state assessments; 

 

Defining a target operating model for the CLM process; 

 

Defining tools, business and technical requirements; 

 

CLM/document management vendor selection; 

 

System integration; and

 

Change management/training.

 
Contact us to get started on your contract remediation journey. 
Visit our LIBOR offering page to learn how our

solutions can help you transition from LIBOR with confidence. 
Newsletter Author: Lisa Bloomberg, Garrett Swanberg 
Newsletter Contact Person: Lisa Bloomberg 
Disclaimer  
This blog is intended for general informational purposes only, does not take into account the reader's specific circumstances, may not reflect the most current developments, and is not intended to provide advice on specific circumstances. Accenture disclaims, to the fullest extent permitted by applicable law, all liability for the accuracy and completeness of the information in this blog and for any acts or omissions made based on such information. Accenture does not provide legal, regulatory, audit or tax advice. Readers are responsible for obtaining such advice from their own legal counsel or other licensed professional. 
About Accenture 
Accenture is a leading global professional services company, providing a broad range of services and solutions in strategy, consulting, digital, technology and operations. Combining unmatched experience and specialized skills across more than 40 industries and all business functions—underpinned by the world's largest delivery network—Accenture works at the intersection of business and technology to help clients improve their performance and create sustainable value for their stakeholders. With more than 442,000 people serving clients in more than 120 countries, Accenture drives innovation to improve the way the world works and lives. Its home page is www.accenture.com 
Copyright © 2019 Accenture. All rights reserved. 
Accenture, its logo, and High Performance Delivered are trademarks of Accenture. This document is produced by Accenture as general information on the subject. It is not intended to provide advice on your specific circumstances. 
If you require advice or further details on any matters referred to, please contact your Accenture representative.