Other parts of this series:
---
Using new technologies, organizations can now mine a vast array of new data about people and their work. But just because employers can access the data, should they? How are they accessing it? And what impact does that have?
In a recent Accenture report, the results of both a workforce and a business-leader survey dramatically highlighted the opportunities and consequences of decoding organizational DNA. While the data is important, equally important is how the data is used—and who owns it.
Here are five charts explaining the positive and negative impacts of gathering and using workplace data.
How the data is used is important to your workforce.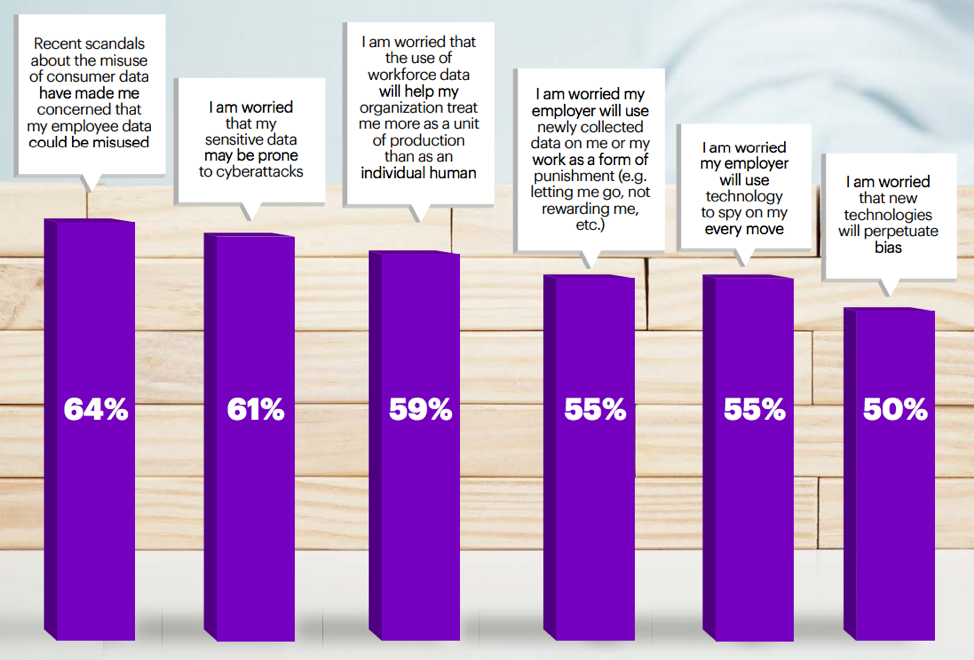 As technology evolves, people are more conscious than ever of how personal data is used and misused; data privacy is a global hot topic. In response to growing pressure, laws and regulations are evolving to give the consumer more control over their data: They can opt in, opt out, cancel their service and even pursue legal action when a company violates the terms of a contract. Yet this isn't the case in most workplaces.
When answering the survey, employees' main concerns were:
Will employers use the data the right way?
Will employers "spy" on their every move?
Will the data collected about them accurately represent their performance—or turn them into commodities or mere numbers?
Will algorithms in the workplace perpetuate bias?
In return for permission to obtain and use data, the majority of financial services employees say that employers will have to give them control over how it's used. They want to own their work-related data and take it with them when they leave.
Employee trust will be gained or lost.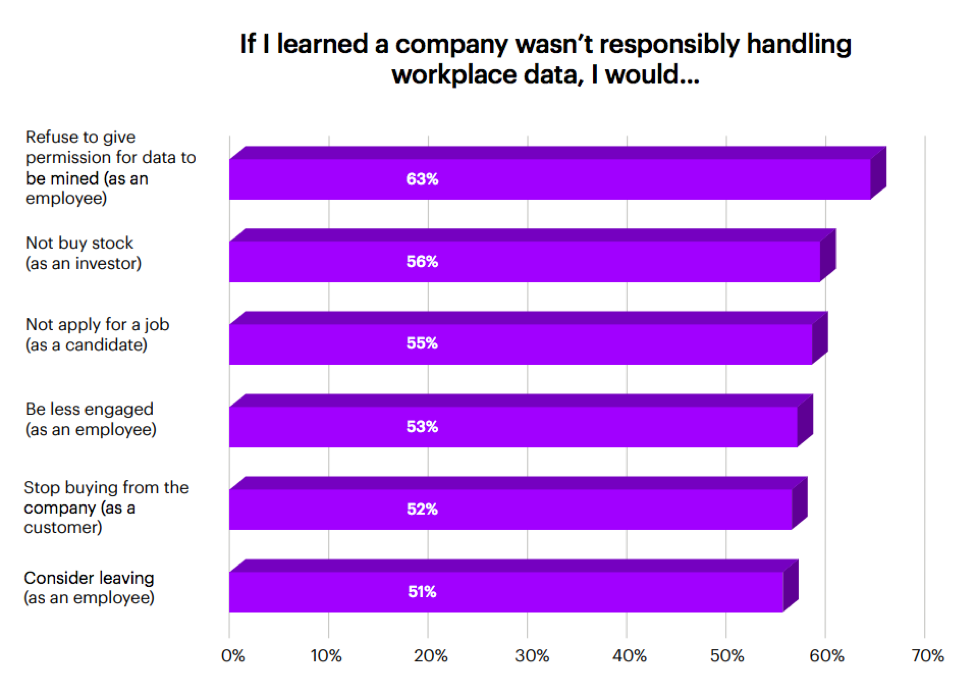 If an organization wasn't handling workplace data responsibly, employees surveyed indicated they would feel very strongly; 63 percent said they would refuse to give permission, and over half (51 percent) would consider leaving the organization.
62 percent of organizations are already using new sources of workplace data to a large or significant extent. But only one third of business leaders and employees are very confident that their organizations are using workforce data in a highly responsible way. This number should be higher. When employees and leaders know their organization is using new technologies and sources of workplace data with their permission and in a visibly responsible way, trust builds.
Financial performance will be significantly affected.
Trust puts value at stake. This chart depicts the financial implications of both responsible and irresponsible use of workplace data. Responsible actions can lead to potential revenue growth rate gains of up to 6.4 percentage points and the prized competitive edge. On the opposite end of the spectrum, irresponsible actions with new technologies can lead to not only as much as a 6.1 percentage point drop in the growth rate, but also a loss of trust and loyalty from workers and customers.
For the 6,000 largest publicly listed global companies in Accenture's recent survey, this could equate to more than US$3 trillion in "trapped" value.
In addition, 31 percent of companies are holding back from investing more into new technologies out of concern for what their employees think. These organizations are potentially leaving a great deal of value on the table, and risk falling behind competitors in the race to use digital technologies to improve performance.
Leaders will need to "give to get" for workplace data to help the company and employees thrive.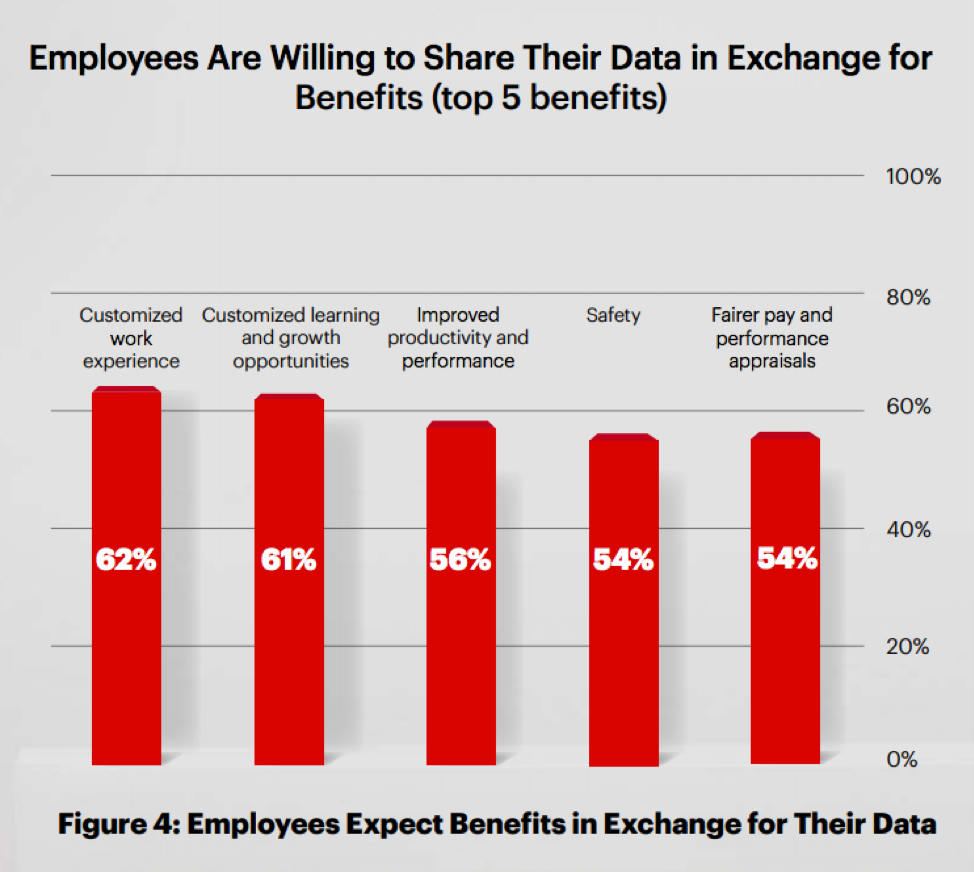 Of 10,000 workers surveyed, ninety-two percent are open to the collection of data about them and their work—but only if it improves their performance or wellbeing or provides other personal benefits.
The top 5 desired benefits are:
A customized work experience
Customized learning and growth opportunities
Improved productivity and performance
Safety
Fairer pay and performance appraisals
If leaders want access to valuable data, they will need to forge a new "give-to-get" relationship with employees and share more control with them over their own data. The problem is, less than a quarter (23 percent) of companies are following the "give-to-get" principle every time data is collected.
Improved performance will come from employees having access to their data in a confidential fashion.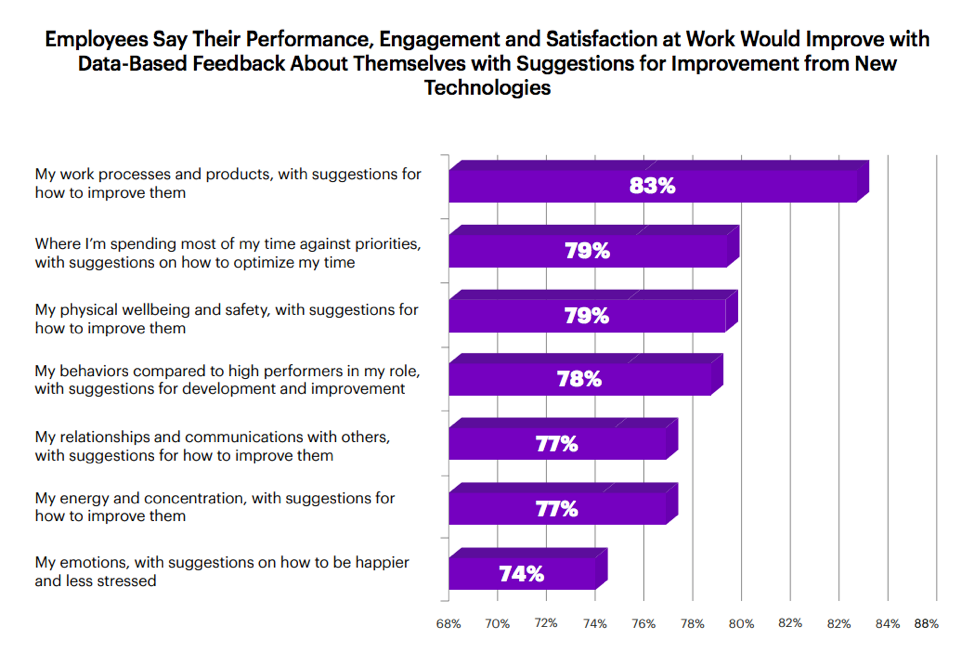 When asked how having their data would be useful to them, the majority of the 10,000 employees surveyed said their performance, engagement and satisfaction at work would improve with data-based feedback about themselves. Employers should maximize the opportunity for individuals to access data about themselves on a confidential basis—suggestions for improvement from new technologies have been well-received when presented in an aggregated or anonymous fashion.
These five charts provide an overview of both the positive and negative impacts of using new technologies for workforce data. The Accenture report from which they are sourced provides a more in-depth view, and can be downloaded here.