As the LIBOR journey approaches the final stage, all client efforts would now be focused on testing the data, processes and functionalities developed for the post-LIBOR environment.
To support our clients during the testing planning and execution, we have developed a comprehensive approach for testing, addressing all critical aspects – individual component testing, E2E scenario testing, regression testing.
We feel confident that this approach could help our clients perform a smooth transition post-LIBOR. Furthermore, our recommended approach is currently actively applied with various of our clients.
Our thought leadership, as well as our assets & accelerators, are highlighted in the attached Point of View "LIBOR End-to-End Testing".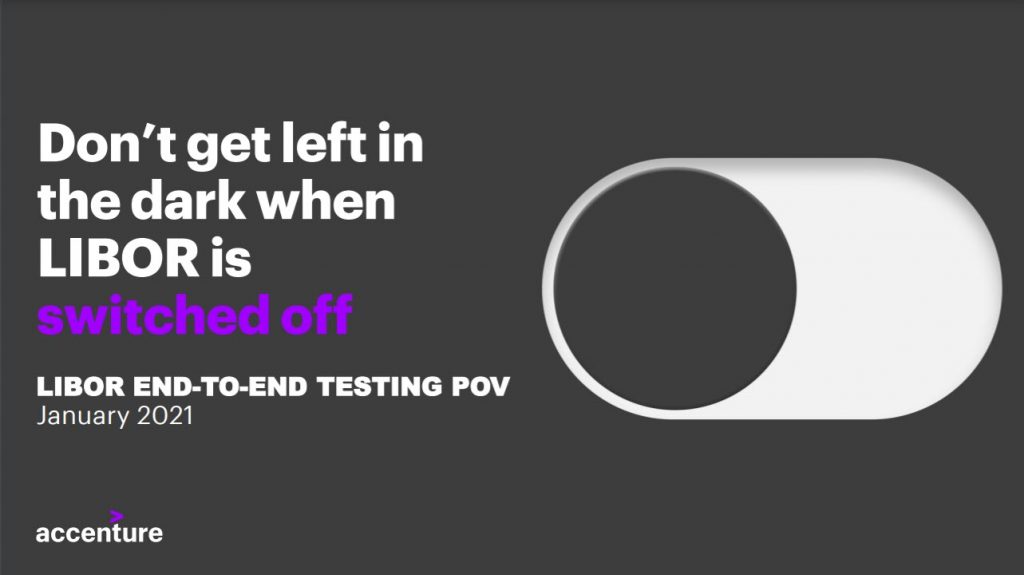 In case of questions or suggestions, please don't hesitate to contact us.
Newsletter Author:  Michael Nagle; Paul Olteanu;
Newsletter Contact Person: Venetia Woo
Disclaimer
This blog is intended for general informational purposes only, does not take into account the reader's specific circumstances, may not reflect the most current developments, and is not intended to provide advice on specific circumstances. Accenture disclaims, to the fullest extent permitted by applicable law, all liability for the accuracy and completeness of the information in this blog and for any acts or omissions made based on such information. Accenture does not provide legal, regulatory, audit or tax advice. Readers are responsible for obtaining such advice from their own legal counsel or other licensed professional.
About Accenture
Accenture is a leading global professional services company, providing a broad range of services and solutions in strategy, consulting, digital, technology and operations. Combining unmatched experience and specialized skills across more than 40 industries and all business functions—underpinned by the world's largest delivery network—Accenture works at the intersection of business and technology to help clients improve their performance and create sustainable value for their stakeholders. With more than 482,000 people serving clients in more than 120 countries, Accenture drives innovation to improve the way the world works and lives. Its home page is www.accenture.com
Copyright © 2021 Accenture. All rights reserved.