Other parts of this series:
---
The future of work looks very different to what we are still experiencing at present. Digital disruption will force insurers to adapt or die; evolve or fossilize. The keyword here is adapt, which I'll be discussing in this blog series. The adaptive workforce of tomorrow goes beyond skills and demands innovation at every level of the business. 
People first: the primacy of people in the digital age
The Adaptive Workforce is one of five key trends identified in the Accenture Technology Vision 2016, which focuses on the primacy of people in a digital economy. The other four trends are:
Intelligent automation;
Platform economy;
Digital trust; and
Predictable disruption.
These trends signify the fact that the service revolution centers on the customer; therefore financial services providers need to keep up with technological changes to stay in touch with customers' demands and behaviors, respond to changing market landscapes including new entrants, increase their appeal in underpenetrated market segments (especially in Asia), and move beyond traditional business models. In our Financial Services Change Survey 2017, we note that 75 percent of FS firms are devoting moderate-to-significant resources / activities to their workforce and organizational structure.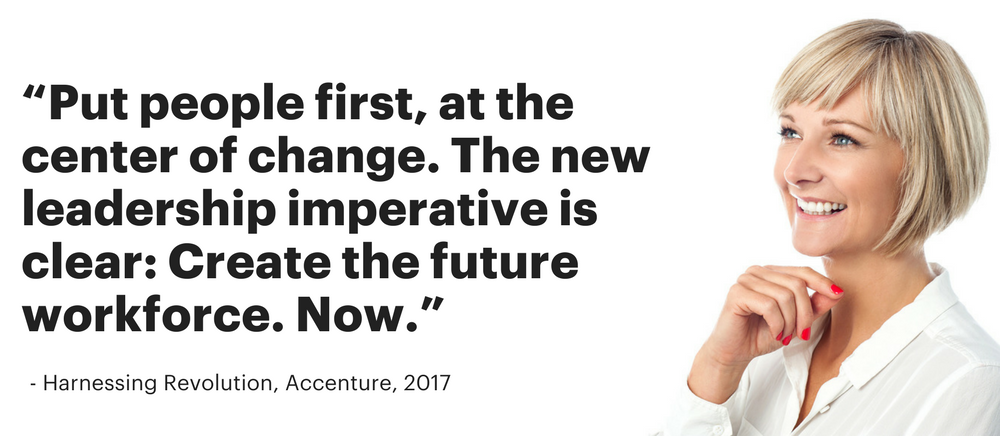 The workforce of tomorrow will be built for change. It will be able to adapt to any disruption, and will be organized around projects. In the customer-centric revolution, those who move fast will benefit from the advantages of an adaptive workforce.
What is an adaptive workforce?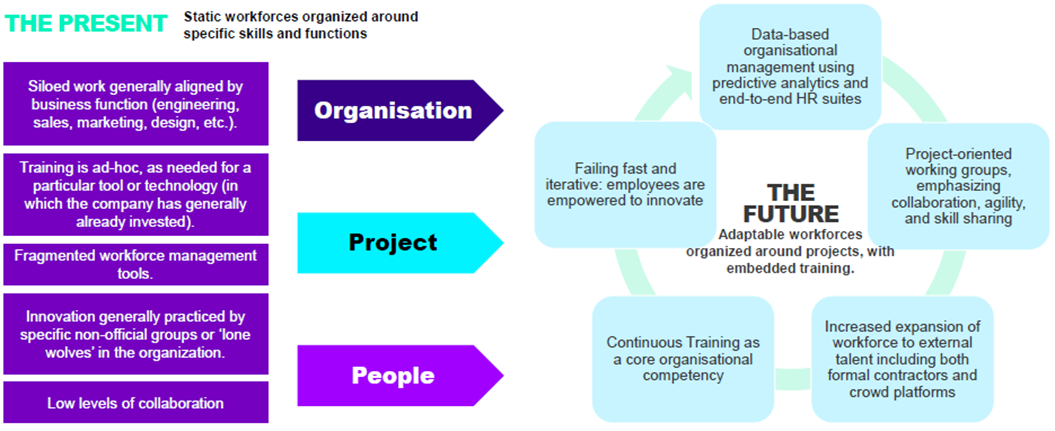 The adaptive workforce consists of two components:
One that can respond effectively to change; and
One that is more available on demand.
An adaptive workforce can weather any storm, by fostering qualities such as flexibility and agility at every level of the business. Work is no longer only about the skills you have; it's about how quickly and how well you can change your plans and capabilities in an ever-evolving digital landscape.
At present, workforces are organized mainly around specific roles and functions. When it comes to organizations, projects and people, each occurs within a separate business function. Most training is ad hoc, focused on specific tools and technology, and presented as separate modules. There are low levels of collaboration and minimal experience visibility and mapping of skills, and innovation is something that is often outsourced or practiced by 'lone wolves' in the organization.
The future workforce stands in stark contrast to the present picture. The workforce of tomorrow will be organized around projects. Training will be embedded and continuous. The emphasis will be on collaboration, agility, skill sharing and accountability, coupled with a solid governance and risk framework. Employees will be empowered to innovate in an environment that sees the advantages of learning from failure, and that cultivates a powerful employee experience as a key pillar of workforce strategy. Employees will be more available when a project manager needs work to be done right away. We are already seeing an expansion of the workforce to incorporate external talent, which includes both formal contractors and crowd platforms, with work performed via online labor platforms currently valued at $5 billion.
In this blog post, I gave an overview of what an adaptive workforce might look like. In my next post I'll look at key industry trends shaping the adaptive workforce.