Other parts of this series:
---
The digital era has provided the strategic imperative for banking and insurance technology leaders to transform their IT workforce into a "New IT" organization or "IT Workforce of the Future," one that is ready to meet the evolving needs of the business. Ideally, this will involve comparing the roles, skills and competencies of the existing IT organization with future IT needs, enabling the organization to define new roles and build new skills and capabilities. Beneath this is a key factor: The relationship between IT and business functions is changing.
Future IT Roles & Skills
The lines between IT and business are blurring, leading to a change in IT work, roles and skills. A growing number of "New IT" workers with strong technology skills are embedded in the business, in corporate functions such as finance, where they develop a deep understanding of the business unit and are expected to come up with useful solutions that integrate well with existing systems.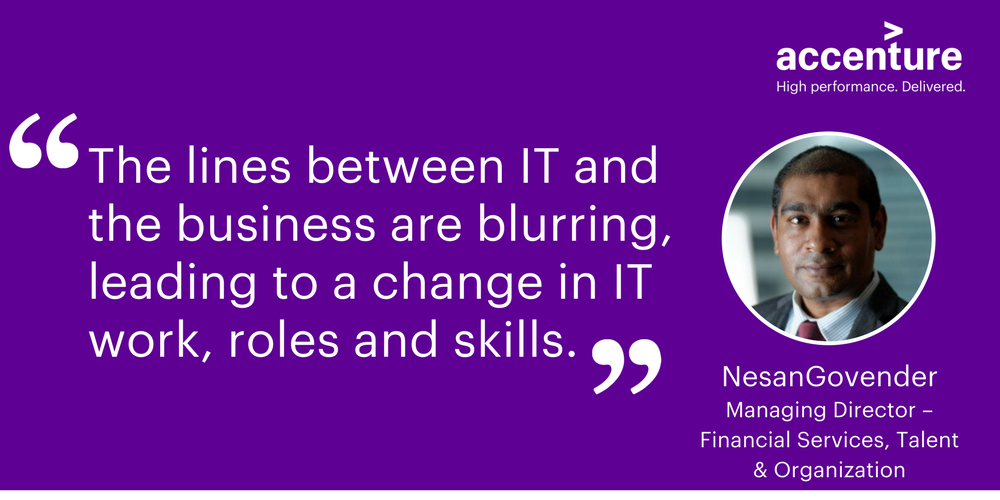 IT roles require a strong focus on business and industry acumen. To become more business and market savvy, the IT workforce needs to learn strong financial, business, vendor-management and business-relationship skills. They must be ready and able to influence as well as collaborate effectively, especially if they are going to support a multi-speed business agenda. Meanwhile, teams made up of both IT and business people should be skilled in new methods like Design Thinking and Agile, and in new tools and techniques like DevOps and APIs.
When you consider how IT roles and skills are constantly evolving and realize most have a limited shelf life – approximately three to five years, according to a survey by SolarWinds – it is no wonder that "survivors" quickly develop the flexibility to retrain and move wherever they are needed.
Part of this need reflects the increased speed of technology development that pushes business leaders to demand ever more from IT staff. Business competition is high within many segments, including retail and financial services, so businesses naturally look to IT to increase speed to market. They also need IT to switch roles from a "swoop-in-and-out" to a "build-and-run-solutions" provider, becoming a true service integrator.
The new IT roles are reflected in the new titles:
Business analyst becomes chief digital officer;
Project manager becomes cloud engineer;
Applications support analyst becomes data scientist;
Software development engineer in test (SDET) becomes product owner; and
Design engineer becomes DevOps engineer.
Talent Sourcing Strategy
 To get where they will need to be, the new IT workforce should include the necessary IT roles and capabilities to operate in multi-speed IT models that support increasingly complex and dynamic business operations. Assembling this involves determining which IT roles and skills are to be built in-house and which will be sourced externally. Based on the business objectives and context, technology leaders usually adopt a talent strategy that is a mix of the following three key-talent sourcing approaches:
Build – Leverage existing internal resources with necessary training and internal transfers;
Borrow – Obtain external resources through a resource partner (e.g. alliance, contingent workers); and
Buy – Acquire talent from an external resource provider (e.g. acquisition, outsourcing, offshoring).
As you develop the IT Workforce of the Future, the decision to build, borrow or buy specific IT skills and capabilities may be prioritized according to various factors including business value and ease of implementation. The globalization of a transient IT workforce has created a liquid workforce, which also affects how organizations approach their talent sourcing practices.
The talent-sourcing strategy should be constantly reviewed and should evolve to support changing market conditions, including the maturing of skill sets and the commoditization of niche skills. In developing the IT Workforce of the Future, organizations need to establish a flexible and adaptable talent-sourcing strategy to meet the ever-changing business demands.
Next week, I will discuss IT talent strategies for a multi-speed organization.