---
With new technologies on the rise, disruption, risks and job insecurity are more common than not. A recent report by Accenture shows how some financial services (FS) firms are rising to the challenge by incorporating change as a core capability and embracing true agility as a strategic priority. In short, these change leaders are addressing the biggest barrier to change: fear.
If we look at fear and anxiety as we would a bully, we know that the best way to put an end to such negativity is to stand up to it. And in the case of an organization, acknowledging the who, what, where, and why of the fear and anxiety is step one. Once leaders acknowledge the issue(s), it's time to be willing to think outside the box—which means putting employees first, a decision that builds the trust needed for transformational change.
Here are three charts emphasizing the importance of embracing change through agility and why trust will create the fearless enterprise workforce needed to succeed with new technologies:
Financial services is in a 'yes, but' change state, but it doesn't have to be.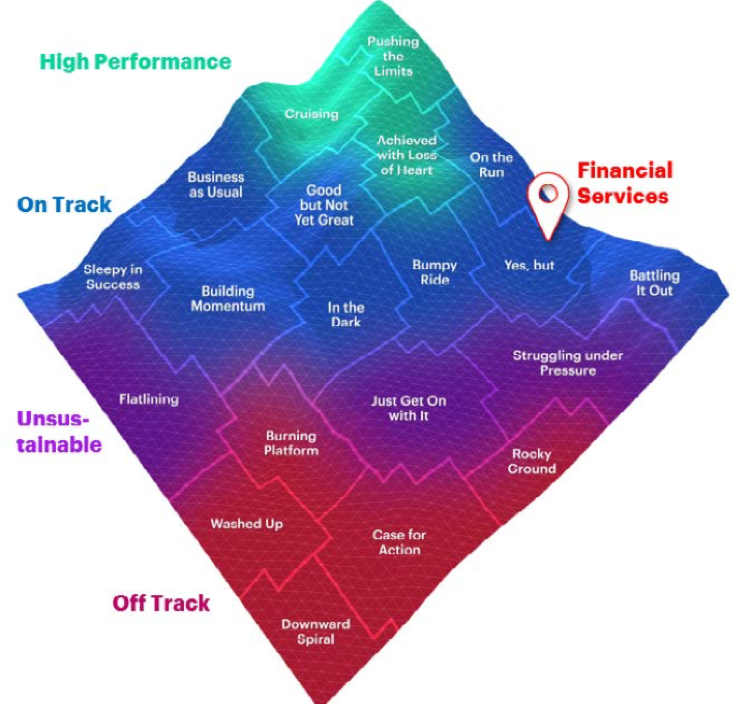 While the appetite for change is there, FS firms can find themselves in a holding pattern—the 'yes, but' change state. Accenture research indicates that though they may be on track for the needed changes, an organization's ability to realize the benefits of change declines considerably as fear and anxiety creep in.
Fear has a dramatic impact on organizational performance and agility. Which means that while FS firms are aware of the need for change, and are willing start the conversation, anxiety and fear have many leaders stuck in the 'yes, but' landscape.
Common traits of firms in a 'yes, but' change state:
YES…
Leadership is supportive.
People understand and agree with the vision.
Change benefits are being realized.
Business performance is improving.
BUT…
People feel they lack needed resources.
Systems and processes get in the way.
Conflicting priorities jeopardize business benefits.
Complex current state / legacy environment.
Most of all, fear and anxiety.
The hesitation demonstrated in the 'but' category outlines valid concerns resulting from confusion of apparent conflicts in the organization's stated change priorities. Existing systems and processes may also be viewed as preventing the realization of higher performance. If there is any doubt, the human factor will take over.
FS executives rank the human factor as the greatest obstacle to change.
Of 800 FS executives interviewed for Accenture's recent FS Change Survey, almost all acknowledged that fear of change and the inability of both leadership and staff to adapt are among the biggest barriers to change in FS organizations. To paraphrase: we are only human.
Four out of five said conflicting priorities (that can jeopardize business benefits) were one of the biggest barriers to their ability to drive through change, and 74 percent said fear of change because of a poor track record was one of their greatest obstacles.
Addressing the barriers to change that stem from fear and anxiety creates trust in leaders and psychological safety for employees. Trust and safety are essential to delivering transformational change and higher performance—they are the golden ticket.
Change leaders who put their employees first see desired results.
Accenture's FS Change Survey found that a small group of companies – approximately 10 percent of the research sample – are significantly better than their peers at managing change and achieve better results from it. These 'change leaders' are putting their people at the center of change. Acknowledging the human factors has shown that change leaders are more likely to see change delivered on time (76 percent vs. 55 percent of the rest of the industry) and on budget (51 percent vs. 45 percent). They are also more likely to see the business benefits of change (100 percent vs. 71 percent).
Awareness is key: 92 percent of change leaders are aware of employee engagement and performance as an internal driver of change, compared to 69 percent of their peers, who are either less focused on change or focus predominantly on technology, product or operational changes.
The insights these charts provide are only a small piece of the puzzle of becoming fearless at a time of disruption in the industry. Click here to download the full report on how some of the leading financial services firms are mastering change.