In 2018, much has been written about why enterprise agility is a basic necessity for financial services (FS) firms.
Accenture's recent report outlines why it has become a strategic imperative, and how FS organizations can make substantial improvements to stay ahead of the new entrants challenging the market. Here are six charts that explain the basics:
1. Pivoting to 'the new.'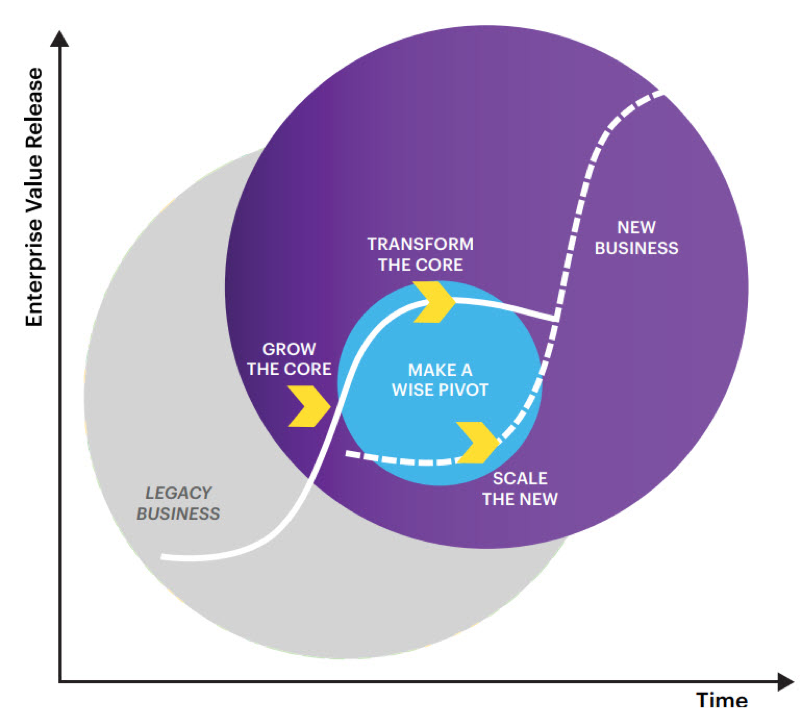 True enterprise agility is needed to optimize the core business while simultaneously developing new sources of revenue and shifting the focus of the firm's efforts and investments from the core to the new. This agility is achieved through running a combination of both fast and slow systems. FS firms need to mobilize and respond rapidly to disruption and opportunities, driving speed to value. But they must also strengthen their foundational base, comprising leadership, governance and culture.
2. Enterprise Agility Index.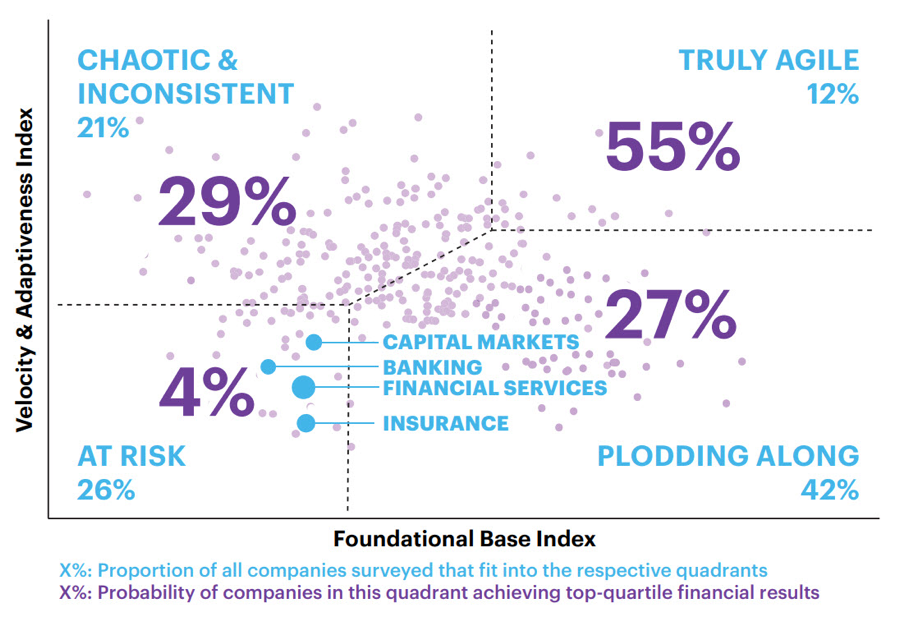 According to Accenture's Transformation GPS study, 'Truly Agile' firms are twice as likely as the average organization to achieve top-quartile financial performance (55% vs 25%), yet most of the FS firms remain in the 'At Risk' quadrant. The FS industry is slower and less stable on average than our cross-industry benchmark, which is based on 220 organizations across all sectors.
3. Industry scores for velocity & adaptiveness.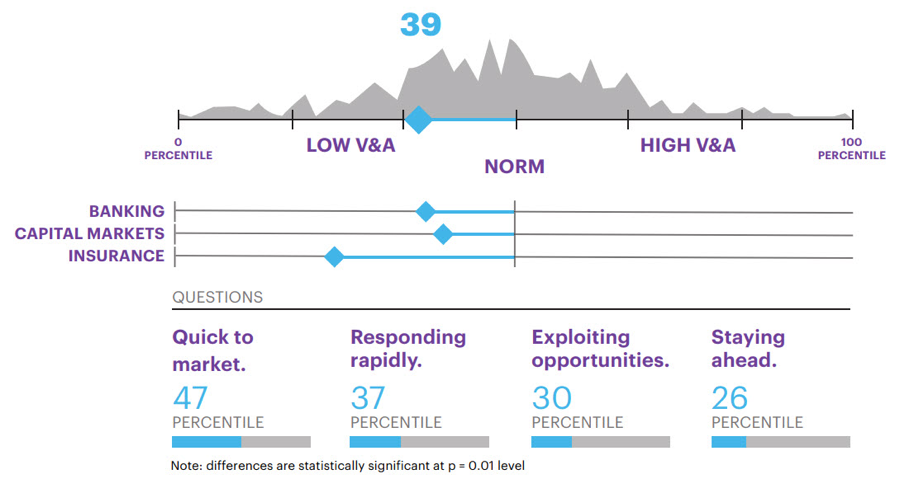 FS firms need to improve their scores in velocity and adaptiveness because of the speed of change in the market. While a disruptive challenge to the entire value chain is unlikely, the FS industry continues to see disruption from smaller, faster players such as Starling, Ripple and Lemonade.
4. Industry scores for foundational base.
While FS firms pride themselves on their stability, resilience and compliance, a strong foundational base goes beyond risk management and adhering to regulations. FS firms need to improve their leadership and culture to move beyond the traditional hierarchic bureaucracies of the past.
5. Change leaders use agile more effectively and drive greater benefits.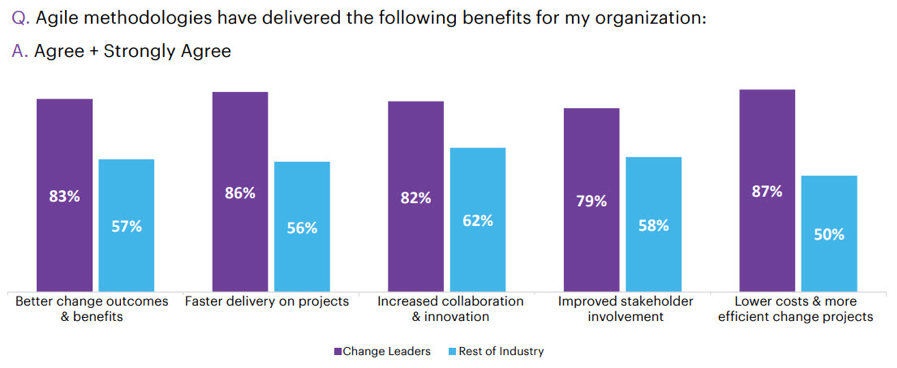 A small group of change leaders in FS are getting better results. They are using more agile delivery and are using it more effectively. According to Accenture's 2017 FS Change Survey, these leaders see significantly higher value in terms of change outcomes (26 percentage points difference), speed (30 points) collaboration (20 points), transparency (21 points) and cost (37 points).
6. Change leaders maintain a more disciplined approach to agile.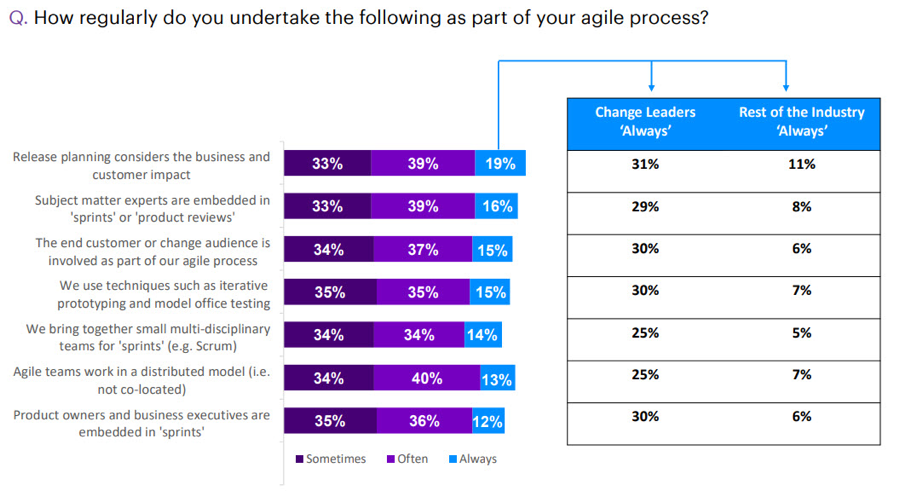 Our 2017 FS Change Survey also indicates that change leaders are more disciplined in their application of agile. Done properly, agile and agile delivery help them lower execution risk and increase control over end outcomes.
These six charts underscore the number of areas where banks and insurers need a substantial reset as they navigate a disruptive, volatile world.
To learn more, register to download: Enterprise Agility: The New Strategic Imperative and listen and subscribe to our podcast, Talking Agility.