Other parts of this series:
---
To win in the digital economy, banks need to find a way to manage the complexity of unpredictable, external, and physical-world interactions
In my series on the key trends identified in the Technology Vision 2018, I have outlined how artificial intelligence (AI), extended reality (XR), data veracity, and frictionless business technologies are likely to impact the financial services industry.
To conclude the series, I will discuss what we call the "Internet of Thinking" in this post.
New strategies require new thinking
As banks and other financial services institutions set out to deliver all the sophisticated, intelligent experiences enabled by robots, immersive reality, AI, or the Internet of Things (IoT) – experiences on which they are building their next generation of strategies – many are seeing a need to:
Extend their current enterprise infrastructures.
Draw on an expanded network of devices and updated methodologies.
Shift event-driven analysis and decision processing closer to the edge of the networks.
And that's not all.
As banks extend their infrastructures and networks, they will need to deliver sufficient computing power where the intelligent environments require it. This means a renewed focus on hardware, at a time when many banks have grown accustomed to software-driven solutions as their go-to strategies. In addition, they must develop a strong application programming interface (API) strategy to deliver relevant data in real-time to the various service layers that connect ecosystem players.
Lastly, banks need to use design thinking to include experiences for both authenticated (or "logged-in") customers and unauthenticated users. Without such integration, some banks may find it hard to remain competitive.
As our Technology Vision 2018 survey shows, bankers are aware of these requirements: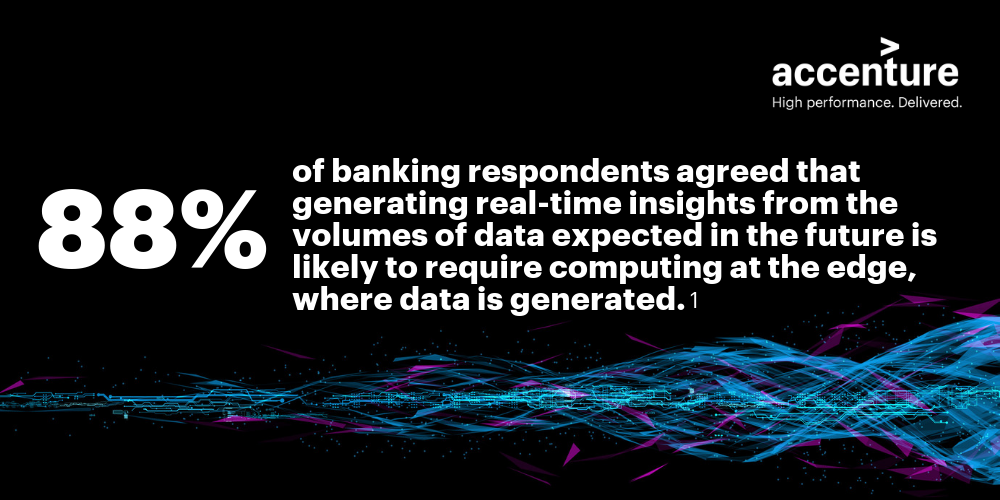 Distributing more functionality
In the AI-driven, voice-enabled digital personal assistant space, for example, the tech giants behind the devices are distributing natural language processing to the edge of the network where users issue voice commands.
We are also now seeing integration across digital agents. For instance, Amazon and Microsoft are collaborating to enable their digital assistants to talk to each other.2
For banks, such integration could enable them to develop voice-enabled banking, showing up where consumers interact in their daily lives.
With consumer consent, banks might be able to use an AI-based, digital voice-enabled device to execute simple and semi-complex processes, including:
Balance checking.
Deposits.
Payments.
Loan processing.
Banks looking to lead in intelligent responses to customers can take advantage of digital assistant devices as an application platform for their services to be at the edge of consumer interaction.
In conclusion, each of the five technology trends that I reviewed in this series has the potential to generate the next wave of industry disruption in the banking industry, either coming from outside the industry or allowing incumbents to differentiate themselves. Even in markets that currently look stable and profitable, bankers should be prepared to deal with the threats and opportunities stemming from these trends.
With the right support, Canadian banks can understand and navigate these challenges as they arise. In other words, they can become truly future-ready.
For further information, please take a moment to review our Banking Technology Vision 2018 and cross-industry Technology Vision 2018 reports.
References:
"Building the Future-Ready Bank: Banking Technology Vision 2018," Accenture, 2018. Access at: https://www.accenture.com/us-en/insights/banking/technology-vision-banking-2018.
"Alexa meet Cortana, Cortana meet Alexa," Amazon, August 30, 2017. Access at: http://phx.corporate-ir.net/phoenix.zhtml?c=176060&p=irol-newsArticle&ID=2297243.