Other parts of this series:
---
With extended reality, banks have the opportunity to differentiate themselves from the competition
In my previous two posts, I introduced the five key technology trends identified in our Technology Vision 2018 survey. I also gave you an overview of what banks in Canada—and beyond—can expect from artificial intelligence (AI) in the coming years.
Now it's time to discuss another exciting technology: extended reality.
Removing distance
As I'm sure you know, extended reality (XR) technologies consist of:
Virtual reality (VR)
Augmented reality (AR)
Mixed reality (MR)
With the help of these technologies, it is now possible to remove the distance between people, information and experiences. They can also help financial services institutions and other businesses create competitive differentiation by overlaying the real world with digital enhancements to extend human reality.
An XR-based solution places people directly and virtually into whatever setting an enterprise may want or need to offer. The technology immerses the user through visuals, audio, and potentially olfactory and haptic (touch) cues. Users can dive into a new situation and fully experience it, regardless of location and whether the situation is actually dangerous, expensive, or impossible.
Innovative organizations have already begun applying XR. In fact, Gartner believes that by 2019, 20 percent of large-enterprise businesses will have adopted XR technologies.1
Extended reality for financial institutions
But how can banks and other financial businesses employ these immersive technologies?
In quite a few ways. Many use-cases are emerging that have the potential to create deeper, more meaningful customer engagements and increase workforce performance.
Here are a few examples:
Real-time, 3D learning on investment scenarios could use immersive animation, simulations, role-playing, and online instruction to train wealth and asset managers to better advise their clients.
Virtual recruitment tools might allow banks to access and engage some of the best talent regardless of where they live.
An augmented reality app run at a branch could deeply immerse consumers in a home-buying experience that may end with the completion of a digital mortgage.
Based on our Technology Vision 2018 research, bankers are seeing the potential: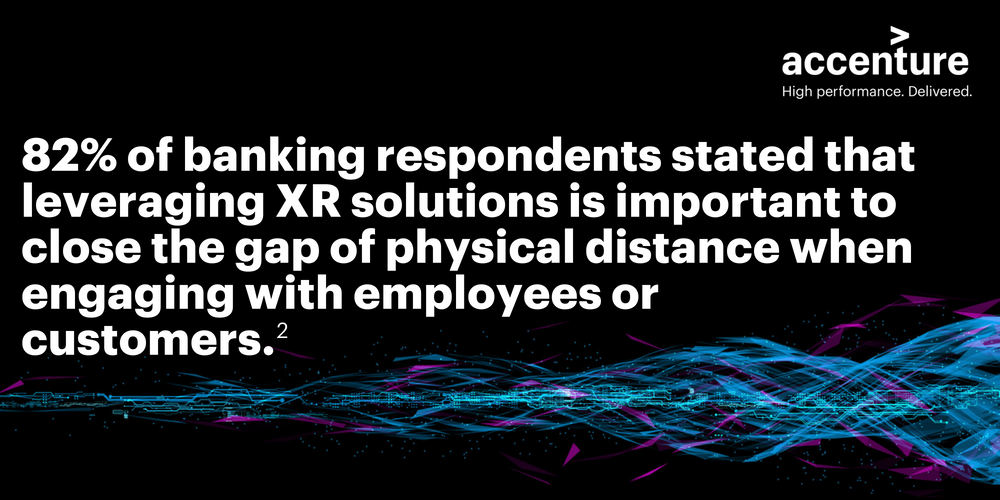 However, our survey also found that bankers are less likely than their peers in other industries to prepare for XR solutions by building the necessary talent (38 percent versus 46 percent for all executives). This includes Canadian banks, which seem less interested in XR technologies than other key technologies, such as AI.
Establishing a minimum level of expertise
It is important to note that, even if banks don't currently see a compelling use case for XR technology, they might be best served if they experiment with it to develop a minimum level of internal expertise.
We recommend the following steps:
Fund XR technologies as innovation without expecting an immediate return.
Look to deploy XR solutions initially in the safe environment of physical channels.
Potentially focus on the home-buying experience, which may lead to a value-added ecosystem of associated purchases.
In my next post, I will focus on the essential building block of all key technologies: data.
Until then, I invite you to access our Banking Technology Vision 2018 and cross-industry Technology Vision 2018 reports.
References:
"Transform Business Outcomes with Immersive Technology," Gartner, May 5, 2017. Access at: https://www.gartner.com/smarterwithgartner/transform-business-outcomes-with-immersive-technology/.
"Building the Future-Ready Bank: Banking Technology Vision 2018," Accenture, 2018. Access at: https://www.accenture.com/us-en/insights/banking/technology-vision-banking-2018.