Other parts of this series:
---
In my last post, I outlined the industry- and function-specific services the Accenture Technology Advisory Practice provides to the financial services sector.
In this post, I will give you some details on how the Technology Advisory Practice can help banks, insurers and capital markets firms become versatile with all things cloud. I will also discuss how the Practice can help firms strengthen their security.
Cloud—a platform for growth
Legacy systems and outmoded operating models place firms at risk of being bypassed by faster, more agile competitors. In response, North American and European banks are turning to cloud technology. Capital markets as well as insurers are experiencing an increased drive to cloud.
Several options exist to using cloud as a business asset to transform a company and reshape its operating models, products, services and customer experience—but which is the right one?
The Technology Advisory Practice helps client firms benefit from cloud technology, operating models, capabilities and rich ecosystems, based on their unique needs.
In this short video, we show you how cloud can make a real difference across financial services:
With cloud, financial services firms can:
Increase speed to market to protect revenue streams.
Enhance security and compliance.
Power their digital transformation.
Create growth through elasticity and scalability.
Deliver cost reductions through automation.
Let's look at some specifics.
Banks across North America and Europe have been moving to cloud, spurred by increasing pressure from regulators, customers, shareholders and competitors. Cloud also offers banks new approaches to shift their thinking and focus on technology, rather than finance, at the core of their business.
While insurers have typically been cautious about cloud adoption, the need for increased agility and operating efficiencies is driving a move of applications to the cloud, comparable to the one seen in banking. As a result, cloud adoption has become a core IT initiative across the insurance industry.
In a 2016 study:
67% of surveyed CIOs said they believe that Software as a Service (SaaS) will transform the insurance industry in five years or less.1
Similarly, capital markets institutions have been some of the more cautious cloud adopters, but several factors are driving a move of applications and data into the cloud, including:
Increased agility.
Access to disruptive technologies that enable innovation.
Technology operating efficiencies.
Reduced infrastructure costs.
With a strategic, comprehensive approach and the right ecosystem, financial services firms can use the cloud to take giant steps toward creating the business models, operating efficiencies and customer experiences needed for success in a digital era.
Security & resilience—building holistic capabilities
Importantly, digitization changes the business in the financial services sector and the way companies interact with their customers, manage their operations and respond to new competitors in the market.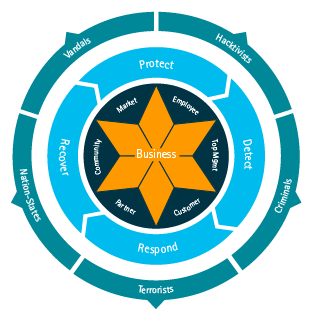 In using cloud and digital to help drive security forward, the following key initiatives should be considered:
Transforming security.
Investing in threat intelligence.
Building the right identity management program.
Architecting for failure and compliance.
With these goals in mind, the Technology Advisory Practice can help client firms turn their security function into a partner for rotating their business to seize the opportunities created by our evolving digital world.
Let's look at some examples.
While biometric authentication is nothing new for banks, with fraud on the rise, banks need to find a better way of managing authentication systems. To this end, an authentication hub that embeds existing authentication technologies could be the solution.
An authentication hub, as we see it, consists of the following components:
Mobile Know Your Customer (mKYC) technology to facilitate identification and verification for enrollment and account sign-up.
Biometric Authentication Framework to integrate biometric authenticators, such as voice and fingerprints.
Pick-and-choose authenticators that allows users to determine how they authenticate within acceptable security baselines.
Risk engine aligned to fraud and that provides information and context on users, behaviors, devices and transactions.
Signing in the New with both tactical and strategic solutions to eliminate wet signature.
Furthermore, the Society for Worldwide Interbank Financial Telecommunication (SWIFT) has introduced the Customer Security Programme (CSP), a dedicated program to support their customers in reinforcing cybersecurity. As a result, financial institutions are obliged to apply baseline security controls to their SWIFT-related infrastructure.
With Get Fit for SWIFT, Accenture has put together a Cyber Compliance for SWIFT's CSP program that aims to help financial services firms across the globe to work on compliance with SWIFT's CSP. The program uses classic assessment tools and sophisticated adversary simulations to identify vulnerabilities and implement an effective response to threats.
In my next post, I will continue detailing the capabilities of the Technology Advisory Practice, this time with a focus on blockchain and Agile IT.
In the mean time, check out our Technology Advisory Practice page. You may also be interested in our Cloud Innovation Center.
References:
"Driving The Next Generation Of Insurance Through The Cloud," Digitalist Magazine, November 7, 2016. Access at: http://www.digitalistmag.com/customer-experience/2016/11/07/driving-next-generation-of-insurance-through-cloud-04644090.
"Security in the Financial Services Sector—Ready for the 'New'?" Accenture, 2016. Access at: https://www.accenture.com/us-en/insight-security-financial-services-sector?src=SOMS.