---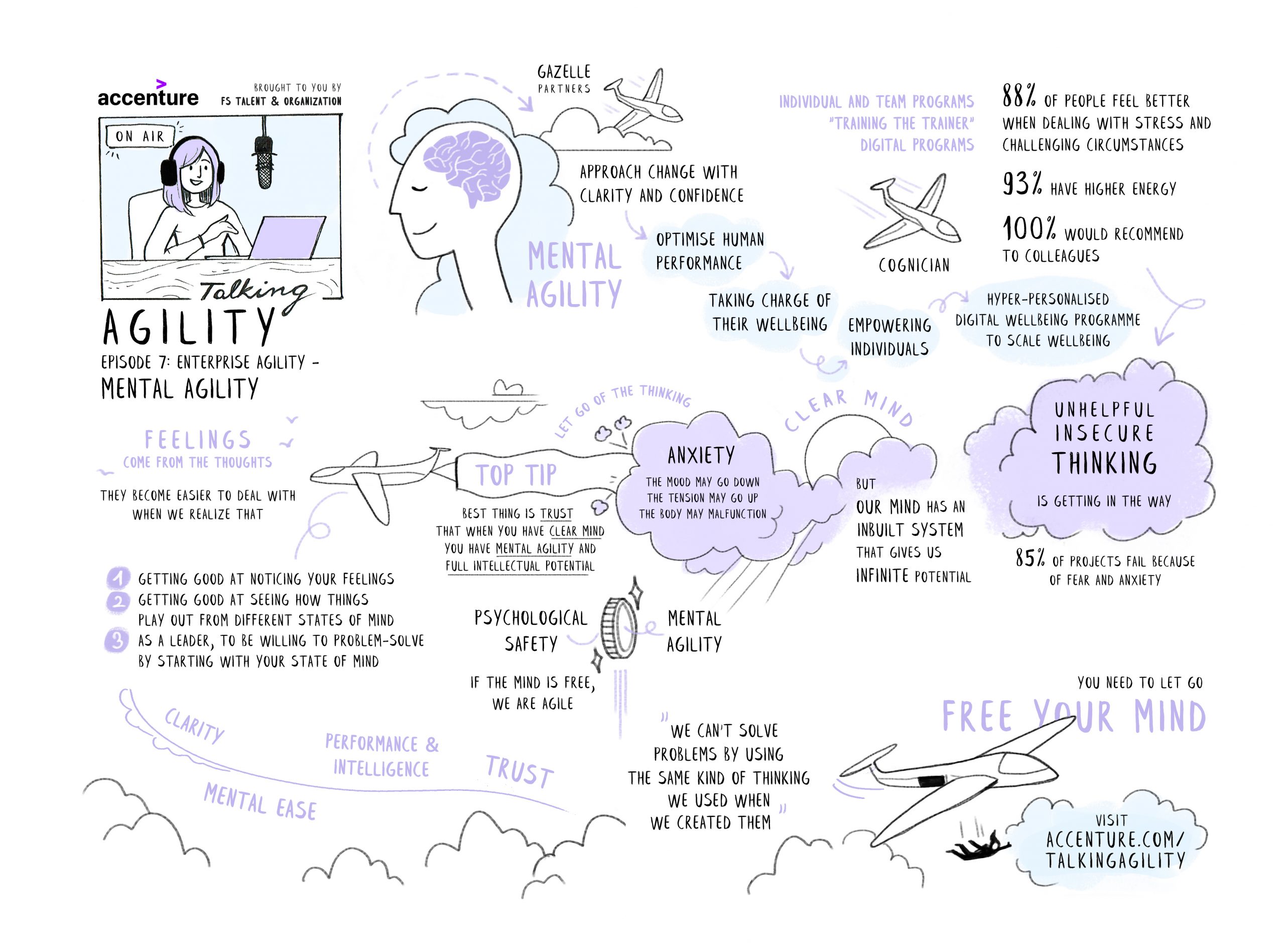 Transformation is a complex and often frightening process, especially when we approach it from a state of anxiety or stress.
We all know that our minds are powerful tools, but what happens when our mental ability is bogged down by apprehensions? Worries about project deadlines, the potential to fail, the inability to deliver, the absence of a crucial piece of data––they can all combine to create a crowded mental state that impedes our success or grinds transformation to a halt.
With this in mind, I was excited and curious to talk to Nici Butchart, a partner at Gazelle Partners, for episode seven of Talking Agility. I have known Nici and her partner at Gazelle, Anna Keeble, for a number of years now, and I was looking forward to speaking with her about their latest work and uncovering how we can alleviate some of the pressures we face every day, and how we can hone our minds to be more agile. You can download the new episode here or on your preferred podcast platform. Gazelle's work is focused on helping her clients develop mental agility––something that is often overlooked in the discussion around enterprise agility, yet is a vital tool for success.
Nici is passionate about the importance of the wellbeing of individual team members on a project. I have personally experienced the work Gazelle does, which is designed to optimize performance in business from the human standpoint, and I have to say it was truly an eye-opening experience with tips and practices I carry on doing today.
"We help business leaders take a more human approach to transformation," Nici explained. "We're helping them rethink how they create cultures and rewire their organizations for the change that they are trying to create."
This is important, especially when you consider that 85% of transformation projects that fail do so because of fear and anxiety––and that fear and anxiety is often based on the fact that people leading or working on projects don't feel supported, they don't trust that they have the support of their employer should challenges arise. It's high-stress. This idea was echoed at this year's Davos conference, where the research Accenture presented showed that companies that build trust create value for the business and for employees.
85 percent of transformation projects that fail do so because of fear and anxiety.
"It's a common theme that we see everywhere," says Nici. "What gets in people's way, and therefore what gets in the way of the change companies are trying to make, is simply unhelpful, insecure thinking."
But how do you transform insecure thinking? Are our brains not a function of our lived experience, both professionally and personally?
According to Nici, in many ways they are. But, just like with large organizations, a lot of what clouds our brains is legacy thinking––compounded, repetitive, and present simply because it seems to have always been that way. But, just like with organizational transformation, we can take steps to create shifts and reduce the clutter that is preventing us from moving forward.
One of the things that stood out for me in terms of changing mental perspectives was that it can be done with a series of micro-adjustments. This makes it similar to enterprise agility. Rather than going the whole hog when undertaking transformation, it is more effective to make small, iterative changes consistently over longer periods of time.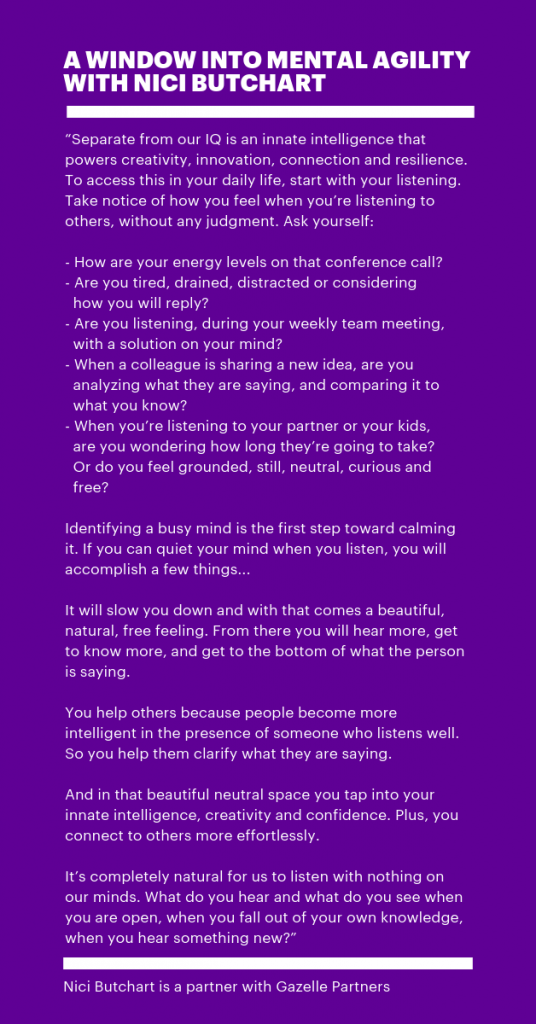 Making small changes for your own mental clarity may be as simple as introducing some physical activity to your day, even just a walk around the office. Or perhaps, as a leader, it's taking the time to check in with your team members individually, to ask about their mental state, the things that concern them or those which they find challenging. I do this with my team during weekly retrospectives where we take time to re-set for the next week by exploring blockers, how the team felt the past week, checking in on what they are doing. Otherwise, it might be changing your diet, or adding meditation, or any number of small shifts in your usual routine.
It may seem that these changes have nothing to do with your mental state, but there are both physiological and psychological benefits to them. In an article published recently by BBC Capital, titled Why Walking Makes You A Better Worker, research pointed toward physical activity as a productivity hack––even 15 minutes of walking in nature or relaxation exercises at lunchtime can result in higher levels of concentration and lower strain in the afternoon.
It is more effective to make small, iterative changes consistently over longer periods of time.
I believe we all innately know this, but through my conversation with Nici, the benefits of this became more and more apparent. It was really a joy to talk with her—it helped me recognize some of the internal voices that crowd my own thinking and it was great to reaffirm that I posses the capacity to rewire my brain to create a more intentioned workday for better results and a more positive experience overall.
There is a new episode every two weeks. You can subscribe here, or on iTunes, Soundcloud or Spotify—and you can find me on Twitter, LinkedIn, or through the website—I'd love to hear from you!
To read more about enterprise agility, download our full report.