---
In Episode 6 of Talking Agility, Neil Garton explains how agility will help financial services organizations deliver better services to customers over the long term.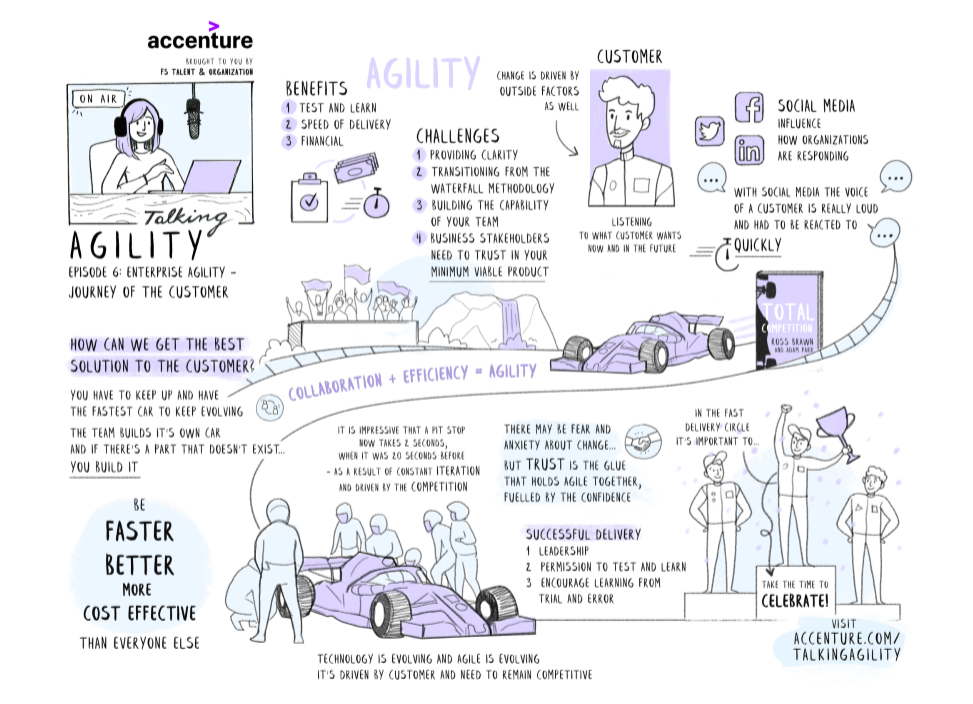 Over the past five episodes of Talking Agility, we've explored enterprise agility from numerous angles. In Episode 4 we looked at the data behind successful business transformations, in Episode 5 we examined the evolution of agility from its early days in IT to where it is today, and in Episode 2 we took a look at the importance of vision and leadership in surviving and navigating disruption.
In Episode 6, which is now available for download or streaming, we explore the journey to the customer—how using agile methodology and aiming for enterprise agility can help organizations better respond to outside-in change and new customer demands. My guest, Neil Garton, is Head of Customer Relationship Management (CRM) at Royal Bank of Scotland (RBS), where he is responsible for delivering business outcomes across sales and services.
To begin our conversation, Neil presented an interesting perspective about how agile approaches to delivery of projects and programs differ from traditional ones, which largely happened out of sight and only came into view of executives once they were nearly completed or done. The intention of that was not to bog executives down with minute details. Agile practices, he explained, flip that on its head.
"I think with agile, it's showing your work," he explained, adding that large financial institutions won't be used to do things that way—so the changeover is a behavioral change.
Neil also touched on a point that is often a concern for many people unfamiliar with agile––but who are having to use the agile practices—which is that the information is typically open source.
"You can get it from the Internet, you can get it from YouTube [or a podcast]," he explained. "The key, for me, is to get the basic structure down into your business and then iterate as you go."
Showing your work means having more eyes on the development process and receiving ongoing input from appropriate sources, such as the customer. This may seem counterintuitive to progress, but actually yields results.
This continual iteration tends to expand the delivery window, helping organizations get products to customers in less time than it has taken in the past—which customers want and appreciate, given today's pace of change and changing customer demands.
Faster iteration and delivery also have an impact across the industry. When a company sees its competitors hitting targets in less time, that motivates them to move faster—and with the right agility structures in place, this can have benefits for all involved.

"Agility to me is summed up by collaboration meeting efficiency," Neil said, drawing on the analogy of Formula One pit crews to help explain, which I really enjoyed. "If you go back 20 or 30 years, doing a pit stop where they change tires, it sounded pretty impressive if they did it in 20 seconds. Right now, it's done in under two."
The reason? Because the quicker you get a car back onto the track, the further ahead you are in the race—so teams were motivated to innovate. But it wasn't as though it happened overnight. It was a series of iterations, where one team shaved off two or three seconds, to be followed by another who took that information and turned it to their own advantage, furthering shaving off additional seconds. The process repeats, over and over again, creating constant innovation.
This constant adjusting and tweaking as things move forward is a big part of agility, and is outlined in Accenture's recent report titled Enterprise Agility In Financial Services: The New Strategic Imperative.
Neil also shared a phrase from a book by Ross Brawn called Total Competition—which was that no great driver ever won a championship in a poor car. For that reason, Formula One is as much an engineering challenge as a human challenge, with both requiring constant iteration.
With a focus on strengthening their foundational base while increasing speed, financial services organizations can further integrate agility to gain an upper hand while providing great service to customers. A lot of this was echoed through Neil's insight and understanding of agility, especially in terms of how it relates to the customer experience. Our conversation explored several different ideas, including how agility itself will probably change at some point in ways we can't predict—largely driven by technology that hasn't even been invented yet.
But something stood out for me that I really like: the idea of taking a moment to celebrate your success. Neil pointed to three things which are really important in finding success:
The first is strong leadership that encourages experimentation.
The second is retrospective assessment and constant adjustment of your practices, rather than a steadfast commitment to any one approach.
And the third is taking a moment to celebrate.
"One my favorite books is Your Best Year Yet by Jinny S. Ditzler," Neil shared. In it, Ditzler discusses the importance of taking a beat to acknowledge a team's successes, instead of moving straight on to the next project. "It's taking the lessons learned, but taking the time to celebrate—whether it be your personal growth or the growth of your business."
I love that idea and feel we could all benefit from celebrating triumphs, whether big or small.
There is a new episode every two weeks. You can subscribe here, as well as on iTunes or Soundcloud (or any other platform you use to get your podcasts)—and you can find me on Twitter, LinkedIn, or through the website—I'd love to hear from you!