---
In Episode 11 of Talking Agility, host Elitsa Nacheva talks with Accenture Digital Canada's Front-end Development Lead, John Macleod, about the role of leadership in agility and how businesses can help support their product owners in achieving positive outcomes.

Have you ever wondered who is most important in an Agile team? The development team? The scrum master? There's a strong case to be made that it's the product owner: the person responsible for fostering a strong vision and leading the team to bring that vision into reality. The Scrum Guide defines the role as "responsible for maximizing the value of the product resulting from work of the development team."
Effective Agile product owners are masters of many skills. They have deep technical knowledge—in the world of financial services, this often means knowledge of programming and digital product development. They have top-notch management skills so they can effectively manage the product backlog. They optimize the value of the work the development team performs. Juggle shifting deadlines, complexities, and diverse stakeholder requirements to best order the items in the product backlog to achieve goals and missions. They also have great people skills, so they can communicate and inspire their teams, including addressing different stakeholders' desires to change the product backlog.
It is not surprising, then, that effective product owners can be challenging to find. It is a rare combination of skills, and those who possess them are often much in demand. They may not even know their skills will be suitable for this role.
In fact, to that point, John Macleod, my guest on episode 11 of Talking Agility, compares effective product owners to mythical creatures.
"It's a unicorn role," says Macleod, who is Accenture Digital Canada's Lead for Front-end Development. "It requires such a breadth of understanding and breadth of skill."
Fortunately, product owners can be trained as well as found. In this episode of Talking Agility, John offers some thoughts on how to cultivate and empower product owners to help them succeed—and ultimately, help make your organization more agile.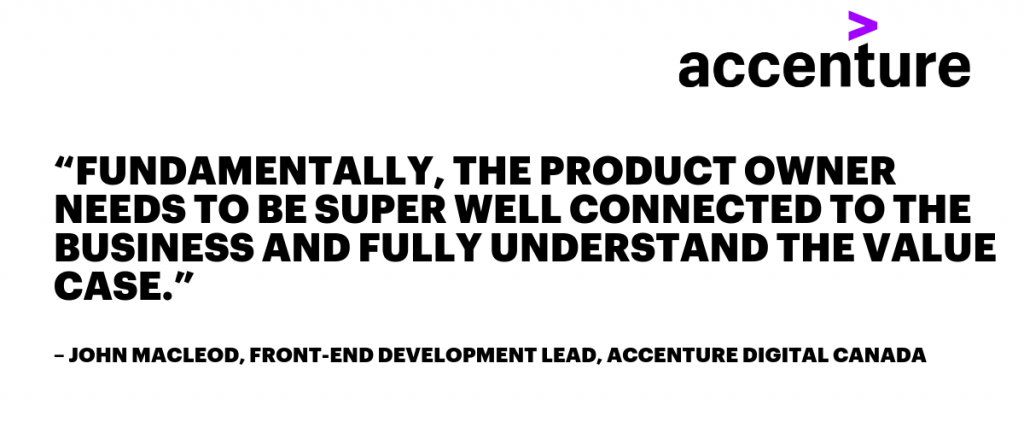 A significant portion of this comes down to trust––and empowering the individual to make decisions at the project level without requiring additional stages of approval.
"I've seen situations in which the product owner has to call someone else for every decision, and that just adds a lag in the timescales and means that you are not able to move at the speed that you expect," John explained.
This led me to thinking about our recent report, Fearless: how safety and trust can help financial services thrive even during disruption and transformational change.
In the report, one of the biggest identified barriers to transformation is fear: fear of failure, fear of change, fear of an uncertain future, fear of pushing back. This fear can stop people from speaking up when ideas are proposed that don't fit the approved direction or goal of a project. What often happens then is that decision making is deferred and reliant on what John calls the "HIPPO"––the highest-paid person's opinion.
Deferring to HIPPOs is counterproductive. Instead, the product owners should be the ones to make the decisions, and ultimately, for them to succeed, their decisions should be respected by the entire organization. For that to happen, they must not only fully understand the project objective, but also be empowered to make those decisions that drive value. If that trust isn't there, then the decisions will be driven by fear. What is more, the risk will arise that not only the outcomes will be compromised but, ultimately, the work of the development team, driven by the prioritised product backlog.

Of course, that isn't to say that consulting with others, including those with higher-level roles inside an organization, must be avoided. But the decision-making responsibility should be given to the individual product owner to help keep the project moving forward.
Removing fear and instilling trust require having the right product owner––the unicorn––in place. Once that has been achieved, transformation is more likely to succeed.
I really enjoyed our conversation about the role of product owners in agility and appreciated John's perspective and input. I definitely recommend listening to my entire conversation with him where we take a deeper dive into the product owners and transformation, and where you can find further highlights from John's experience. Happy listening!
As a reminder, there is a new episode every two weeks—you can subscribe here, or on iTunes, Soundcloud or Spotify to revisit our previous episodes and be updated when there is a new one live. You can find me on Twitter, LinkedIn, or through the website. I'd love to hear from you—please get in touch!