---
At the outset of Talking Agility, we knew we'd be speaking with some of the foremost thinkers in enterprise agility––colleagues and industry leaders who have been the vanguard of transformation for years. We set with the ambition to cover 'every angle of agility' and managed to delve into some very interesting topics, from the shifting trends in technology and the disruption they introduce and how this is affecting business practices globally, to the power of mental agility and what pivoting to the new entails.
Every episode produced compelling insights or ways that were captivating and topical.
It really was my great pleasure to speak with our guests, some of whom I have ­­worked with and others, around the globe, that I was meeting for the first time. No matter the relationship though, every episode produced compelling insights or ways of thinking about agility that were captivating and topical. There was a lot of food for thought for me personally, and I hope for our listeners, too. Among the many insights, one of the most gripping for me was learning that 85% of transformation projects that fail, do so because of fear and anxiety. It was in a conversation with Nici Butchart, of Gazelle Partners, in episode 7 that this came up and it really drove home how big an impact disruption has––not just on organizations, but on people as well.
It was with that in mind that I wanted to explore five of the key takeaways and ideas that have emerged during Season 1 of the podcast––an amalgamation of individual insights that combined, create a solid foundation for understanding a constantly shifting landscape.
Theme #1: Old habits die hard
This was something that came up often: many of the barriers to transformation are baked into organizational thinking. Sometimes that means operational processes that have been in place for so long that they feel immovable or legacy structures that have served a business well over the years but have become less relevant as innovation has transformed the landscape and are proving a barrier. Other times it's a matter of mindset acquired in an era when the pace of change was much slower.
Of course, resistance to change is understandable. If a certain process has served you well for decades, why risk changing it? But remaining agile is an imperative in a world of innovation, and as my colleague and recurring guest Andy Young, Global Lead for Accenture's Financial Services Talent & Organization practice explained, it must permeate an organization from top to bottom.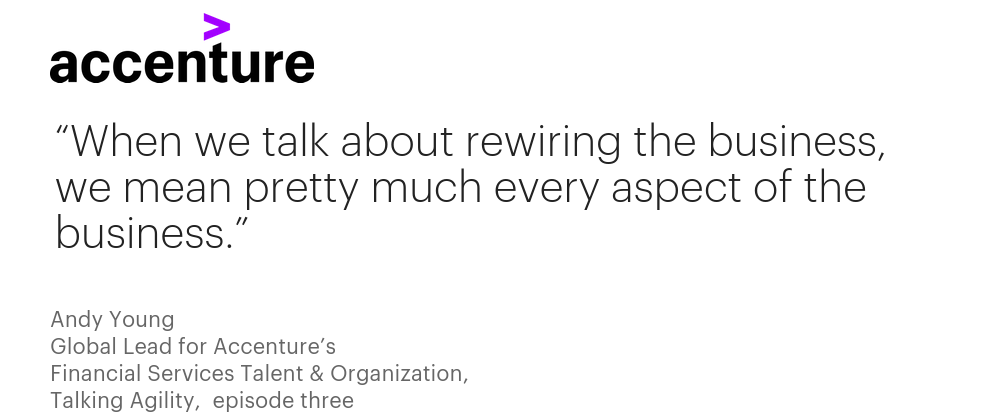 So, it takes a strong leader to shift mindset and recognize that old ways of doing things––despite success in the past––may not be the way forward if an organisation wants to thrive in today's disrupted and constantly evolving world.
My discussion with Neil Garton, Head of Customer Relationship Management at Royal Bank of Scotland, expanded on this notion further. To Neil, agility is where collaboration meets efficiency. Where traditional approaches to project development and delivery would happen out of sight and then brought to leadership once fully baked, agile requires us to show our work and continually iterate, so we can get to market faster. Neil points to Formula One pit crews as an analogy. 20-30 years ago, it would take twenty seconds to change a tire. Now it takes under two seconds. The faster you move, the further ahead you are in the race to the customer. It doesn't happen overnight but requires iteration and learning from one's experience to improve further and create constant innovation.
It is this continual iteration that tends to expand the delivery window, helping organizations get products to customers in less time than it has taken in the past—which customers want and appreciate, given today's pace of change and changing customer demands.
Theme #2: Overcoming fear
Common through a lot of the conversations I had with guests is the idea that in order to respond to disruption, you need to put fears aside. This was perhaps summed up best during my conversation with Nici Butchart of Gazelle Partners, in episode seven and a great discussion with Senior Managing Director with Accenture's Financial Services, Digital, Edwin Van der Ouderaa, and Global Agile Organization Lead with Accenture's Financial Services Talent & Organization, Andy Young in episode thirteen.
Nici's work focuses on mental agility and how we can use our inborn capacity to unlock our potential for personal and professional success. She pointed out that barriers to change often come from within. They may be due to the fear of failure, fear of the unknown, fear of reprimand, or fear of taking a risk. But in order to move forward, it's important to take a chance. 85% of transformation projects that fail do so because of fear and anxiety, so it is a big issue in embracing agility an developing a truly agile mindset.
"It's a common theme that we see everywhere," says Nici. "What gets in people's way, and therefore what gets in the way of the change companies are trying to make, is simply unhelpful, insecure thinking."
Andy and Edwin co-authored a report with other Accenture leads titled "Fearless: how safety and trust can help financial services thrive even during disruption and transformational change." In the report, they identify how a fearful mindset has an impact on transformation, highlighting that financial services firms must overcome fear in order to succeed.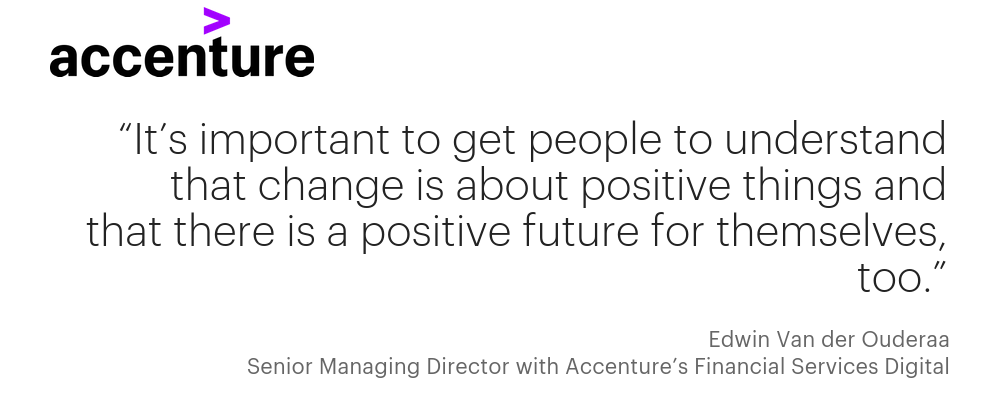 "There is often a negative narrative around change," says Van der Ouderaa. "[A lot of people] get locked into a negative narrative, where negative words are being used to describe the situation and that starts fueling all that fear inside of people. So, it's important to get people to understand that this [change] is about positive things and that there is a positive future for themselves, too."
There is no silver bullet for overcoming fear. Instead, what Nici recommends, is a series of micro-adjustments. It can be something as simple as adding a little physical activity to your day, celebrating small victories, meditation, or end of day check-ins with the team to talk about how everyone is feeling. It may seem that these changes have nothing to do with your mental state, but there are both physiological and psychological benefits that over time can empower an individual to let go of fear and move forward with confidence.
As Andy points out in our conversation, the human factor is most important – fear and anxiety exist where there is an absence of safety and trust; safety to experiment, trust that you won't be punished for speaking up or putting forward new ideas, and trust that you will still have a job in the months and years to come. So, when employees feel safe and supported, what they produce is almost always better – and that support comes from the top down.
Theme #3: Vision and leadership
Global Lead of Accenture Talent & Organization, Eva Sage-Gavin, highlighted the importance of vision and leadership when navigating transformations and disruptions. She perfectly explained in episode two, that strong leadership serves as a lighthouse in a storm: without it, a boat is in danger of becoming lost at sea––or worse. It takes clear vision and strong leadership to navigate change and this was one of the themes that came up often, especially in episode eight with Julian Sawyer of Starling Bank, and episode ten with ING's Head of Change Management, Subhash Chandra Jose. Both Julian and Subhash have been at the forefront of massive organizational change, successfully navigating disruption to help lead their respective companies to solid ground.
When it comes to vision, Julian's perspective was very interesting. While Starling Bank provides financial services, his view is that they are actually a technology company first. That kind of thinking helps inform decisions about the direction of the company from top to bottom and gives clear understanding and aspiration to the workforce.
For Subhash, as Head of Change Management for ING, which has a $50B valuation and assets all over the globe, being clear about vision is also crucial. Adopting a similar approach that several tech companies employ, he has implemented change through smaller independent groups––or squads––working on a single area, such as consumer lending. These smaller groups are able to respond independently, but collectively tackle challenges and respond to transformation in a much more fluid way than traditional hierarchical approaches.
Both of these approaches came from very clear visions––and through conversations with other guests, the notion of establishing a vision which then helps employees taking clear steps toward it was a common in companies that were finding success.
Theme #4: Continuous learning
By 2025, 70% of the workforce will be millennials, a demographic with different expectations and demands than previous generations. For many organizations wanting to attract the best new talent, this means rethinking their workforce and what they offer and expect from employees.
In episode two of Talking Agility, I talked with Accenture's Global Lead Talent & Organization, Eva Sage-Gavin, who also spoke about what really drives the workforce today.
"In these turbulent economic times, people are looking for clarity and a sense of purpose to help them navigate," she explained. She added that when people discover what they are best at, it helps them find mastery in their job.
But it isn't just millennials who are facing a changing landscape professionally. Mid-career professionals are also dealing with disruption and rapid change. In episode twelve, my guest Bridie Fanning, Accenture Financial Services Talent and Organization Lead for North America talked about the importance of lifelong learning.
"Knowledge itself isn't really what gives you a competitive advantage," she says. "It's the innovation of how you use it and how people collaborate and work together."
With advances in technology appearing every day, what is becoming more important isn't how knowledge is acquired––but how it is applied. This theme came up again and again: the idea that information is the starting point but synthesizing it into action is the real powerful tool. In order to do this, the workforce needs to consistently learn throughout––not in giant blocks of study, but in micro-learning experiences that over time culminate to help create an informed, agile workforce.
To read more about why industry needs to rethink lifelong learning, please visit Bridie's Ultimate Guide to Lifelong Learning in Financial Services here.
Theme #5: Disruption is constant
When it comes to transformation, there is no single industry that is immune. This became evident throughout this season of Talking Agility, in which I spoke with people working in technology companies, financial services, start-ups and more. In episode 14, I had the pleasure of speaking with my colleague Omar Abbosh, Accenture's Chief Executive for Communications, Media and Technology and former Chief Strategy Officer, author and fellow podcast host. We spoke about the Wise Pivot and how organizations can better navigate their own transformations.
Omar's insight into transformation was echoed by many guests throughout Talking Agility. Similarly to how Andy Young views rewiring the organization, Omar believes agility is something that needs to be installed in every aspect of the company.
"Innovation is something that has to be applied not at the edge of the business," he says, "but throughout the entire business."
It is Omar's belief that no industry is protected from disruption and that in order to navigate it, organizations need to practice the wise pivot. As an advocate for this thinking, he co-hosts a podcast with musician and entrepreneur, Will.i.am, called Pivot to the Future and co-authored a book of the same name with Paul Nunes and Larry Downes.
The Wise Pivot approach has four key steps to navigating transformations:
Step 1 – Transform the Core Business to drive up investment capacity.
Step 2 – Grow the Core Business to sustain the fuel for growth.
Step 3 – Scale the New to identify and scale new growth areas at pace.
Step 4 – The Wise Pivot requires the right investment strategy to ensure that the timing, scale, and direction of investments are calibrated adequately.
Through all the conversations I was fortunate to have with our amazing guests, to me this approach sums up the intention behind enterprise agility and serves as a foundation for so many transformations globally. Whether you are an entrepreneur looking to capitalize on an ever-changing landscape or the Head of Change for a multi-billion dollar bank, having a clear vision, with strong leadership emboldened by confident thinking, it is agility practices that will help lead you toward success.
I am very excited to be continuing with Season Two and new episodes of Talking Agility coming soon and into 2020. The conversation continues and I encourage you to re-visit our episodes and share with your teams and clients. You can subscribe here, or on iTunes, Soundcloud or Spotify to revisit our previous episodes and be updated when a new one goes live. You can find me on Twitter, LinkedIn, or through the website. I'd love to hear from you—please get in touch and share your thoughts!