---
In my previous post we looked at the pioneers: a group of consumers highlighted by the latest Global Financial Services Consumer Study with the greatest appetite for innovation and greatest level of trust in financial services providers. In this post, we're going to look at the group identified from the 47,000 consumers surveyed who are in some ways the polar opposite of the Pioneers: the Skeptics. 
The Skeptics are the most numerous of the personas identified from the study's data, making up 33 percent of overall respondents. They are most concentrated in Hong Kong (59 percent of respondents) and least concentrated in the United States (16 percent), but these two jurisdictions are outliers. In the typical jurisdiction surveyed, about one in three consumers is a skeptic. 
The relatively uniform distribution of Skeptics is their first point of contrast with Pioneers, who are more concentrated in emerging markets—the first point, but not the last.  
Skeptics show low levels of trust in financial services providers. Interestingly, this lack of trust doesn't seem to reduce their loyalty—the average Skeptic stays with their bank for 14 years and their insurer for seven. Although younger than other personas, they are less likely than the Pioneer and Pragmatist personas from the study to use their mobile phones to transact online or browse the web.  
Skeptics are also often unhappy with the service they receive from their financial services providers. Just 31 percent say they have a positive experience when they visit their bank branch, for instance.  
They express low levels of interest in personalized services or products. Just 45 percent express interest in behavioral pricing, and slightly over half have an appetite for omnichannel service. Less than one half are interested in integrated propositions. Less than a third say they want to use new channels. They are less confident tech users than their peers, and less likely to trust financial services providers to look after their data. 
Skeptics differ from the overall consumer response in many other interesting ways. For instance, 45 percent of Skeptics say they are content most of the time, compared with 62 percent of surveyed customers. But the single most important data point might be this one: roughly one in two Skeptics is frustrated when they call customer service, compared with one in three of all customers surveyed.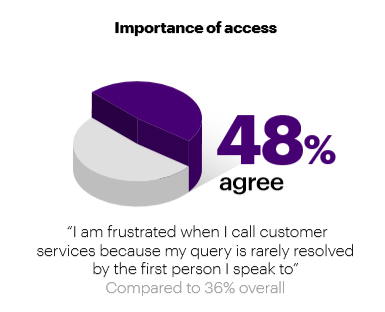 These attributes and attitudes make Skeptics a challenging market to target for financial services firms. Yet the number of Skeptics around the world—again, they are the most populous of all four personas in the study and their global distribution is relatively even—means that connecting with Skeptics can bring rewards and benefits on an unmatched scale.  
Financial services providers interested in attracting and retaining Skeptics must start by increasing the relevance of the services they offer. In some instances, this may simply require revised communications and marketing efforts to make Skeptics aware of the benefits and convenience of the services already available. In others, however, the actions required will be wide ranging, including everything from intensive research to new product development and partnership building. 
If you'd like to continue the conversation about engaging with Skeptics, do contact me. Information can be found at the top of this page.   
More detail on the Skeptics and the other three global financial services consumer personas can be found in the 2019 Global Financial Services Consumer Study. In the next post in this series, we'll look the Pragmatists, the third customer persona identified in the study and the one that should be the highest priority for leaders to address.