In this series, we've looked at insurance risk management and the way it continually evolves, particularly in terms of technology, talent and cross-business integration. Accenture's 2017 Global Risk Management Study Insurance Report provides the full details and offers more specific findings.
For insurance risk leaders, a variety of steps can help strengthen risk management efforts, and move an enterprise's program forward. We recommend the following:
Grow internal knowledge: Give your risk professionals the time and freedom to get smarter and push the envelope. Automate drudgery and strongly defend pursuing the right initiatives.
Build a powerful risk radar: Assemble a dedicated emerging risk working group to identify and evaluate emerging risks and their potential impacts.
Mix up the team: Tap specialists from other fields, draw in confident generalists and attract experienced divisional leaders. Bringing a variety of resources results in a more blended, interdisciplinary team. Don't forget the value of individual diversity, including age, gender and nationality, as a way to boost creativity.
Report to the top: What's your channel to the Chief Executive Officer and the C-suite? Regardless of where the risk function resides, a channel for engaging with leadership boosts influence, builds trust and supports better integration with the business.
Boost risk processes: Build an effective, operational risk committee—including IT, compliance, legal, audit and vendor members—for greater impact.
Get closer to the business: Risk should be a trusted partner to the business. Positioned as such, the function can participate in decision making, build better links to functional areas and cultivate an overall risk perspective while addressing new business challenges. For Instance, cyber risk is a rising concern from a risk perspective, exposing insurers' reputation and compliance capabilities. On the other hand it is also a business opportunity, as cyber insurance is a new market expected to accelerate in the coming years.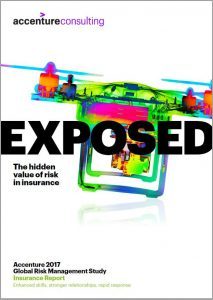 The game—and the variables—keep changing, but insurance risk leaders can act definitively fora strong approach to risk management. See our report for a deeper dive.