---
On day two of Sibos, I discussed the issue on our Embrace Disruption podcast series. There were some interesting questions.
What is the impact of tech transformation on the C-suite and the evolution of the expectations now placed on people at that level?
I believe these leaders now have to have a far broader understanding of both the functional and technology areas that make their organisations tick. The good news is that they are starting to realise the value of their workforces and talent. The challenge for them all is, given the pace of change, how they accelerate the necessary reskilling activity?
Do they understand what they've got in their organisations?
Do they have a perspective on whether these people can pivot and grow?
And do they even know what skillsets their people need to be more successful?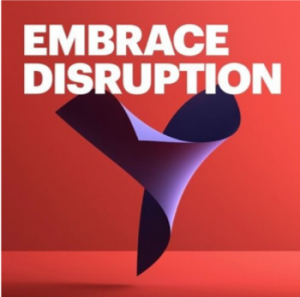 Let's turn our attention to the customer-facing workforce, the front line. Accenture's perspective is that it's more about human and  machine collaboration than automation?
There's a great bit of research that Accenture launched at Davos called Reworking the Revolution (for Banking and for Insurance). It debunks a lot of the myths around automation. In the research we asked, "what can higher levels of collaboration between humans and machines offer, and can that translate into new revenue opportunities—not just driving costs down through efficiencies?" Also, "what might that mean for jobs in FS industry?" We got some really great answers:
FS organisations think there's an opportunity to grow revenues by 32 percent over the next five years through human-machine collaboration.
They also believe this could create new roles and drive in the region of 9 percent headcount growth in FS.
So what is the percentage of people who can realistically be retrained or upskilled for the evolution of a role?
What Accenture is recommending is that rather than talk about the number of jobs and roles we need to evolve, we need to deconstruct roles into the skills and activities required today and in the future, and start thinking about how we can enhance the skills of the workforce to reach those future requirements. Our hypothesis is that roles, job families and career progression are going to fundamentally change. More and more of what we do is going to be project-based – like working in a consultancy-style organisation. But, in order to do that, you need to understand what skillsets are needed now and in the future.
It sounds simple, but it's actually quite a hard shift to make.
How much of a challenge is it to make these organisational design changes? What does it mean for leadership?
What we are finding is that organisations are often pocketing the benefits of automation and not always reinvesting them into the workforce. That's a bit short-sighted. Despite FS organisations' predictions for growth from human-machine collaboration, our research shows that only 3 percent of organisations are planning to significantly increase the level of spending on reskilling their workforce.
I'm finding it hard to correlate this. Senior leadership needs to take a longer-term view.
Leading edge organisations are giving people the opportunity to reskill. And don't underestimate the workforce—our research shows that workers get it; they understand that AI is here to stay and that their jobs are going to change, and they are actively embracing that. They just need to be given the opportunity and the skills to do so.
Are there any examples, even from other industries, of companies that have embraced the opportunity for change more enthusiastically?
Every industry and organisation is going through this now and it's a journey. AT&T's reskilling effort does offer a great example, however. The company is investing US$250 million per year for the next four years—that's $1 billion—to reskill its workforce of 260,000 people. They've broken things down to the skills level but are also showing people what their future career pathways look like if they are able to develop the requisite skills. They are putting the onus on the individual to select a future and act on it, moving forward by acquiring the necessary skills.
For more on this topic, please listen to this podcast, and the others in the series.
Also, look out for my review on the Future of Work panel discussion I participated in—there are some interesting perspectives from my fellow panel members from Nordea, Westpac and Bank of America Merrill Lynch.