Other parts of this series:
---
Financial institutions (FIs) are now awaiting the passage of the $741 billion National Defense Authorization Act (NDAA); more specifically, the Corporate Transparency Act (CTA) portion of the NDAA aimed at combating the use of anonymous shell companies. As we write this, the Senate has approved the NDAA, overriding a veto from the White House.
The CTA comes at a critical time, as FIs remain burdened with implementing solutions for identifying and verifying (ID&V) beneficial ownership information enforced through FinCEN's CDD Final Rule (CDD Rule) implemented in 2018. Challenges in meeting beneficial ownership requirements set out by the CDD Rule have led to weaknesses in Anti-Money Laundering (AML) programs across many FIs. In fact, global regulators now consider the U.S. a safe harbor for bad actors to create tax-friendly and anonymous shell companies as the U.S. continues to struggle in thwarting such acts. This is where the CTA steps in.
CTA Objectives
The CTA would require FinCEN to maintain a single source repository of beneficial ownership data for certain defined Covered Companies obtained upon formation. The beneficial owner's personally identifiable information (PII) and government issued ID would be available to FIs upon request with customer consent for CDD and regulatory compliance purposes. Further, the CTA lays out guidance defining which companies are obligated to submit beneficial ownership data to the FinCEN repository, as well as which companies are excluded (see the accompanying chart).
The CTA lays out guidance defining which companies are obligated to submit beneficial ownership data to the FinCEN repository, as well as which companies are excluded.
Failing to provide or providing fraudulent information may result in civil and criminal penalties including civil penalties of up to $500 per day the violation continues, as well as criminal penalties of up to $10,000 and a 3-year maximum prison sentence. While the $500 penalty appears nominal at first glance, repetitive infractions and ongoing inaction can result in increased reputational and operational risks.
AML Officers will therefore need to assess their Know Your Customer (KYC) programs related to CDD/EDD reviews, sanctions screening, and overall client lifecycle management.  While the CTA would be a significant win due to specific improvements compared to the CDD Rule, there is still work for these Officers to do.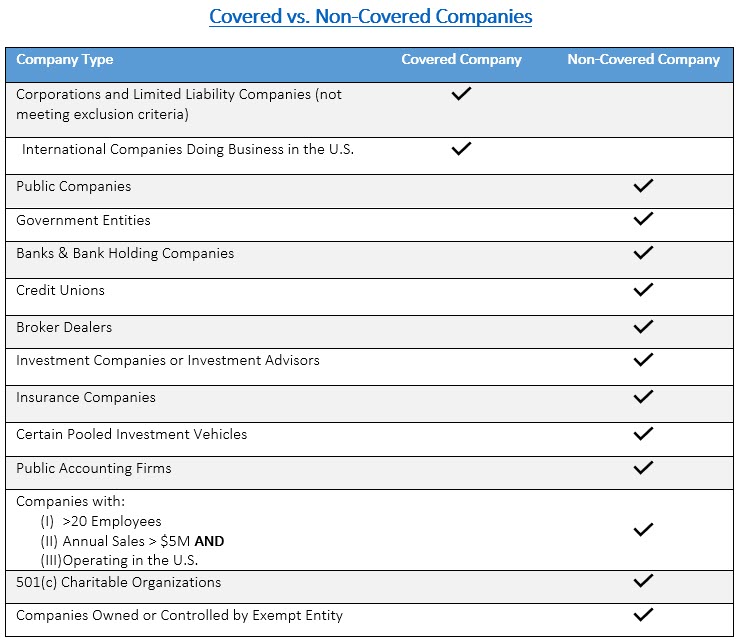 Making Progress
We expect multiple positive effects from the CTA's potential enforcement, including:
Client Experience – FinCEN's centralized database may enable FIs the ability to 'self-service' the gathering of beneficial ownership requirements as opposed to requesting information from the client for each BSA/AML review. This would remove longstanding pain points associated with BSA/AML client outreach and prolonged onboarding processes.
Increased Risk Management and Continuous KYC – The ability to retrieve current client beneficial owner data from a central database should increase the availability and reliability of beneficial ownership data to FIs. Furthermore, a central registry may open the possibility for FIs to leverage the database to understand when their clients have changes to beneficial ownership to better detect and manage their AML risks. For example, FIs commonly review beneficial ownership changes against negative news, politically exposed persons, and other watch lists to detect incremental AML risk indicators.
Lower Costs – FIs that integrate their BSA/AML processes with the central repository may be able to downsize certain system and technology controls, including ID&V solutions, along with third-party data vendors previously used to capture and verify beneficial owners. FIs could see a reduction in headcount or could realign current compliance staff to address more strategic opportunities as case handling times, volumes, and false positives decrease. FIs poised to benefit most from the CTA are those able to allocate sufficient budgets to facilitating automation with the central database to streamline BSA/AML processes.
Areas of Concern
While there are many positives associated with the CTA, there are still concerns about several key areas:
Narrow Scope – The CTA has significant limits on the companies it covers. This may lead to fewer companies being required to participate in providing beneficial ownership information than expected. Excluding companies such as those with more than 20 employees and greater than $5 million in annual sales may limit scope primarily to smaller businesses and fall short of simplifying BSA/AML requirements related to large and more complex companies.
Elongated Enforcement Timeframe – FIs would have two years to prepare for the operational changes and costs associated with disclosing beneficial owner information. This longer timeframe may delay benefits realized from the central database until industry adoption catches up.
Greater Clarity Required for Adoption – The CTA falls short of providing detailed and prescriptive guidance for implementation. Although its definition of a beneficial owner is an improvement from the CDD Rule, there is still ambiguity. Criteria defining when individuals are considered to be beneficial owners, including the specific requirements concerning receipt of "substantial economic benefits" is still unclear. In addition, increased clarity will be needed to assess how sensitive beneficial owner information would be submitted to a central repository and kept secure and private, while also being made available to FIs upon consent.
While we expect CTA to have a major impact on FIs' AML and KYC programs, we are also reviewing the potential impact of the AML Act of 2020.  In Part 2 of this blog series we will analyze the AML Act's likely implications and its effect on current programs.  If you have questions or would like to discuss these issues further, please contact the authors:
We would like to thank Tim Adeleye for his assistance with these blogs.