---
As more technologies emerge to help unlock valuable workplace data, leaders are having to think about how that data can be used, both in terms of how it relates to their business and the rights that employees have over it. Seventy-three percent of employees want to own their personal work-related data and take it with them when they leave an organization. With that in mind, many business leaders are now supporting the idea of allowing employees to own some of their data, which is protected with blockchain, allowing it to be securely shared as desired.
Owning their personal workplace data helps employees feel more confident in sharing it. It provides a window into what is being collected. Not only that; it also allows them to potentially share relevant and verified information with employers quickly and at their discretion.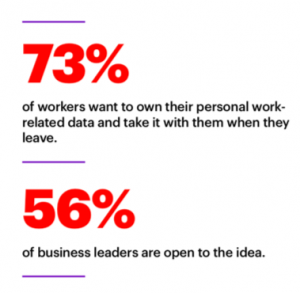 Armed with information about their performance, employees are empowered when making career decisions. For example, if an employee happened to be applying for a new role or new job, he or she could provide accurate data on work experience, sales figures, and even results from skills assessments.
By co-owning data with employees, employers are more likely to secure consent to mine increased amounts of data, thereby benefiting from far more complete, verified and trustworthy information. It creates a more transparent and efficient labor market.
None of this will happen, however, without proper privacy protection.
According to our research in "Decoding Organizational DNA: Trust, Data and Unlocking Value in the Digital Workplace," preventing security breaches is one of the most important factors in building trust between employees and employers. Fifty-eight percent of employees surveyed said they would refuse data-collection activities if their personal data was not kept private when the expectation was for the company to do so.
Key to this is involving employees in the process of creating privacy rules––letting them have a say in determining who sees what, when, where, and in what context. By doing so, employers show a commitment to use the data responsibly, and an ability to understand employee concerns.
It is also important to recognize that when it comes to sharing an employee's individual data with the employee's manager, team, or the entire organization, leaders should be respectful. Most employees are open to sharing information about their workplace skills or performance, but are far less open to sharing data about their emotions or information inferred from their physical bodies, such as their movements or location. This does vary widely by country, but is a significant consideration when it comes to data protection.
In my next post, I will further explore the relationship between employer and employee when it comes to sharing data––and how companies can create a system of checks and balances that encourage trust.
If you'd like to read the full report on Unlocking Value in the Digital Workplace , you can find it here.