---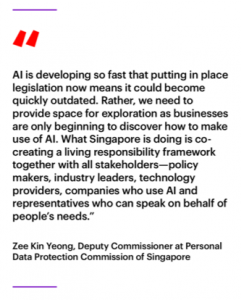 With the emergence of new technologies, leaders are being asked to decide whether to let employees own some of their work-related personal data. As well, employees are being asked whether they want to share relevant and verified information with employers. In this new paradigm, a collaborative, co-owning approach to the management of personal work-related data is emerging as an effective solution.
In the Accenture report, "Decoding Organizational DNA: Trust, Data, and Unlocking Value in the Digital Workplace," nearly three-quarters of employees indicated that they would like to own their work-related data—and take it with them when they leave an organization. Unfortunately, the practice is not in common use. However, a growing number (56 percent) of business leaders surveyed in the same report said they were open to the idea.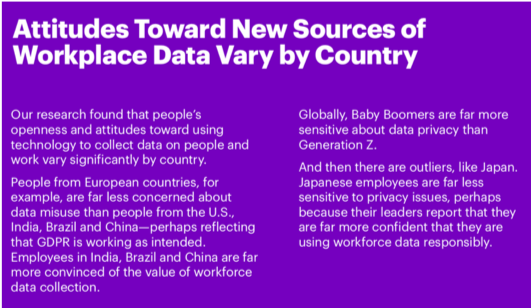 Many of those business leaders are now advocating that employees be able to own some of their data by using blockchain, making it portable and protected. In the past, this data might have been owned and controlled solely by an employer, but with the advancement of blockchain technologies, a person can own part of his or her data—and control what is shared.
Those who advocate for data portability argue that for employees, the ability to own some of their work-related data creates a kind of value passport, enabling them to be hired more quickly and be better matched to optimal opportunities. In the future, with blockchain, employees could also create a "personal data file" that could be plugged into analytics solutions or even sold to providers who are looking to analyze and use longitudinal people data.
Advocates also argue that as data is no longer lost when people leave an organization, employers benefit too from access to far more complete, verified and trustworthy information about a new candidate's training, skills- assessment, promotions and productivity. In turn, this creates a more transparent and efficient labor market.
Protect privacy
According to Accenture research, preventing security breaches of employee data is one of the most important factors in building people's trust in their employers, as is privacy. Fifty-eight percent of employees we surveyed said they would refuse data-collection activities if their personal data was not kept private when the expectation was for the company to do so.
As such, leaders looking to tap the potential of employee data should involve employees when creating privacy rules, letting them have a say in determining who sees what, when, where, and in what context.
Provide value
Incentivizing data collection from an employee standpoint is another important aspect of developing consent and engagement from those who are providing the data.
Accenture research shows that employees believe their performance and satisfaction at work would improve with data-based feedback about themselves, and would approve the use of that information to develop suggestions for improvement.
Of employees surveyed:
83% would want to know about their work processes and products;
79% would like to know where they are spending the most time against priorities;
79% would like to see data on their physical wellbeing and safety;
78% would like to know how their behaviors compare to the highest performers in a similar role;
74% would like data on their emotions, with information on how to be happier and less stressed at work.
Create a system of checks and balances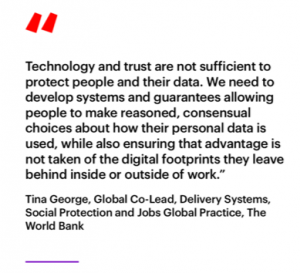 Building a governance system to ensure responsible use of workplace data and technologies is crucial for developing trust, and should start at the leadership level. Unfortunately, our research showed that only 19 percent of organizations have a C-level executive accountable for ensuring that workplace data and technologies are used in a responsible and ethical way. However, a further 48 percent plan to make one accountable soon.

Developing a proper framework of checks and balance has several components:
An executive should be charged with oversight of both customer and employee data. In many cases, that might be the general counsel or chief compliance officer. But because the issues are so complex, the appointed leader must be supported by an executive-level coalition. This group would represent different areas across the executive level and should involve others in the external ecosystem who might have access to employee data through as-a-service agreements (e.g. software as a service).
Frameworks should be developed to help board directors ensure management is responding to the strategic opportunities and ethical risks of workplace and customer data, analytics and AI. This goes beyond risk, audit, governance and ethics oversight and should also include culture, operating model and competitive strategy.
Business leaders should also consider creating an ethics review board to not only harness the coalition's diverse insights, but also collaborate with external experts, ethicists and other specialists to proactively address any unintended consequences.
Building trust takes a concerted effort from employers and begins with strong leadership. With the right leadership that takes a proactive approach to data-mining by creating value, ensuring privacy and developing checks and balances, employers are more likely to instill trust and gain access to valuable data.
In my next and final post in this series, I'll take a look at how employers can elevate their employees and use technology responsibly. Until then, if you'd like to read the full report on this topic, you can find it here.