---
It's one thing to earn an employee's trust––it's another to maintain it. Building a governance system to ensure responsible use of workplace data requires leadership to play a key role. Unfortunately, only 19 percent of the leaders we surveyed said a top-level executive is in control of how information gleaned from employees is used and protected.
Only 19 percent of the leaders we surveyed said a top-level executive is in control of how information gleaned from employees is used and protected.
The good news is that nearly half––48 percent––of executives in the same survey said they intend to make a top executive accountable soon. In order to do that, a proper framework for protection, with a strong system of checks and balances, is required.
As you may have guessed, building a proper framework requires a C-level executive to be put in charge of overseeing both customer and employee data. In many cases, that might be the General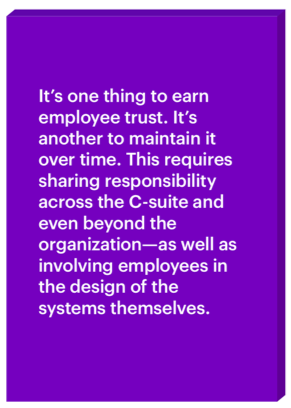 Counsel or Chief Compliance Officer. Some organizations are even creating new roles such as a Chief Ethics Officer or Chief Data Officer, to ensure that data used to train machine-learning algorithms is both truthful and diverse.
Leaders must also go beyond the C-suite and involve the board of directors. JP Morgan, as an example, has created two councils focused on the use of employee data and on HR data protection. Both include high-level executives and directors. A full 72 percent of leaders believe that ethicists need to be employed to evaluate the impact of workplace technology and data on employees and society, yet only 15 percent have them.
A proper framework needs to go beyond risk, audit, and governance to include culture, operating models, and competitive strategy––and all of it requires input from the source of the data in the first place: the employees.
Co-create Systems with Employees
To many employees, the creation of technology systems that collect and use workplace data can seem like a top-down exercise, where the human element is pushed aside in favor of algorithms. In fact, the human viewpoint is crucial to ensuring the systems offer benefits to employees and avoid bias and unfairness in the design and use of technology.
By including employees in the conversation when designing the technology that will gather data, leaders can avoid pushback or consent refusal while identifying what really matters to the people providing the data. Inclusion can also help prevent unintended behavioral changes that can arise from the perception of an invasion of privacy. In addition, businesses can better design employee benefits into the processes, increasing the willingness of people to share their data.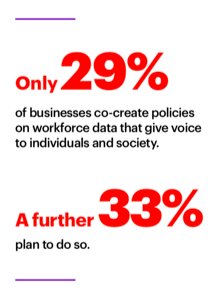 Unfortunately, only 29 percent of leaders say they currently co-create workplace data and AI systems with employees––but that is changing. Thirty-three percent of those we surveyed say they intend to include employees as they create the systems that will gather data.
In my fifth and final post in this series, I want to take a look at how leaders can help elevate their people by working to eliminate biases and embracing opportunities. I'll also explore one of the fundamental principles of using workplace data: using it to support and grow employees, rather than penalize them.
If you'd like to read more about this subject, I suggest reading the full report.