Other parts of this series:
---
As discussed in our first blog showcasing the journey of contract remediation, this second installment covers the first phase, contract discovery and analysis (see illustration below).  As noted in our last blog, financial firms are dealing with continual demands to remediate terms in financial contracts due to pending regulatory change events such as the London Interbank Offered Rate (LIBOR) reform, Qualified Financial Contracts, Privacy regulations, and Regulation Best Interest.  Therefore, firms should be able to efficiently discover and carefully analyze financial contracts to identify relevant contracts for remediation while also collectively measuring their risk exposure.
Out with the old, in with the new (Digitization)
Before a financial services firm can begin to make sense of their contracts, they have to digitize any paper contracts by scanning them via Optical Character Recognition technology (OCR). Once paper contracts have been securely sourced, scanned, converted to electronic images and their digital images stored, they are machine readable/searchable and centrally located in a database/central source.
Searching for needles in haystacks (Discovery)
The serious work begins during the document search process.  Since financial contracts are now stored in a common database, they can be easily searched via database queries or better yet, by use of specialized document search/mining tools with key word searches based on Boolean logic (remember the library search techniques of old).  To effectively utilize these tools, one needs to know what key terms to search. This may require access to key search term definitions, perhaps using a taxonomical approach with tiers. For example, with LIBOR contracts, key terms such as counterparty, product, contract maturity date, LIBOR language, LIBOR fallback provisions should be defined.
Contract remediation teams/lawyers and others can search for these key terms such as LIBOR and can also search by contract type (e.g. securitizations) and group related contracts for wholesale term replacement.  Once these key terms have been tested by staff and are pulling the appropriate documents, these terms can be set in templates that can be programmed to run automatically in batches in a document search and extraction tool based on date ranges and other parameters or can be programmed to run in an internal database via machine learning scripts.
Extracting value
Once all the documents containing the key word terms have been isolated in the tool or database, the key terms can then be extracted.  The applicable documents are pulled back (PDF format, Microsoft® Word, etc.) and the sections with references to the key terms are shown in a graphical user interface.  The results can be Quality Assurance reviewed by staff or machines.  The references to terms and related documents can then be catalogued and saved, downloaded to original formats of PDFs and/or "Word" for reference or the terms can be systematically revised across all relevant clauses/provisions in all documents by the use of a search and extraction tool.
For more efficient contact search and discovery, a front-end contract management tool should be leveraged by contract administrators and remediators.
Figure: Accenture Contract Remediation Lifecycle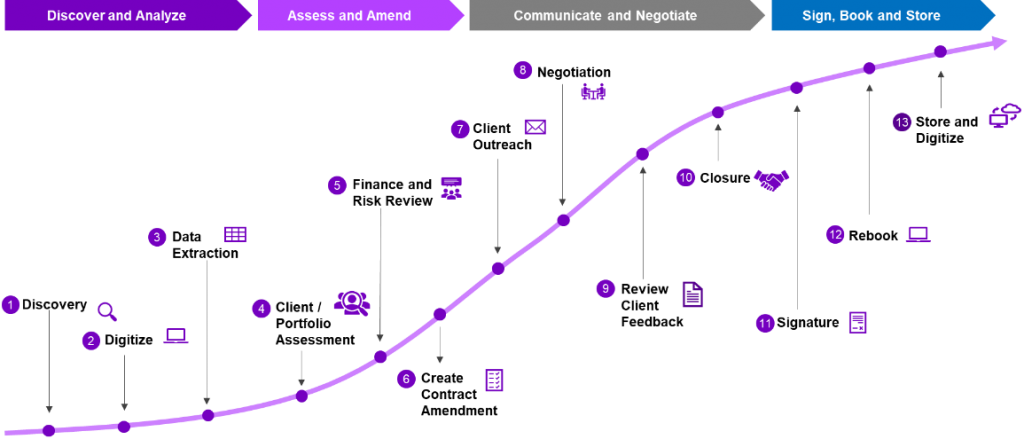 Next up in the series: Assessing and amending contracts (Phase 2). In this next installment we will explore methods for how to effectively and efficiently assess and amend contracts through business logic applied to grouping contract types and routing to appropriate parties for review using a rules engine and technology tools. Stay Tuned!
How we can help
Accenture can assist clients in building out a Contract Lifecycle Management (CLM) program, offering support and leading capabilities in the following areas:
Conducting current state assessments;
Defining a target operating model for CLM process;
Defining tools, business and technical requirements;
CLM/doc management vendor selection;
System integration; and
Change management/training.
Contact us to get started on your contract remediation journey.
Visit our LIBOR offering page to learn how our

solutions can help you transition from LIBOR with confidence. 
Newsletter Author: Lisa Bloomberg, Garrett Swanberg
Newsletter Contact Person: Lisa Bloomberg
Disclaimer
This blog is intended for general informational purposes only, does not take into account the reader's specific circumstances, may not reflect the most current developments, and is not intended to provide advice on specific circumstances. Accenture disclaims, to the fullest extent permitted by applicable law, all liability for the accuracy and completeness of the information in this blog and for any acts or omissions made based on such information. Accenture does not provide legal, regulatory, audit or tax advice. Readers are responsible for obtaining such advice from their own legal counsel or other licensed professional.
About Accenture
Accenture is a leading global professional services company, providing a broad range of services and solutions in strategy, consulting, digital, technology and operations. Combining unmatched experience and specialized skills across more than 40 industries and all business functions—underpinned by the world's largest delivery network—Accenture works at the intersection of business and technology to help clients improve their performance and create sustainable value for their stakeholders. With more than 442,000 people serving clients in more than 120 countries, Accenture drives innovation to improve the way the world works and lives. Its home page is www.accenture.com
Copyright © 2019 Accenture. All rights reserved.
Accenture, its logo, and High Performance Delivered are trademarks of Accenture. This document is produced by Accenture as general information on the subject. It is not intended to provide advice on your specific circumstances.
If you require advice or further details on any matters referred to, please contact your Accenture representative.