---
Digital brings constant, fast-paced change. Business agility is essential and to execute, organizations need a capable workforce with digital-age skills. HR organizations need to lead by example.
True change comes from within
Renewal of workforce capabilities will allow the HR organization to secure the strategic capabilities the business needs and develop a continuous-learning culture. To help drive such a culture shift, HR leaders need to start with their own internal HR organization, building relevant capabilities and providing a role model for the business.
Accenture research asked HR leaders what skills they thought HR professionals need to support workforce performance with digital technologies. Here's what they said: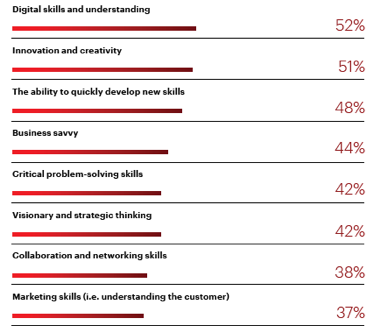 Source: Accenture Strategy, HR/Employee Experience study, 2017
Tech, innovation, creativity
Technology is a key enabler of change because it allows workers to reskill and improve in flexible ways at their point of need. HR leaders have taken note and are working to build their capabilities to work with current, new and emerging technologies to deliver and enable an environment that supports this.
Accenture Strategy's 2017 HR/Employee Experience study shows that:
64 percent of HR leaders are already planning to leverage advanced technologies to help people become more productive in their jobs.
71 percent of HR leaders agree there is still work to do—HR needs more skills and capabilities to help the business effectively apply these digital technologies.
For HR to step up to help guide and drive strategic transformation, and enable the business to move forward, it needs:
More digital skills and a broader set of capabilities.
Deeper insight into into the workforce, business and industry dynamics.
To introduce new types of operating models that reflect the priorities of the business.
To reposition itself to play a more strategic role in the business.
Seize the moment
To sieze the moment, CHROs need to take a multifaceted approach.
By investing in workforce analytics to inform change, focusing on personalizing the employee experience to drive engagement, and introducing new management disciplines and approaches to refresh workforce skills and embed a culture of continuous learning, CHROs can put HR at the center of change, fundamentally shifting the role of HR.
Have you begun this journey? Contact me to discuss how your HR organization can take the lead to enable change, recalibrating the workforce for digital.
For more insight on this topic, read Accenture's point of view, HR Sparks Change Reaction.