Trade surveillance is commonly understood to encompass process and technology that detect trading rule violations. Financial markets have undergone a dramatic transformation over the last few years. Oversight and control have been among the major themes of financial market regulation ever since the market collapse in 2008. In the wake of bank failures and colossal losses by "rogue" traders, one common topic of discussion among regulators and banks has centered on the vulnerability of financial services companies that engage in trading activities in OTC derivatives1. Regulatory agencies like the Commodity Futures Trading Commission ("CFTC")2 and the Securities and Exchange Commission ("SEC")3 have become increasingly aggressive in mitigating trading activities that undermine public confidence in the markets. As a result, new expectations by regulators for proactive trade surveillance are gaining increased attention especially as financial firms seek to eliminate breaches of internal controls and policies that lead to unlawful trading activities. Given the increased regulatory focus from recent market events, a forward-thinking strategy with an emphasis on preventative modeling can be helpful in providing transparency, efficiency, and oversight in today's financial markets. This has led to increased trade surveillance4 efforts among key participants of the financial markets-both buy and sell side firms.
The main focus of trade surveillance is to prevent market abuse and market manipulation, which can severely damage a firm's reputation. Since the financial crisis, one of the many efforts by regulators to improve market transparency and investor confidence has been to improve trade surveillance, for example, in the area of pre-trade surveillance. Regulators require financial firms to perform trade surveillance by monitoring the trading activities of employees in order to identify potential violations such as insider or speculative trading5. Most trade surveillance efforts have focused on post-trade surveillance methods, but new pre-trade surveillance methods such as behavioral analysis and pattern recognition can identify potential violations before they occur.
Though the key element of trade surveillance is market manipulation/abuse, the compliance procedures set up by the financial institutions should be robust and preemptive to help detect and capture any rogue trading and inside trading activities. A rogue trader is generally considered to be any trader who acts independently of others to the detriment of both the clients and the institution that employs him or her. But the damage done by rogue traders is not limited to the banks. It affects the entire market as it undermines the financial markets' credibility and damages the trust built with investors. Rogue traders typically trade in high risk investments which can create huge losses but also large gains. For example, in recent years, there have been several instances of rogue trading in derivatives at major global brokerage firms that have cost said firms billions in losses.
Insider trading activities involve buying or selling a stock in a company in order to take advantage of non-public knowledge. Insider traders have material nonpublic information not available to the general public thus giving them unfair advantage. Insider trading continues to be a high priority for regulatory authorities especially after several recent high profile insider trading cases in the US have come to light.6
There is significant differentiation between pre-trade and post-trade surveillance. Pre-trade surveillance programs can be employed to validate trade instructions, ensure trading thresholds are not breached, and prevent trades being conducted on restricted instruments. Post-trade surveillance can monitor for front-running, suitability, best-execution and regulatory transaction reporting. Trade surveillance capabilities generally focus on both pre and post-trade surveillance through the streamlining of internal business processes and the deployment of control points and actions to implement, such as:
Effective internal controls designed to ensure that traders have adequate capital and do not exceed trading limits.

Robust reporting structure that generates standardized reports for applicable regulatory requirements.

Effective workflow management through a dashboard that provides customizable summary graphs and reports that represent the surveillance activities.

System enhancements that will provide access of full historical trading data for all listed instruments. The enhancements can provide transparency in to the entire process of trading surveillance.

Extensive business rules engine that can  detect and capture market manipulation and rogue trading activities.

Mandatory block leave for traders – mandating traders to take time off can highlight irregularities in a broker's book once trading stops. Mandatory block leave also provides broker dealers time to review a broker's book for evidence of potential rogue trading.

Alert thresholds adjustments designed to minimize the number of false positives.
Additionally, trade surveillance activities may also focus on streamlining internal business processes and deployment of control points and actions to more easily identify issues.  Such activities include:
Forward looking analysis that can detect abnormal trading activities – prevention and detection based on monitoring employee behavior.

Non-economic activities analysis that can identify potential activities that could be an indication of day trading or zero-net trading (e.g. wash trades).

Pattern shift analysis that can identify a change in trading pattern for desk or trader by analyzing historical trade data from the past 6-12 months.

System generated alerts regarding pricing behavior for trades that may be executed close to the opening or close of market, or prices that deviate from the average prices entered for similar transactions.

Analysis of amended and cancelled trades to identify the reasons for the modification or cancellation.
Drivers for Trade Surveillance Improvement
One of the drivers for improving trade surveillance came from regulators and the new rules that have been passed recently. These additional regulations are intended to reduce the systemic risk in the financial system as well as increase transparency. The European Market Infrastructure Regulation (EMIR) introduced reporting and clearing obligations for OTC derivatives.7 Specifically, all counterparties to derivative contracts need to report contract details to a registered trade repository. Dodd-Frank implemented real-time trade and position reporting requirements for standardized and non-standardized OTC derivatives.8 In the European Union (EU), the Markets in Financial Instruments Directive II (MiFID II) introduced sweeping regulatory reforms, many of which focused on greater regulatory reporting requirements to maximize transparency and reduce data fragmentation.9
Accenture Trade Surveillance Strategic Framework
The Accenture Trade Surveillance Strategic Framework provides firms with a strategy for implementing an efficient pre and post-trade surveillance system. A global strategic framework for trade surveillance can be built out along the three dimensions of data, detection, and disposition. The Accenture Trade Surveillance Framework incorporates data analytics, data management, and the use of statistical modeling to build and optimize scorecards, rules, and similar fraud systems. The framework seeks to eliminate breaches of policies and internal controls by creating a system that allows for proactive analysis of data, consistent escalation paths, and streamlined disposition systems. By utilizing the Trade Surveillance Strategic Framework, Accenture can also assist clients with:
Customizing surveillance tools.

Addressing global emerging regulatory reforms.

Performing forensic analysis to identify high risk areas and test what-if scenarios.

Reviewing alerts regarding instances of market abuse or manipulation.

Determining data required and the appropriate format. This can provide consistency and minimizes costs. Data assessment can be done for both pre and post-trade surveillance.
Below are the guiding principles of the Trade Surveillance Strategic Framework. These principles are designed to allow for the strengthening of a firm's surveillance functional capabilities, as well as their enabling of technologies and /or processes:
View full illustration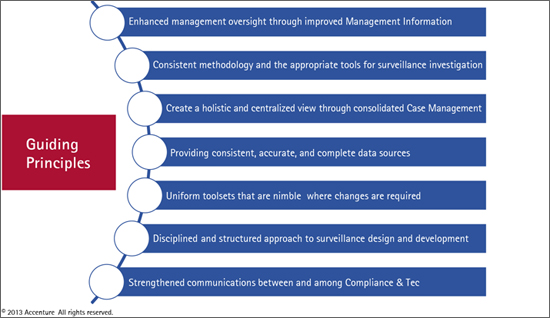 Figure 1 – Guiding Principles of the Trade Surveillance Strategic Framework
The diagram depicted below highlights the context diagram Accenture proposes as its Trade Surveillance model. Specifically, the diagram shows how the Accenture system combined with pre-trade and post-trade surveillance rules can process internal and external data to produce trade surveillance tools and insights. Accenture can assist our clients by helping build the system or as a system integrator by entering into alliances with third party solution providers (refer to next section) who provide trade surveillance services.
View full illustration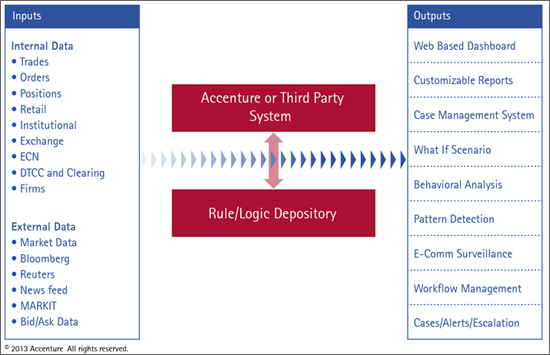 Figure 2 – Trade Surveillance Model
How Accenture Can Help
Accenture can assist clients with both pre-trade and post-trade surveillance. Pre-trade surveillance programs can be employed to help validate trade instructions, minimize trading threshold breaches, and place limitations on trades being conducted on restricted instruments. Post-trade surveillance can monitor for front-running, suitability, best-execution and regulatory transaction reporting.
Determine Global Target Operating Model

Evaluation of best in class and developing a robust TOM
Determine controls, policies, and procedures for the TOM
Maintain a proactive posture with trade compliance regulators
Process mapping – current state process to target state process
Prioritized trade compliance areas that necessitate additional reviews

Determine ability to meet compliance requirements

Which requirements are able to be met internally?
Existing system assessment – Heat map analysis
Development of robust reports
Data availability and the right level of granularity

Evaluate 3rd party vendors

Evaluation of third party trade surveillance tools
Package versus in-house development analysis
Vendor management
Ability to customize based on needs and new regulations
Ability to meet compliance requirements

Target implementation and execution

Change management requirements
System Integration Services
Delivery of key business and technology changes
Adoption management
Application outsourcing and ongoing post implementation support
Development of shared services

Data Analytics

Pattern and trend identification
E-communication surveillance
"What If" scenario analysis
Develop workbench – creating, testing, and maintaining business logic for generating system alert