---
When Henry Ford, the founder of Ford Motor Company, created the moving assembly line in the early 1900s, he understood that his strategy had to cover not just a new product, but also his company's whole way of working. So, Ford leveraged the prosperity generated by the assembly line to uplift his entire ecosystem of business and employees.
He began offering a US$5 daily wage, nearly twice the average amount at the time, and shortened the work day from nine to eight hours. In doing so, Ford reduced employee turnover and created an entire market for himself—workers who could afford to buy his cars. More than a century later, digital technology is catalyzing a similar revolution—offering forward-thinking FS organizations the opportunity to set free the potential of their multigenerational talent pool.
Those that get it right will design an adaptive workforce that:
Is available on demand and can respond to change quickly and easily;
Uses flexible organizational structures that emphasize collaboration, agility and skills sharing between internal and external talent pools;
Empowers employees to innovate through a culture of iterative development and failing fast;
Offers a better employee experience through continuous learning;
Can predict future skills, locate experts, and foster collaboration; and
Is led through data-driven insights and optimized through powerful digital HR suites.
Over this series of blog posts, I'll be looking at how FS firms can turn this sort of adaptive, innovative workforce into their greatest differentiator in a world of constant, accelerating change. I'll look at three areas where FS organizations should focus as they build the workforce of tomorrow:
Investing in predictive intelligence that lays the foundation for improved decisions, supports a more agile way of working, removes internal silos, and scales across the business.
Redefining the classification of a worker, which includes sourcing talent in new ways that enhance competitive agility and innovation, and augmenting human creativity with artificial intelligence.
Empowering their leadership and their current workforce with the mindset and skills to navigate this rapidly evolving environment.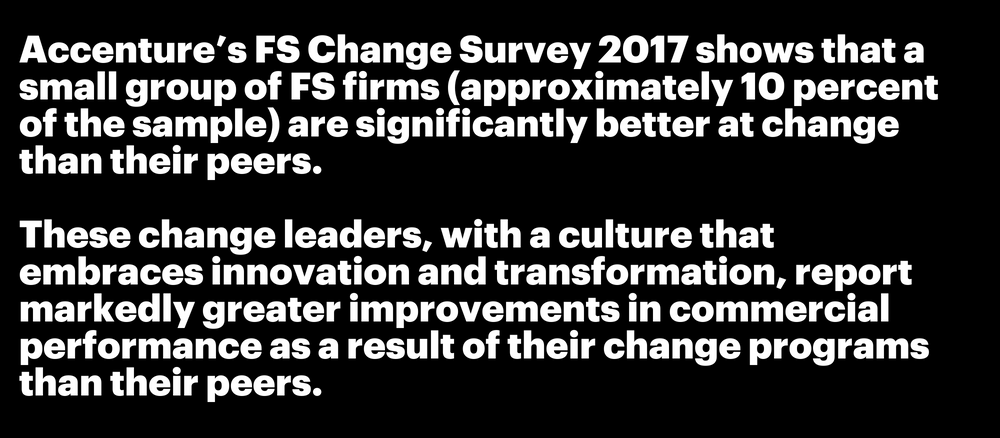 The war for talent has never been as complex and important as it is today. Thus, for FS organizations, the workforce and human-technology collaboration should not be afterthoughts but front-and-center preoccupations in strategic planning. Bold FS leaders that focus on their people and bring to life the human element will create companies that quickly execute their digital strategies, forming and reforming themselves in a world of constant change.
In my next blog post, I'll discuss the role of predictive intelligence in an adaptive workforce.
To learn more, download our full reports on: Shaping the Adaptive Financial Services Organization of the Future and Shaping the Agile Workforce.
For more discussions on the adaptive workforce or to join us at the Change Directors Forum and People Innovation Forum in London, please contact me here or on Twitter @knott_nic.