Other parts of this series:
---
In this series, I've told you why it's necessary to revolutionize the way your business engages with its employees and how ServiceNow can get you there. In my final post, I'll discuss the practical ways technology can improve the workforce experience.
Three essential questions
Before you begin, ask yourself the following three questions to determine how deeply you need to re-orient your service delivery model and what technology you need to adopt to do so:
What services do you need to offer your workforce?
How will those services connect with the workforce and others?
How will the workforce interact with each service so that their experience is fast, intuitive, proactive and pleasing?
ServiceNow, for example, can integrate with HR systems like SAP SuccessFactors, Workday, Oracle Cloud HCM and other systems of record. It sits as a wrapper on your existing system of record, whilst providing a one-stop-shop for HR service delivery of knowledge management, portal services, case management, live chat, workflow orchestration and mobile application enablement. It can easily knit together employee lifecycle events such as onboarding, IT, payroll, benefits and facilities, as seen in the image above.
ServiceNow complements and enhances your system of record to streamline HR services across your organization and builds an optimized employee experience across the enterprise.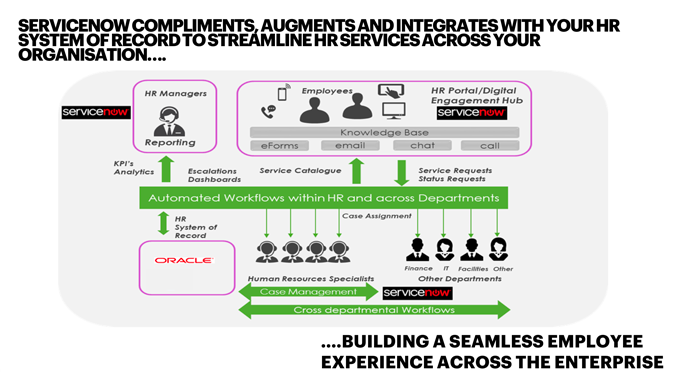 3 Design strategies for moments that matter
When it comes to employee engagement, it's important to determine the moments that matter most to the workforce. How organizations handle them makes a big difference in the lives of the workforce at all levels. Three design strategies to help handle those moments in a proactive, positive way include:
Create and use personas based on ethnographic research to help your team design systems with a specific person in mind.
Develop journey maps to allow your designers to visualize, identify and prioritize employee pain points.
Establish employee experience principles to inform guidelines for design, and validate them continuously throughout the process.
The workforce is also part of a digital world, and they therefore expect the same level of service and convenience that they would get from tech pioneers such as Google, Amazon, Facebook and Apple (GAFA).
5 ways technology can improve workforce experiences
Predictive search
Predictive search, combined with your employees' search history, will make their lives so much easier. It enables personalized results that are unique to individuals and their specific needs.
Artificial intelligence
AI is an essential co-worker in the digital age. Bots can give information, handle transactions and simplify experiences, freeing up your HR professionals to do higher-value work.
Process orchestration
By automating workflow across the enterprise, the organization can place on a single platform multiple systems of record in HR, IT, facilities and more.
Data and analytics
Analytics can help organizations identify key workforce behavior trends and decide how best to deploy talent. It provides insight into productivity and engagement, and also enables experimentation, iteration and adaptation.
Benchmarking
Technology allows service delivery functions within organizations to compare key performance indicators, which in turn enables continuous improvement. 
There is a small window in which to win a competitive advantage on the battleground of the workforce experience. The best organizations with the most seamless, personal, and agile service delivery systems will attract, retain and develop the best talent.
As I mentioned in my previous post, it is the job of the entire organization, especially the C-suite, to ensure that the HR function is agile and employee-centered. The chief investment officer will now morph into the chief experience officer to ensure the employee experience is at the heart of every activity in the organization.
7 ways the whole enterprise can improve the employee experience
The C-suite, HR and IT must work together to implement technology and processes that can do the following: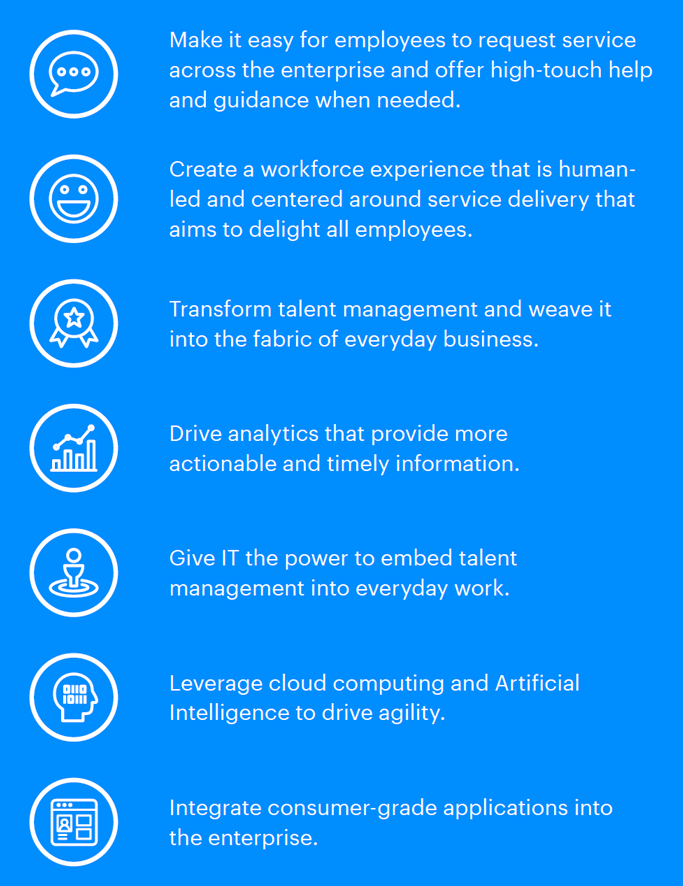 The end goal of all of this is to foster a truly human environment where employees feel safe and secure. An inclusive culture enabled by technology will not only drive recruitment and retention, but will also help organizations achieve their business goals, such as innovation, engagement, productivity and profitability.
To learn more about designing a human-centered workforce experience, download the report: Enhanced Employee Engagement: It's a New Day. You can also learn more about how to cultivate a digital environment with ServiceNow.