---
In my last posts, I looked at the current state of cloud adoption among financial institutions in Europe. I also discussed some of the issues financial firms are facing, and how cloud can help address them.
In this post, I will discuss some of the reasons behind the remaining hesitancy to full cloud adoption. I will also try to offer some alternative ways to think about the cloud.
The perceived barriers to cloud
As I said in post 1 of this series, the majority of banking firms have begun to explore cloud's potential as a business asset, but they are not yet taking full advantage of cloud's ability to support a financial firm in an evolving digital marketplace.
With cloud's potential to increase speed to market, deliver cost reduction, and catalyze a financial institution's digital transformation, why the hesitation?
The resistance to undertake a full-scale transformation is often rooted in risk and security concerns associated with cloud solutions. What some executives don't realize, however, is that most of these concerns have been addressed (see Figure below).1,2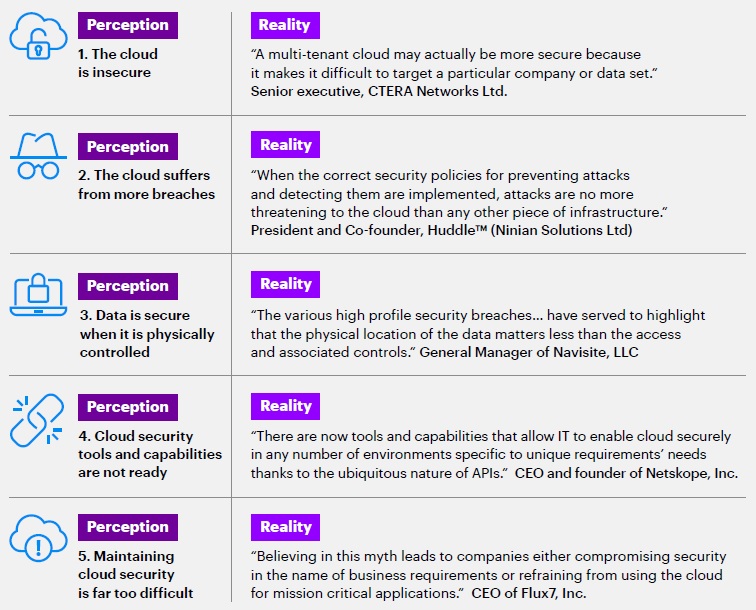 Cloud is a "win-win" for banking firms
Despite these lingering concerns, there is a better way to look at cloud in financial services.
At Accenture, we believe that those financial institutions that take a comprehensive, enterprise-wide approach to cloud strategy can develop a significant competitive advantage over firms that tackle cloud one project at a time.
The time for waiting is over; now is the time for an aggressive move to the cloud.
It is our view that, rather than engaging in a piecemeal cloud strategy or remaining caught up in risk and security concerns that have been addressed, banking firms should position themselves to take full advantage of cloud's potential.
Specifically, we recommend the following three steps:
Transform your operating and delivery models, clarifying requirements and governance issues and establishing a comprehensive process.
Address regulatory and security issues related to full cloud adoption.
Develop an architecture and approach to cloud that meets all requirements, sets appropriate policies, formalizes governance structures and processes, and creates an architecture to support these initiatives.
In my next post, I will discuss the elements that financial services firms need to understand to make cloud-based digital transformation a reality.
For more information, download the full Moving to the Cloud—A Cloud-based Strategy for Banking Firms in Europe report.
References:
The great IT myth: is cloud really less secure than on-premise? Information Age, March 9, 2015. Access at: http://www.information-age.com/great-it-myth-cloud-really-less-secure-premise-123459135/.
20 of the greatest myths of cloud security. CIO.com, May 13, 2015. Access at: https://www.cio.com/article/2922374/cloud-security/20-of-the-greatest-myths-of-cloud-security.html.