---
The challenge of reskilling the workforce to fill the new roles – even assuming employees welcome the change – should not be underestimated. FS organisations can achieve more with less, but only if they are willing to rethink their training methods.
Key questions FS organisations need to be asking themselves are:
Do we have a clear view today of the knowledge, skills and mindsets required to work with intelligent machines in a way that creates real value?
Where are our people against that benchmark?
Is "new skilling" already being integrated into our leadership development, learning and recruitment programmes?
Here is a reminder of how AI will change roles.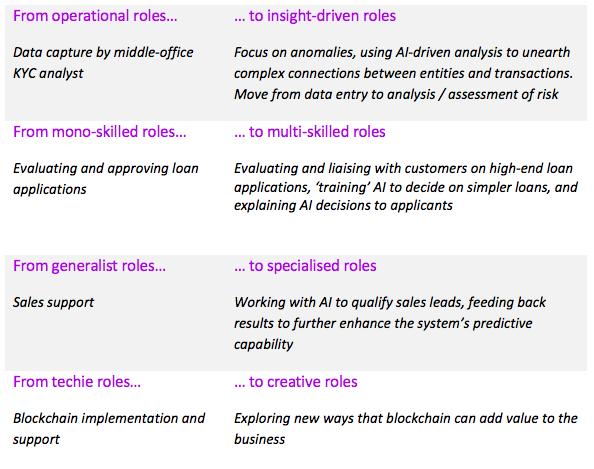 Prioritise skills for development. Selecting skills training will depend on the type of AI you use and the size, sector and existing skills levels of your organisation. The so-called soft skills, which will play an increasingly important role as machines take over the 'mindless' jobs, will pose the greatest challenge for trainers. Reskilling will help, but achieving the required levels will not always be possible. This may force organisations to take hard decisions about their strategy and their investments in their workforce. Creative skills will be important. However, among the most valuable human skills required to collaborate with AI will be judgment skills (to help when machines struggle), the ability to interrogate systems to gain maximum insight, and teaching intelligent machines.Three actions will help FS organisations scale up new skilling:
Account for willingness and skill. It is important to tailor training programmes to suit a range of employee "starting points". Our research shows that confidence levels vary by age but that workers are willing to learn. There is value in gauging the varying motivations of diverse workforces and targeting programmes at different generations and skill levels.
Go digital to create innovative learning experiences. Digital learning tools, such as virtual and augmented reality, can provide realistic simulations to help employees master new tasks. The same technologies can help reinforce correct procedures in the front office— monitoring how employees execute tasks and coaching them to do it the best way. Digital technology will also help to democratise learning, giving employees access to curated content that they can access at need.
To prepare for AI, FS executives need to ask some tough questions.
Understanding the AI advantage
I hope this AI blog series has provided useful insight on the challenge confronting FS and the opportunities that await.
Accenture's research on the impact of AI, Future Workforce Survey: Realizing the Full Value of AI, for insurers and banks, shows that FS executives are clear on the impact of AI on the industry. You know it will transform this sector and that it will be critical to your organisation to leverage AI. However, to prepare for AI, you need to ask some tough questions:
Do we have a clear understanding today of how work in our organisation will be reconfigured by intelligent machines, starting in 2018?
Which of our core activities will be automated, which will see human-machine collaboration elevate our workers, and which will remain the preserve of workers only?
What will this mean for our operating model?
This is an exciting time for FS. As more FS leaders explore and prepare to attain AI advantage, we are learning a great deal. I look forward to unpacking with you the opportunity that AI may present for your organisation.
For more insight on the impact of AI in the banking and insurance sectors, see Accenture's latest AI research and thought leadership: