Other parts of this series:
---
In their book Human + Machine: Reimagining Work in the Age of AI, Accenture leaders Paul Daugherty and James Wilson state that artificial intelligence (AI) is changing all the rules of how companies operate. The core focus of their book is on what happens when you combine the strengths of humans with the strengths of machines? What new roles will emerge from human-machine collaboration?
A brave new world
We are at the center of a workforce revolution. Our use of AI across industries is disrupting the very nature of work and it's happening at breakneck speed. Gartner predicts that deep learning and machine learning will reach mainstream adoption in two to five years, while we foresee a 38 percent revenue boost over the next five years for those companies committed to investing in human-AI collaboration.
Accenture surveyed business leaders from 12 industries and the results are telling:
74 percent of executives plan to use AI to automate tasks over the next three years.
97 percent plan to use AI to enhance worker capabilities.
Worldwide spending on cognitive and AI systems increased 59.1 percent in 2017 compared to 2016, reaching US$12 billion. Experts predict this figure will rise to US$57.6 billion by 2021.
Your workforce wants to work with AI
Despite the good news, there is a serious lag in getting employees ready to work with machines. In the same survey, executives said that only a quarter of their workforce is ready to work with AI, citing employee resistance as a key obstacle.
Yet, when we asked workers what they thought, there was a clear disconnect between the two groups. Sixty-two percent believe that intelligent technologies will create opportunities for their work, while 67% think it's important to learn new skills to work with these technologies in the next three to five years. Forty-five percent are positive that AI will help them do their jobs more efficiently.
Despite the positive response, only 3 percent of executives say their organizations plan to significantly increase their investment in training and reskilling programs in the next three years.
New opportunities for the future workforce
A recent World Economic Forum article titled "Accelerating Workforce Reskilling for the Fourth Industrial Revolution" states that one in four workers says there's a mismatch between the skills they currently have and those they need to do their jobs. Business leaders need to remember that workers are also consumers of digital experiences. They are used to technology making other parts of their lives—from how they bank to how they get around—easier and more convenient. Their favorite online stores know them and their preferences by name; they expect personalized services delivered by AI. As such, they anticipate that in the future, technology will help them work more efficiently. They want the skills to thrive in an intelligent enterprise that can disrupt markets and improve their work experience.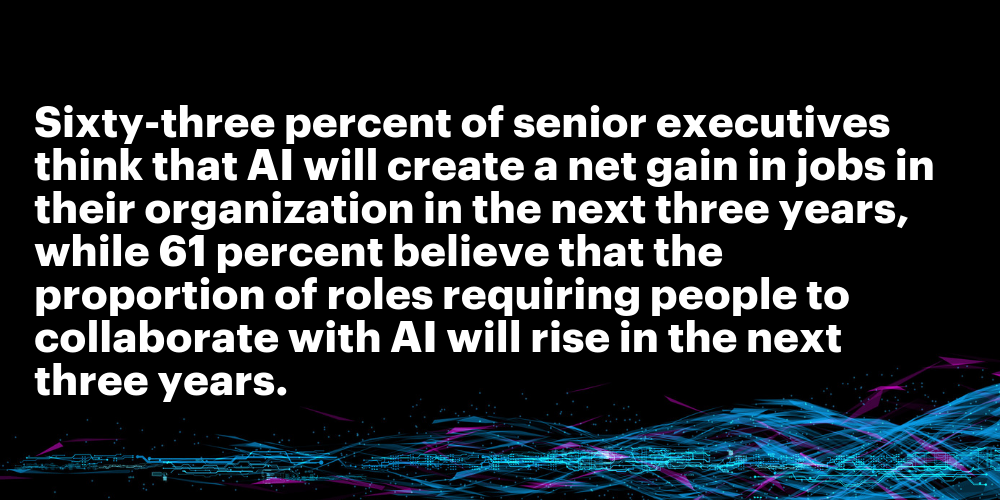 New opportunities will thrive for the future workforce made up of humans and machines working together, augmenting each other's strengths and making up for their weaknesses. As Daugherty and Wilson point out in their book, it's not just about AI enhancing human capabilities, but also about humans improving the performance of intelligent technologies. The magic lies in collaboration. This then leads to new roles emerging, changing the nature of work as humans learn new skills to work with machines.
In previous research, Accenture explored the nature of some of these new roles and uncovered three categories of AI-driven jobs: trainers, explainers and sustainers.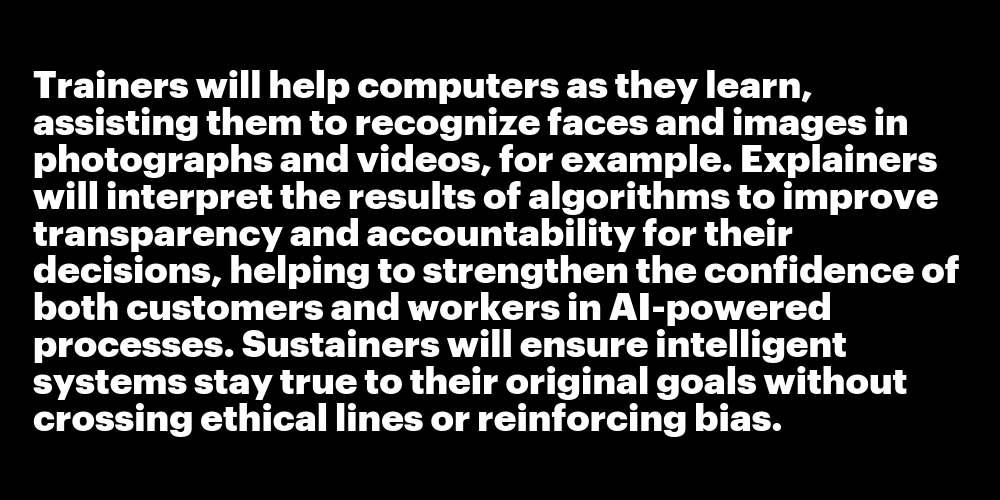 The evolution of work: how AI is transforming work in FS
In the future, human-machine collaboration will completely transform jobs in the banking and insurance industries:
| | |
| --- | --- |
| Today | Tomorrow |
| A contact center agent answers customer calls and messages, handling minor and major issues. | Virtual agents and automation take care of simple queries and issues, allowing the human workforce to manage relationship portfolios and deal with exceptions and major issues involving complexity and sensitivity. |
| A communication specialist reads comments about the FS organization on social media and responds to those likely to have the greatest impact. | Supported by comprehensive scanning of social media, the specialist develops a strategy for optimizing the FS organization's profile and trains intelligent machines to respond to comments, rapidly and at scale. |
| A risk and operations professional manually updates and checks various types of compliance reporting and controls for a business or functional area. | AI platforms, using machine learning and predictive analysis, simplify and drive efficiency in data gathering, raise the quality of controls, augment the risk and operations professional, and free up time for her to focus on analysis, an end-to-end view of the organization's risk profile, and early identification and rectification of issues. |
| A credit supervisor reviews loans granted, to ensure loan criteria have been met and risk minimized. | AI reduces duplication of effort by flagging marginal credit decisions and highlighting problematic issues. The supervisor can focus and spend more time weighing the merits of these applications. |
| A financial advisor spends a significant amount of time onboarding a potential customer, taking personal details and interrogating his financial situation. The she goes away to do the research and hopefully secure the relationship. | The prospective customer goes online and uses AI to onboard himself. He completes the other administrative requirements and provides relevant research which he has sourced. This allows the financial advisor to focus on the true value of her offering: building the relationship and providing quality advice. |
These new AI-powered roles will require more creativity, critical thinking, problem-solving, interpersonal skills and a hunger to learn and reskill continuously.
In my next post, I'll talk about responsible AI and how we can use technology to benefit not only workers and business but all of society. For more information, download the Future Workforce reports for Banking and Insurance. To find out more about digital HR in FS or to join us at the Change Directors Forum and People Innovation Forum in London, please contact me here or on Twitter @knott_nic.