Changes in financial reporting have been gradual, but over time we have seen a major transformation in the way information is collected, organized and presented.  I recently observed a fellow subway traveller scrolling through what appeared to be a daily liquidity report for his firm.  This was a powerful demonstration of how mobile executive reporting has evolved.
Contrast this to a decade earlier, when I worked with the head of liquidity for a global bank and had to print out an executive report every morning at 6 a.m. as the bank steered its way through a liquidity storm.  Clearly, a lot has changed in ten years.  Financial institutions have been pressured by regulations and pulled in different directions by their operational needs and the actions of their peers and competitors.
Four elements in particular have powered this transition to mobile executive reporting:
New ways of handling and looking at data. Structural changes to data storage and manipulation, made possible by big data technologies, allow an executive to scroll through a "live" report on the subway or sitting at a kitchen table.  Previously, such a report would take days of work, assembling data from treasury, accounting and risk functions and undertaking numerous and painstaking reconciliations.
Improvements to computation and reporting.  Anyone who has sorted through end-of-month batches and risk-weighted asset computations has wished for a way to dramatically improve computation power. To perform this, computation processes would have to be redesigned and uncoupled, and then used as micro-services applied to the ideal quantities of data.   As massive calculations are executed and retrieved in this manner, the report generation can occur almost instantly.
Visualization and mobile technology.  Specialized vendors have now built visually compelling ways of displaying data and facilitating interactive reporting.  Enterprise-level providers have also developed enhanced reporting features and mobile device integration. These technologies rely upon strong, versatile integration capabilities and comprehensive data sourcing options.  They bring visualized financial data and computed results to the audience in a tailored, meaningful and flexible content.
Ever-greater demand.  Good information leads to good insights and better decision-making. Arriving at those insights before the competition is essential to effective reporting.  In digital banking, customer insight and analytics are monitored and steered in real-time; other functions are now benefiting from this acceleration, with the need for speed driving innovation in financial analysis and reporting.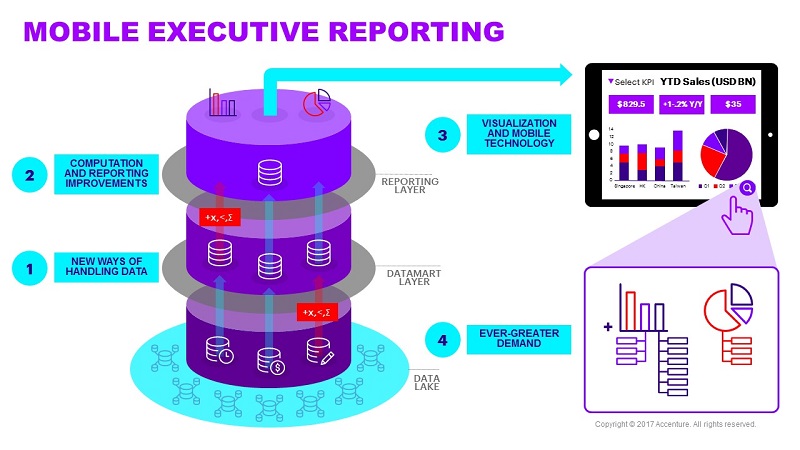 Source: Accenture June 2017
Agile development techniques should allow the four elements of financial analysis and reporting to evolve and grow independently or in tandem as needed.  We can expect to see further rapid evolution for the overall Finance function as it continues its efforts to gather, organize and present information at high speed and with the greatest insight and impact.   In our work with financial institutions, we help CFOs capture tailored insight from integrated information as real-time as possible, and share this across key business leaders to support informed decision making with agility and at high velocity.  We invite you to join our dialogue in the Comments below.
To learn more about Accenture's Finance and Accounting capabilities, visit https://www.accenture.com/us-en/service-finance-accounting