---
In my previous post, I looked at the role of predictive intelligence in the adaptive workforce of the future. In this post, I'll delve into why intelligent automation is such a critical element in the more fluid and productive banking or insurance organization of tomorrow.  
Many FS companies are already augmenting their human workforce with machine capital. In the age of AI, business success will increasingly depend on people and machines collaborating with each other. AI will elevate people's capabilities as workers will help intelligent machines to learn and improve. This will not only drive efficiencies, but create new forms of growth and innovation. 
AI has the potential to boost labor productivity by up to 40 percent by 2035 in the countries Accenture studied in our recent research. This rise will not be driven by longer hours but by innovative technologies enabling people to make more efficient use of their time—just as Henry Ford did it back in his day. 
FS executives are keenly aware of the potential of AI and intelligent automation as part of the workforce. Our Future Workforce survey found that 76 percent of FS organizations plan to use AI to automate tasks to a large or very large extent in the next three years.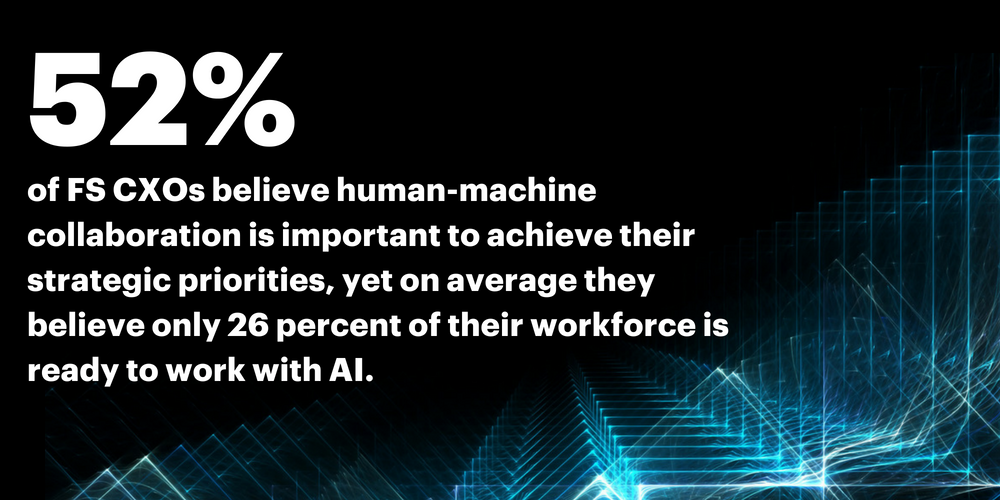 Far from being threatened, human workers believe intelligent technologies will help them and enrich their experience at work. Our Future Workforce survey indicates that 68 percent of workers agree that such technologies will have a positive impact on their work.   
As such, leading FS organizations will use AI and intelligent automation to support their workforce and unleash its potential. Cost reduction will be an important benefit, but not the most important one. Furthermore, more than two thirds of FS CXOs expect net job gains as a result of implementing intelligent technologies in their companies over the next three years.  
Robotics, automation and AI transformations are not only the responsibility of the technology and operations teams—HR must help define how these technologies support an adaptive workforce.  
It should look at how it can harness talent strategy, reskilling, leadership development, and process redesign to help the organization drive optimal results from investment in AI. A siloed approach to automation will impact the workforce strategy and fragment the organization and culture. 
My next post is about new sources of talent for FS firms. For more insight, download our full reports on: Shaping the Agile Workforce and Shaping the Adaptive Financial Services Organization of the Future. 
For more discussions on the adaptive workforce or to join us at the Change Directors Forum and People Innovation Forum in London, please contact me here or on Twitter @knott_nic.